Dir: Christopher Menaul. UK. 2013. 93mins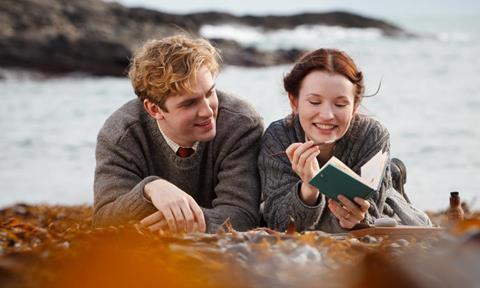 There is something engagingly watchable about the impressively mounted Summer In February, a lush and elegantly staged melodrama that – despite its painting-by-numbers storyline – is a gently familiar tale of unrequited love, all set against the rugged beauty of the Cornish coast just before World War I.
The film is at its best when the majestic countryside and the blossoming romance combine perfectly.
The strong cast helps give the film a stronger edge, and while overly familiar to a well-made BBC period drama at times, this beautifully shot film has the qualities to break out theatrically on a modest level, with strong lead roles from Dominic Cooper, Emily Browning and Downton Abbey star Dan Stevens guaranteeing sales as well as a strong home entertainment life.
Emily Browning stars as Florence Carter-Wood, a fresh-faced, well-to-do, young woman who joins her brother with the bohemian Lamorna Group on the wild Cornish coast. The group of painters are dominated by the charismatic Alfred Munnings (Cooper), a talented artist – especially of horses – who is also something of a local lothario and naturally enough takes a shine to the lovely Emily, promising to help her with her art.
Also attracted to her is the mild-mannered Gilbert Evans (Stevens), the land agent in charge of the Lamorna estate, who also happens to be Munnings best friend. He is driven by a great sense of propriety and when Florence is won over by Munnings' bombastic charm he steps back and lets their relationship develop, despite the fact that it is clear to everyone that Munnings is something of a cad.
For some reason Florence (and many of the other women in the group) are entranced by Munnings and his - rather cringe-worthy - drunken poetry recitals at the local pub, and while for a time it looks as if the charmingly gentle Gilbert might win her over the sheer melodrama of the story dictates that Munnings should be the man she decides to marry.
Things get interesting for a while as she comes to realise she has made a terrible mistake, and when their marriage becomes a loveless and sexless union she begins a tentative affair with the stoically tweedy Gilbert. Naturally enough, things don't end well.
The film is at its best when the majestic countryside and the blossoming romance combine perfectly. Elegantly shot, beautifully costumed and with a suitably romantic score, Summer In February certainly looks the part, though at times Jonathan Smith's script (based on his own novel) stutters rather than fully engages and the characters feel a little too simplistic with the sudden changes of emotional direction less than convincing.
But the truth is that this romance is based on reality, and Gilbert's real-life diaries revealed the intensity of the relationship. Florence Carter-Wood was complex woman keen to escape her upper middle-class life, while A.J. Munnings went on to be hailed as one of the greatest painters of horses and later become president of the Royal Academy.
Emily Browning is impressively restrained as Florence, tinged with a fresh sense of her burgeoning sexuality, while Dan Stevens trades nicely on his Downton Abbey persona to convince as honourable man in love but wanting to do the right thing. Dominic Cooper has a fine old time as the larger-than-life Munnings, though often overpowers the film with his sheer force of personality.
Production companies: CrossDay Productions, Apart Films, Marwood Pictures
Producers: Jeremy Cowdrey, Janette Day, Pippa Cross, Dan Stevens
Executive producers: Bruno Wu, Stephen Henderson
Screenplay: Jonathan Smith, based on his novel
Cinematography: Andrew Dunn
Editors: Chris Gill, St John O'Rourke
Production designer: Sophie Becher
Music: Benjamin Wallfisch
Website: www.summerinfebruary.com
Main cast: Dominic Cooper, Emily Browning, Dan Stevens, Hattie Morahan, Shaun Dingwall, Mia Austen, Max Deacon, Michael Maloney, Nicholas Farrell