Dir/scr: Marion Hänsel. Belgium-France-Germany. 2013. 81mins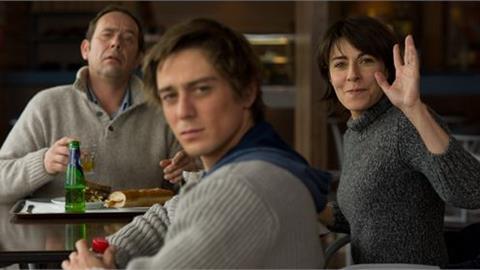 A delicate, delightful and thoroughly captivating road trip of reminiscences, Marion Hänsel's film – the first based on her own script – is a magnificently mature piece of work driven by thoughtful and engaging performances by Marilyne Canto and Olivier Gourmet. While perhaps too low key in tone to fully break-out, it deserves to be on the radar of experienced art house distributors.
On one level this is a film where little happens but at its tender heart Marion Hänsel's film is a compassionate, warm and very honest look at love and affection.
Tenderness (La Tendresse), which had its world premiere at the International Film Festival Rotterdam, is about family, affection, love and understanding, and this genial road trip is not only a fascinating drive through Europe but also a thoughtful look at the tenderness that is at the heart of all close relationships.
Lisa (Marilyne Canto) and Frans (Olivier Gourmet) have been separated for 15 years, but find themselves thrown together over two days when they drive from Belgium through France to pick up their son Jack (Adrien Jolivet), a ski instructor who has fractured his foot after a snowboarding accident with his girlfriend.
There is no animosity between Lisa and Frans, and clearly they still keep in touch, but their journey embraces their shorthand of understanding of each other along with moments of irritation with each other's habits. In many films what they still feel for each other could well have been anger, lust, indifference or jealousy, but as Hänsel's film gently builds it is clear that fondness and tenderness is at heart of their relationship.
The long drive allows them to talk vaguely about their past together, but the story is as much about the easy stillness and silences that can exist between them as much as it is about old stories and past memories.
The same tenderness is reflected in the relationship they have with their son, and between Jack and his girlfriend Alison (Margaux Chatelier), and while – like with so many families – there are times when each irritate one another they are bonded by a very real affection.
The 'tenderness' of the title is reflected in many other ways. When Lisa and Frans arrive at the ski resort of Flaine, deep in the Alps, they get out of the car to relish the architecture of the resort (designed by eminent Bauhaus architect Marcel Breuer to not disturb the natural surroundings and integrate the resort into the receiving mountain) and how it fits with delicacy into its environment; Lisa happily lets hitchhiker Léo (Sergi Lopez) take a turn at driving Jack's van as they all drive back to Brussels, and even gruff old Frans has a charming moment as he chats genially to a small child who shares his ski-lift.
On one level this is a film where little happens – essentially there is a drive back and forth from Belgium – but at its tender heart Marion Hänsel's film is a compassionate, warm and very honest look at love and affection. Funny, open, beautifully shot (some of the scope vistas, whether they be snowy mountains or open motorways are stunning) and featuring extraordinarily open and gently memorable performances from Marilyne Canto and Olivier Gourmet.
Production companies: Man's Films productions, A.S.A.P. Films, Neue Pegasos Film
International sales: Doc & Film International, www.docandfilm.com
Producers: Marion Hänsel, Cedomir Kolar, Ernst Szebedits
Cinematography: Jan Vancaillie
Editor: Michèle Hubinon
Production designer: Thierry Leproust
Music: René-Marc Bini
Website: www.latendresse.be
Main cast: Marilyne Canto, Olivier Gourmet, Adrien Jolivet, Sergi Lopez, Margaux Chatelier