Dir: Todd Phillips. US. 2013. 100mins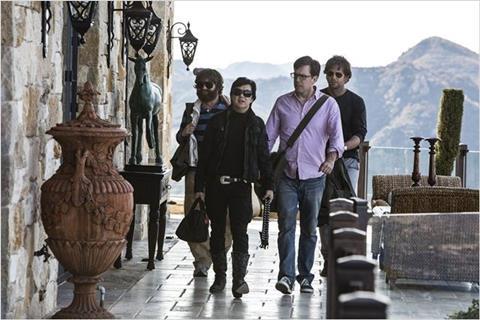 As much a thriller as a comedy, The Hangover Part III brings Todd Phillips' R-rated guys-night-out trilogy to an oddly subdued, sometimes downright dark conclusion. Loyal fans of the series, and of outrageous comedy in general, will probably still buy in, if only for a sense of closure. But even with a couple of new additions to its returning core cast Part III could be a tricky sell to casual moviegoers looking simply for good-time action and broad laughs.
Writer/director/producer Phillips supplies a handful of elaborate - though not wildly funny - comedy scenes.
A May 23 North American opening positions the sequel in the same Memorial Day holiday weekend slot that Part II occupied in summer 2011 - but this year the similarly-targeted Fast & Furious 6 will provide stiff competition for the youngish, predominantly male audience. Part III's international openings, which mostly come before the end of May, should be lucrative, though maybe not lucrative enough for the film to match the $586.8m worldwide gross of Part II, which gave the franchise its international breakthrough.
Even the early comedy scenes are on the dark side, with animal and human fatalities followed by a funeral and an 'intervention' that ends with cool Phil (Bradley Cooper), nerdy Stu (Ed Helms) and sensible Doug (Justin Bartha) escorting man-child Alan (Zack Galifianakis) to rehab.
Plans change when new character Marshall (John Goodman) kidnaps Doug and sends the rest of the Wolfpack on a mission to capture the first two films' notorious crazy man Mr Chow (Ken Jeong). After a brief excursion to Mexico, the boys and Mr Chow end up back in Las Vegas, setting of the original film.
Writer/director/producer Phillips supplies a handful of elaborate - though not wildly funny - comedy scenes. But he seems most interested in tying up franchise plot threads (characters from the original making brief re-appearances include Heather Graham's stripper and an older version of Baby Carlos) and expanding the roles of Mr Chow and Alan. The former turns a bit meaner in this outing and the latter gets a love interest (a cameo by Bridesmaids' Melissa McCarthy) and a happy ending.
Part III comes closest to the comic tone of its forerunners in a closing credits scene featuring a typically over-the-top sight gag.
Production companies: Warner Bros Pictures, Legendary Pictures, Green Hat Films
International distribution: Warner Bros
Producers: Todd Phillips, Dan Goldberg
Executive producers: Thomas Tull, Scott Budnick, Chris Bender, J C Spink
Screenplay: Todd Phillips, Craig Mazin
Cinematography: Lawrence Sher
Editors: Debra Neil-Fisher, Jeff Groth
Production designer: Maher Ahmed
Costume designer: Louise Mingenbach
Music: Christophe Beck
Website: www.hangoverpart3.com
Main cast: Bradley Cooper, Ed Helms, Zach Galifianakis, Ken Jeong, Heather Graham, Justin Bartha, John Goodman