Dir: Nick Cassavetes. US. 2014. 109mins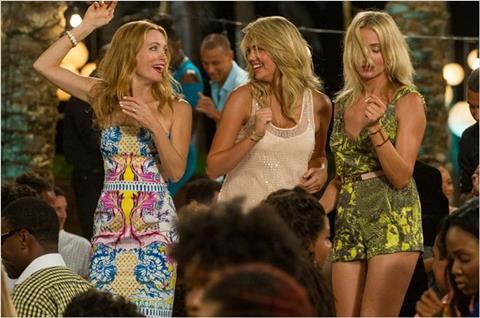 The tension between a bittersweet character comedy of discovered infidelity and the more commercial-minded, studio-dictated instincts of raucous, empowerment-stamped sisterhood are ever-present in The Other Woman. Connecting slightly more often than not, this film works best as a showcase for the talents of Leslie Mann, who can wring rueful laughter of identification out of humiliation and angst unlike few actresses working today.
Mann and Diaz have a great rapport, jointly anchoring the film.
Opening wide against horror film The Quiet Ones and Paul Walker's Brick Mansions - a remake of French action movie District B13 - The Other Woman could carve out a nice counter-programming theatrical run amongst women, but will most likely see most of its returns via home video and ancillary markets. International returns should be meager.
After a whirlwind two-month relationship that she thinks is exclusive, New York City lawyer Carly Whitten (Cameron Diaz) discovers that her beau, Mark King (Nikolaj Coster-Waldau) is married. She immediately ceases communication with Mark, but his devoted, stay-at-home wife, Kate (Mann), tracks Carly down, desperate to make some sense of the sudden upheaval in her world.
The insistence with which Kate forces her way into Carly's life wears the latter down, and the two women become friends. When they discover another mistress, Amber (Kate Upton), they rope her into their club as well, and begin to plot revenge against Mark.
Not merely because of his independent roots, director Nick Cassavetes is in many ways an unusual and awkward fit for this material. Most of his best work has an element of injected socioeconomic class if not social justice outright, and he often seems bored in The Other Woman, which is a movie divorced from financial complications, no matter the lip service it pays to Kate's worries about a split from Mark. Lazy coverage and ADR issues abound, and the colorful contributions of costume designers Patricia Field (The Devil Wears Prada, Sex And The City) and Paolo Nieddu are another clue that the movie, from a visual standpoint, is tethered less to reality than a fantasy construct.
In its plotting, Melissa Stack's screenplay feels torn between genuine character study and more low-hanging fruit — scenes seemingly designed chiefly to elicit clucking recognition. After some hijinks involving estrogen, laxative and hair removal cream, a more specific plot of revenge, involving Mark's financial shenanigans and Bahamian holdings, takes shape, but it seems hazy and underfed.
It's frustrating, too, that despite being a lawyer, the script contorts to necessitate Carly asking her oft-divorced father (Don Johnson) for professional advice. And scenes with Kate's sympathetic brother Phil (Taylor Kinney), part of an effort to "redeem" Carly and nudge the movie along toward a pat social resting place for all, feel additionally contrived.
The value added by the inclusion of Amber is marginal. Though it affords the chance for a few choice one-liners ("I feel like it's good because she brings up our group average," says Kate upon seeing her) and drives most of the third act, The Other Woman is at its best when it's simply assaying the cracked, unlikely new friendship between Kate and Carly, and mining each woman's recognisably human discombobulation, vulnerability and resolve. Thankfully, this is more than half the film.
In Carly and especially Kate, Stack delivers two fleshed-out, engaging characters. She also admirably digs into Kate's conflicted feelings about her husband's philandering, showing that there is probably a sincere partnership there, despite his massive, serial betrayals.
Mann and Diaz have a great rapport, jointly anchoring the film. Mann has, in a number of husband Judd Apatow's films, shown an adept touch with locating the humor in emotional breakdown, and The Other Woman is to date her most fruitful vehicle in this regard. Struggling mightily with Carly's blunt advice ("Cry on the inside — like a winner"), Mann's Kate is a woman under the influence of delirium, casting about wildly, and in entertaining fashion, but from a rooted psychological place as well. Model Upton, meanwhile, in her screen debut, adds little to the proceedings.
Production companies: LBI Entertainment, TSG Entertainment
Domestic distribution: 20th Century Fox
Producer: Julie Yorn
Executive producers: Donald J. Lee, Jr., Chuck Pacheco
Co-producer: Patrick Walmsley
Screenplay: Melissa K. Stack
Cinematography: Robert Fraisse
Production designer: Dan Davis
Editors: Alan Heim, Jim Flynn
Music: Aaron Zigman
Website: http://www.TheOtherWomanMovie.com
Main cast: Cameron Diaz, Leslie Mann, Nikolaj Coster-Waldau, Kate Upton, Nicki Minaj, Taylor Kinney, Don Johnson