Dir: David Gordon Green. US. 2011. 81mins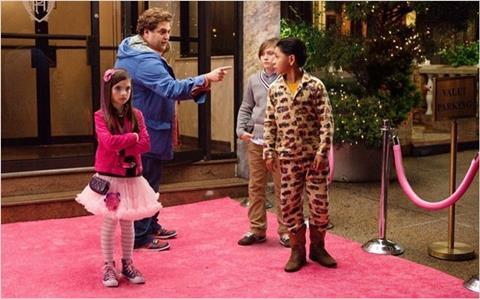 With its messy script and weirdly edgy tone, The Sitter, a third straight R-rated comedy from one-time art house auteur David Gordon Green, is an oddity even by the standards of its own genre. Jonah Hill's lead performance might pull in a small audience of young males but mainstream moviegoers are more likely to be confused than amused.
The comedy certainly has edge - though it may seem just mean spirited to many.
Opening wide in North America on December 9 after originally being slated for last summer, the Fox release seems destined to get lost among holiday movies and awards season contenders. Takings will probably be even more meagre in the international marketplace – where the film rolls out in the first half of next year – given that Hill has yet to make much of a mark outside the US.
Hill's Noah is a post-college slacker who one night winds up babysitting three strange kids: an anxious teen (Max Record, from Where The Wild Things Are), a defiant Mexican adoptee (Kevin Hernandez) and a nine-year-old 'celebutante' (Landry Bender).
The script sends Noah and his reluctant wards on a seemingly random series of adventures in New York City that also involves Noah's sort-of girlfriend (Ari Graynor, from What's Your Number), a highly-strung drug kingpin (Moon's Sam Rockwell) and a bunch of other characters.
The comedy certainly has edge - though it may seem just mean spirited to many - but it relies too much on R-rated standbys like outrageous racial stereotypes and adult talk aimed at kids. The life lessons that Noah eventually delivers to each of the kids stand out like sore thumbs.
Hill is considerably less cuddly than he was in hits such as Superbad and Get Him To The Greek and closer to his persona in last year's comedy of discomfort Cyrus. Rockwell delivers a few fun moments and the film gets a boost from its lively hip-hop-based soundtrack.
Production companies: Twentieth Century Fox, Rough House Pictures
Worldwide distribution: Twentieth Century Fox, www.foxmovies.com
Producer: Michael De Luca
Executive producers: Jonah Hill, Donald J Lee, Jr, Lisa Muskat, Josh Bratman
Screenplay: Brian Gatewood & Alessandro Tanaka
Cinematography: Tim Orr
Production designer: Richard A Wright
Editor: Craig Alpert
Costume designer: Leah Katznelson
Music: David Wingo, Jeff McIlwain
Website: www.thesittermovie.com
Main cast: Jonah Hill, Max Records, Ari Graynor, J B Smoove, Sam Rockwell, Landry Bender, Kevin Hernandez, Kylie Bunbury