Dir/scr: Daniel Joseph Borgman. Denmark-New Zealand. 2013.  87mins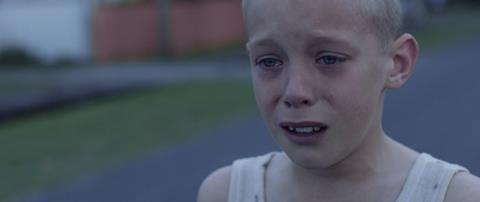 The setbacks, sorrows and rare joys of a lonely child misfit are charted with sensitivity but also a certain dramatic contrivance in the feature debut of New Zealand director Daniel Borgman. This is one of those Scandi-style dramas where eleven-year-old kids mouth grown-up lines of dialogue, families are unhappy by default, boys automatically become Lord Of The Flies savages when left alone and the director seems so intent on his poetic vision (which is, to give him credit, captivatingly poetic) that he sometimes gets between us and the characters.
The film is at its best, perhaps, in its exploration and understanding of the spaces of childhood.
Still, The Weight Of Elephants is a dramatically efficient and good-looking widescreen arthouse package; and it's one that captures the tribulations and perspectives of a difficult age when kids start to act tough while still being vulnerable inside. However, it's by no means certain that arthouse distributors will want to come out and play with this title outside of Australasia and the Nordic countries: many will feel that there's not quite enough audience payback, in the end, for the relentless emotional mill the script puts us through.
The film – whose title is never properly explained – centres on Adrian (a brave, soul-baring Demos Murphy), an eleven-year-old boy whose mum has run off somewhere. He lives with his tough-love Gran (Catherine Wilkin) and manic depressive Uncle Rory (Matthew Sutherland) in what is clearly one of the more downmarket districts of some unnamed New Zealand town. Adrian suffers routine bullying at school, where he has formed a fragile alliance with another marginalised boy, Clinton (Finn Holden).
In the background, leeching into the consciousness of a boy who is already sorely beset by anxiety, is a long-running news story about the disappearance and probable abduction of three young siblings. A friendship that Adrian forms with a tough and angry girl of his own age, Nicole (Angie Cottrell), might perhaps be connected with these missing kids – or this could just be the imagination of a fragile 11 year-old boy running wild.
The Weight Of Elephants can be read as a metaphor for a dangerous time of passage; indeed, it pretty much insists that we read it that way. Adrian is caught between friends he can't trust and an unreliable adult world consisting almost entirely of bad carers – an absent mother, an over-stern grandmother, an unbalanced, manic uncle, a sympathetic teacher who goes on maternity leave just when he needs her most, and Nicole's frail, bedridden mother.
The film is at its best, perhaps, in its exploration and understanding of the spaces of childhood: the way houses are divided in the eleven-year-old mind into safe zones and dangerous ones; the way patches of wasteland, like the rusty, weed-infested playground that acts as a buffer zone between Adrian's world and Nicole's, can be both havens and places of exile.
Production companies: Zentropa Entertainments5 Aps, Severe Features
International sales: NZ Film Commission, www.nzfilm.co.nz
Producers: Katja Adomeit, Leanne Saunders
Executive producer: Louise Vesth
Cinematography:: Sophia Olsson
Editor: Molly Malene Stensgaard
Production designer: Kirsty Cameron
Music: Kristian Selin Eidnes Andersen
Main cast: Demos Murphy, Angie Cottrell, Catherine Wilkin, Matthew Sunderland, Finn Holden