Steven Soderbergh takes a self-indulgent ride through the 2015 Panama Papers financial scandal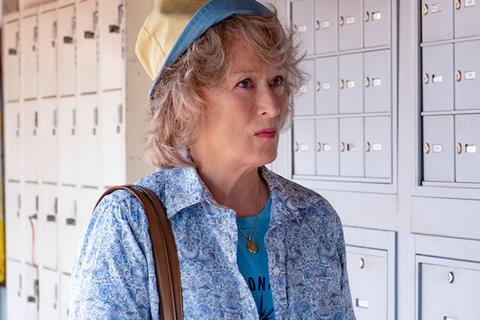 Dir. Steven Soderbergh. US. 2019. 96mins.
If there's cinema to be soaped out of the Panama Papers scandal, Steven Soderbergh hasn't found it in The Laundromat, a poorly-conceived and -executed film which steals from The Big Short as brazenly as its tax-dodging subjects do from their governments. Obvious good intentions are drowned in a hot wash of showboating stars and flooded by self-indulgence. It was always difficult to imagine how a shady scandal involving global financial finagling could be made into a film, but Soderbergh's decision to tack the razzle-dazzle distraction of dozens of celebrity cameos onto a series of confusing vignettes simply doesn't come clean.
The essential framework of The Laundromat, adapted for the screen by Scott Z. Burns from the book by Jake Burnstein, is confusing
Soderbergh is a director with a long, illustrious, whiplash-like up-and-down career, and an excellent track record in picking the appropriate formats and release channels for his work. Landing Laundromat on Netflix is no happy accident that came about after he tripped over the streamer's piles of money bags. Cable is where this film will reach its widest audience, many of whom may have switched off long before Meryl Streep delivers the type of direct-to-camera grandstanding which only serves to fortify whichever echo chamber it is playing into. Netflix will probably not be too troubled by exhibition questions here, despite a Venice world premiere and Toronto bow.
The Panama Papers came to light in 2015, when an unnamed whistle-blower publicly released 11 million-odd documents which detailed the tax cheat law firm Mossack Fonseca's activities on behalf of their uber-wealthy, obsessively secretive global clients/plunderers. Many of them were embarrassed. Many more weren't. Four years later, the question of how all that Bahamian financial impropriety might be cinematic still lingers. It's hard to muster sufficient outrage at the greedy and wasteful habits of the world's billionaires, though, while watching Soderbergh splash around enough cash to finance an entire slate of indie features on a film which has clearly been half-baked.
The essential framework of The Laundromat, adapted for the screen by Scott Z. Burns from the book by Jake Burnstein, is confusing. Appropriating the free-wheeling air of The Big Short – there is barely a fourth wall here to break – Soderbergh flirts with multiple styles before settling down to episodic storytelling connected by Antonio Banderas and Gary Oldman playing the dodgy duo of Fonseco and Mossack, respectively.
They aren't formally introduced, and flit around in evening garb, drinking cocktails and walking the viewer back through the history of money with a Kubrickian nod to cavemen at the outset. Oldman makes a three-course meal of ham, ham, and yet more ham out of the German-born Jurgen Mossack's accent; to say it's distracting doesn't quit cut the mustard. These characters are portrayed as pantomime villains and played for laughs, leaving The Laundromat a little directionless as it moves to a series of loosely-connected stories regarding financial impropriety.
Streep is the clear lead, playing a blowsy pensioner whose husband (James Cromwell) drowns in a ferry accident. When the boat's captain (Robert Patrick) tries to claim on insurance, his son (David Schwimmer) soon realises he's ensnared in a series of shell companies which lead fraudulently to the Caribbean where a dodgy lawyer (Jeffrey Wright) overlooks a string of shady dealings between managing two separate families himself. We then follow Streep's character as she tries to purchase an apartment in Las Vegas (from realtor Sharon Stone) with the settlement from the accident, but is gazumped by cash-rich Russians.
The Laundromat then detours randomly off to China, where the government's line on the Bo Xilai affair is strictly adhered to (and, really, Mathias Schoenaerts as a Harrow-educated British financier?). There's a further interlude where a Nigerian-born billionaire tries to pay his daughter off after he sleeps with her room-mate; these people are never identified, although they all seem pretty awful. There's also a semi-developed link to Mexico's drug cartels and their money-laundering.
It's really easy to get upset about the horrific inequality of the world in which we live, and Soderbergh would have no problems persuading audiences to agree that the international tax regimes need to be radically overhauled and money laundering should stop – even some billionaires feel that way these days. But The Laundromat comes across as a free play in Netflix's expensive sandpit.
Shooting this murky story with a bright and airy, Caribbean feel and editing himself again, Soderbergh has engorged it with a wallow around luxury locations, half playing for laughs, half-serious, revelling in the opulence of these tax dodgers' lives while wagging a self-knowing finger. Perhaps all the expensive actors here worked for scale? If that's a case, then The Laundromat is also a scandal, albeit in a more minor key.
Production companies: Grey Matter, Anonymous Content, Netflix
International distribution: Netflix
Producers: Scott Z. Burns Lawrence Gray, Gregory Jacobs, Michael Sugar, Steven Soderbergh
Screenplay Scott Z. Burns, from the book 'Secrecy World' by Jake Burnstein
Editing: Steven Soderbergh
Cinematography: Steven Soderbergh
Production design: Carmen Cuba
Music: David Holmes
Main cast: Meryl Streep, Antonio Banderas, Gary Oldman, David Schwimmer, Robert Patrick, Jeffrey Wright, Matthias Schoenaerts, Sharon Stone, Melissa Rauch, Rosalind Chao, James Cromwell