A six year old girl copes with life in Stalinist-era Estonia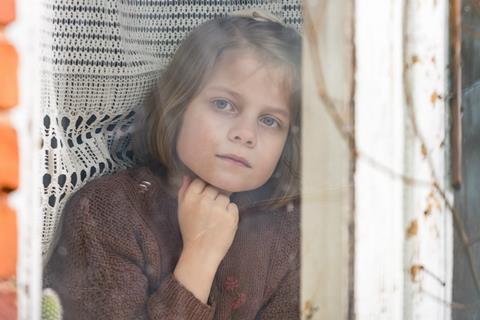 Dir/scr: Moonika Siimets. Estonia. 2018. 98mins
The nightmare of life in occupied Estonia during the Stalinist era is viewed through the eyes of a guileless six year-old girl in The Little Comrade (Seltsimees laps). Moonika Siimets' sensitive adaptation of the autobiographical novels by Leelo Fungal has a sweet charm, finding glimmers of hope and humour in the darkest of times. Tending towards the sentimental, but executed with a light touch, it should connect with festivals and audiences who embraced Klaus Haro's The Fencer (2015), another tale in which personal heartache provides a key to Estonia's troubled past.
The Little Comrade favours sunlight over darkness, hope over despair
Adapted from Tungal's novels Comrade Kid And The Grown-Ups and Velvet and Sawdust, the film begins in 1950 as young Leelo (Helena Maria Reisner) moves into a dilapidated new country home with her mother Helmes (Eva Koldits) and father Feliks (Tambet Tuisk). There has clearly been a change in their circumstances. Helmes, a former head teacher at the local school, is accused of treason against the Soviet Union and arrested by a member of the NKVD who was once a childhood friend.
In her mother's absence, Leelo vows to be a good little girl, hoping that her virtue will be sufficient to hasten her mother's return. The film revolves around the changing relationship with her father and a wider family effort to sustain a sense of normality for the child.
Siimets constantly shoots from the child's point of view. A visit to Tallinn allows Leelo to window shop in establishments where we only see the bottom third of mannequins and outfits, and adults lean down to speak to her. She is constantly on the edge of a confusing adult world, eavesdropping behind a door, watching through a crack of light. Her innocence is a protection but also a liability. She seems incapable of telling a lie which makes any conversations with the NKVD fraught with tension for a father who might also be imprisoned as an enemy of the state.
Helena Maria Reisner effectively captures Leelo's wide-eyed innocence and resilience in a thoughtful, naturalistic performance. The film allows her to be a child capable of suffering but also easily distracted by the world around her whether it is a tempting cream cake, the gift of a radio from her aunts or a trip to the impossible glamour of their beauty salon.
The Little Comrade offers a world of contrasts with the bucolic beauty of the natural world and sun-dappled forests in stark opposition to the oppressive regime that prevails. Citizens disappear, opposition is silenced and resistance seems futile, but within the family there is also warmth, music and the desire to make the most of every day. Attractively photographed by Rein Kotov (Karu süda, Tangerines, 1944), The Little Comrade favours sunlight over darkness, hope over despair. It is a simple, affecting story that remains constant to a child's naive point of view and its emotional tug is sincere and heartfelt.
Production company: Amrion
International sales: Eyewell AB sales@eyewell.se
Producer: Riina Sildos
Production design: Jaagup Roomet
Editing: Tambet Tasuja
Cinematography: Rein Kotov
Music: Tõnu Kõrvits
Cast: Helena Maria Reisner, Tambet Tuisk, Julia Aug