Maggie Gyllenhall's directorial debut stars Olivia Colman in another tour-de-force performance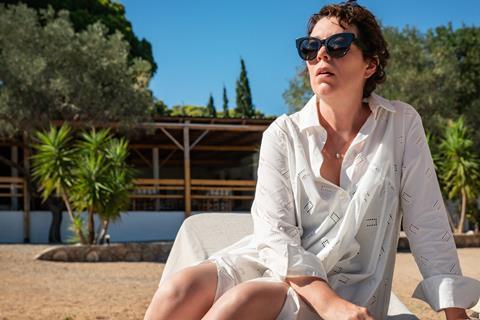 Dir/scr. Maggie Gyllenhaal. Greece/US/UK/Israel. 2021.121 mins
On a solo holiday to a Greek Island, literature professor Leda (Olivia Colman) finds herself both fascinated and repelled by the brash extended family that shares her local beach, encroaching on her space and hijacking her attention. When a child from the family goes missing, it is Leda, level-headed in the crisis, who finds her. But this act invites unbidden memories of her own decisions as a mother, choices that she wrestles with even now, nearly 20 years later. This sinuous adaptation of the novel by Elena Ferrante marks a supremely confident feature directing debut from Maggie Gyllenhaal, who also penned the screenplay. The two timelines – Leda present and Leda in the past (played by Jessie Buckley) – are woven in serpentine coils that twine together, in this portrait of the kind of motherhood that isn't afraid to bare its teeth.
An unusually rewarding picture about motherhood
The marketability of Ferrante's name, the quality of the production – Gyllenhaal has pulled together top tier talent, both in front of and behind the camera – and the tantalisingly unsettling atmosphere make for an attractive package, as evidenced by the fact that the film has already sold worldwide, with Netflix taking multiple territories including the US. Other distributors include eOne, which will release the film in the UK, Benelux and Germany, and Bim which holds the rights for Italy. Even by Colman's high standards, this a richly complex performance. Awards notice seems likely.
There are few actors currently working to such a consistently high standard as Colman, but Jessie Buckley is another who approaches the same quality. The casting of both as the same character at different ages is an inspired decision. The performances, both angular, unexpected and sometimes jarring, tessellate together in a supremely satisfying manner, like a three-dimensional jigsaw puzzle. Leda, with her mercurial moods, her lack of impulse control and her refusal to be a nice, pliable, invisible, middle-aged woman, might be an enigma to everyone including herself. But in the hands of these two actors, she's utterly persuasive, even when – perhaps especially when – she is behaving irrationally. Hélène Louvart's intuitive camera constantly searches Leda's face, finding a prickle of curiosity which draws her eyes to Nina (Dakota Johnson), the mother of the child who goes missing; a dart of irritation that warns off the men who are constantly offering unwanted assistance.
Also effective as a weathervane to Leda's state of mind is the sound design – the serrated edges of cicada clicks feature prominently – and Dickon Hinchliffe's expressive score.
What's particularly satisfying is the way that film explores Leda's perennial tussle over her own place in the world. As a young woman, an academic and the mother of two young daughters, she strives to be seen as something other than a parent. As an older woman, she struggles to be seen at all. It's this – and her bloodyminded need to register as a presence, even an unwelcome one – which prompts Leda to stubbornly refuse to move her deckchair to appease the ever swelling ranks of Nina's family. And rarely has there been a more potent depiction of roiling menopausal rage as a scene in a cinema in which Leda unleashes the full nuclear force of her fury onto a bunch of rowdy lads.
Ultimately what makes this an unusually rewarding picture about motherhood is the fact that it shatters the binary distinction between the good mother and the bad one. The truth of the matter, like the difficult woman at the heart of the story, is not clear cut. It's possible for a parent to be both emotionally absent and devoted; to cling to their child and to be suffocated by them. The fleeting moments of recognition between Leda and Nina – fellow 'unnatural mothers' – is a reassurance that they are not, by any means, alone in their maternal failures.
Production company: Endeavor Content, Samuel Marshall Films, Pie Films, Maggie Gyllenhaal
International sales: Endeavor Content dmcintosh@endeavorcontent.com
Producers: Talia Kleinhendler, Osnat Handelsman-Keren, Maggie Gyllenhaal
Cinematography: Hélène Louvart
Editor: Affonso Gonçalves
Production Designer: Inbal Weinberg
Music: Dickon Hinchliffe
Main cast: Olivia Colman, Jessie Buckley, Dakota Johnson, Ed Harris, Peter Sarsgaard, Paul Mescal, Dagmara Dominczyk, Alba Rohrwacher