Dirs. Robert Cannan and Ross Adam, UK, 2015, 94 minutes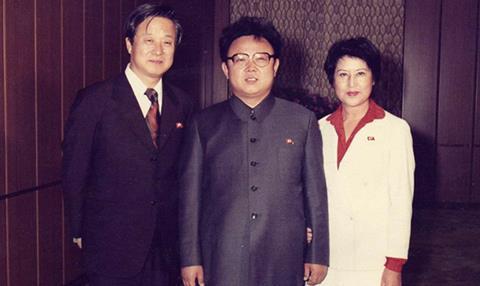 'The movies made me do it,' is an excuse that's as old as the rain machine. In a new documentary, it explains a few of the many crimes of the late North Korean dictator and film fanatic Kim Jong-il. The Lovers and the Despot is almost as crazy as The Interview, but it's a true story. The jaw-dropping tale of the kidnappings of a famed South Korean actress and her ex-husband, a leading director from Seoul, places screwball intrigue and storybook lustre inside the frame of Cold War tabloid melodrama. It seems like pure improbable invention, until you see the pictures and hear the audiotapes.
The couple's abduction by a violent star-obsessed film nerd have echoes of The King of Comedy and Austin Powers – such strong echoes that the documentary often feels like a mockumentary.
This documentary by Robert Cannan (Three Miles North of Molkom) and Ross Adam should be a midnight hit at festivals, with a cult following at art houses. VOD could be strong. North Korea's re-emergence in the news with its recent claims to detonating a hydrogen bomb will also help bring attention, while Japanese and South Korean markets will be helped by plenty of news coverage. Don't rule out a feature remake or television series.
Choi Eun-hee and Shin Sang-ok were the radiant couple of South Korean cinema in the 1960's, but their marriage was on the rocks by the mid-1970's and Shin, who was losing money running a studio, took up with a starlet. Just at that time, Kim Jong-il decided to enliven North Korea's dull and ideologically-straitjacketed films.
Choi, lured to Hong Kong in 1978 and tricked by a North Korean agent, was kidnapped, drugged and spirited to Pyongyang. Soon, Shin, dead broke, was also nabbed when he went to Hong Kong with his business partner (another North Korean agent). He spent four years in a North Korean prison before Kim Jong Il reunited the former couple and revived their careers — on his turf and on his terms.
They eventually escaped, but not before things got a lot stranger, as Choi and Shin became the new faces of North Korean cinema. Among Shin's many movies was Pulgasari: The Iron-Eater (1985), North Korea's unintentionally comic version of Godzilla. If only the country's nuclear weapons program had been such a flop.
Both Shin and Choi wrote memoirs, and a new book by Mark Fisher revisits Kim's screen ambitions with the stars.
If much of this intrigue sounds like pastiches from movie scripts, it is. Shin, who died in 2006 and Chun, still alive and speaking about those years, both viewed their ordeals as film plots. Their abductions by a violent star-obsessed film nerd have echoes of The King of Comedy and Austin Powers – such strong echoes that the documentary often feels like a mockumentary.
Alongside the adventures of Choi and Shin, is the film's portrait of Kim Jong-il, unhinged even by the standards of Pyongyang's obsessional Kim dynasty. The short awkward heir to the back-slapping war hero Kim Il-sung saw himself as an aesthete and an impresario, and published a book on cinema.
"All our films have crying scenes. This isn't a funeral is it? We don't have any films that get into film festivals," he complained. We hear his whining voice in tapes obtained by US intelligence and recorded secretly by Choi. Ordinary citizens who dared voice such concerns could end up in prison camps, or dead.
The documentary's title suggests a period epic from a faraway time, and there's a nostalgic elegance to the rich archival footage from the early days of South Korean cinema.
In scenes from the other side of the DMZ, huge crowds applaud the young Kim Jong-Il, marching in unison and turning somersaults to celebrate him, as a narrator with mannered diction tells of the spoiled heir's heroism.
That generic footage has been seen in other docs on North Korea, but the visual textures of The Lovers and the Despot, edited by Jim Hession — and the Kim audio tapes — make for vibrant cinema.
Production companies: BFI, Creative England, BBC Storyville, Hellflower, Tigerlily Films
Producer: Natasha Dack Ojumu
US Sales: info@submarinedeluxe.com
Executive producers: Lizzie Francke, Richard Holmes, Nick Fraser, Kate Townsend, Sheryl Crown, Maggie Monteith, Victoria Steventon, Cristina Ljungberg, Sandra Whipham
Editor: Jim Hession
Music: Nathan Halpern
Sound designer: Al Sirkett