Indian Midnight Madness winner fights through on charm and cheesy melodrama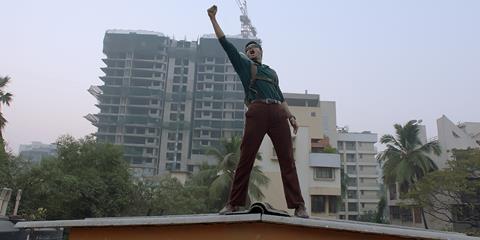 Dir/scr: Vasan Bala. India. 2018. 134mins
A cheerful homage to all manners of pop culture — American blockbusters, comic books, video games, Bollywood musicals, martial-arts flicks — The Man Who Feels No Pain is a likable, utterly disposable treat. Led by a considerably appealing performance from Abhimanyu Dassani as an aspiring hero with a handy (and rare) disorder, writer-director Vasan Bala's self-mocking action movie keeps its tongue firmly in cheek without overstaying its welcome.
While the martial-arts fights aren't groundbreaking, Bala strings them together with such pleasure and laidback panache that they're always delightful
Premiering in Toronto's Midnight Madness section (where it won the People's Choice award), The Man could find global theatrical play simply because audiences worldwide speak this movie's language of karate kicks, knowingly cheesy melodrama and earnest love stories. Genre fans will be first in line.
Set in Mumbai, the film stars Dassani as Surya, an early twentysomething who (we learn through flashbacks) was born with a medical condition that keeps him from feeling pain. (He does, however, have to stay hydrated, constantly wearing a backpack with an ample water supply so he doesn't die.) Reunited with his childhood crush Supri (Radhika Madan), Surya longs to meet his idol, a one-legged martial-arts master named Karate Mani (Gulshan Devaiah), but soon encounters a fiendish gangster, Jimmy (also played by Devaiah) — who just so happens to be Mani's evil twin brother.
Writer-director Vasan Bala (Peddlers) positions Surya as a movie-obsessed nerd who finds escape from the outside world through his ample collection of old VHS tapes. Surya dreams of being a real-life action hero — complete with his own superpower and Kryptonite-like weakness — and so it stands to reason why The Man plays like an amped-up vision of its protagonist's high-flying ambitions.
The Man is often mischievous about its self-consciousness — for example, Jimmy is introduced through voiceover to the audience as "a cliché psychotic villain," and Devaiah leans into every over-the-top criminal stereotype — but what's impressive is that all the inside jokes and clever critiquing of cinematic tropes don't become tedious. No doubt The Man rewards viewers conversant in both The Terminator and Gymkata — to cite two random examples of the film's embrace of high and low artistry — but Bala relies on his ebullient leads so that his movie isn't just an endless array of pop references.
Dassani (the son of Indian actress Bhagyashree) brings a sweet, dorky energy to Surya, who may not be able to feel pain but is nonetheless a lovely, sensitive guy. The actor's rapport with Madan has a flirty spark, although his co-star proves just as capable in the film's myriad action sequences. (Supri is quite adept wielding a scarf as a weapon.)
To be sure, The Man isn't tightly plotted, and Bala doesn't maximise his premise's potential. This breezy lark isn't quite violent or inventive enough to test the limits of Surya's inability to feel pain, and the storytelling doesn't offer any intriguing twists on that setup. (In keeping with The Man's light-hearted tone, though, there's an impish joke about the practicalities of having sex with someone who has Surya's condition.) But while the martial-arts fights aren't groundbreaking, Bala strings them together with such pleasure and laidback panache that they're always delightful.
Perhaps not surprisingly, The Man may charm action-movie dabblers more than hard-core aficionados. There are the occasional moments of darkness — a character perishes early in the film, albeit bloodlessly — but the stakes are never significantly high. (And as Jimmy, Devaiah doesn't bother making his character compelling or nuanced. He's meant to be a punch line, which robs him of much menace.) Still, The Man's winking spirit proves to be winning, even if the film doesn't leave you with much — although Karate Mani does offer some helpful tips on how to defeat a roomful of assailants when you only have one leg.
Production company: RSVP
International sales: XYZ Films, info@xyzfilms.com
Producer: Ronnie Screwvala
Production design: Ratheesh U.K.
Editing: Prerna Saigal
Cinematography: Jay I. Patel
Music: Karan Kulkarni
Main cast: Abhimanyu Dassani, Radhika Madan, Gulshan Devaiah, Mahesh Manjrekar