France's two Catherines - Deneuve and Frot - are united in an entertaining and bespoke script from Martin Provost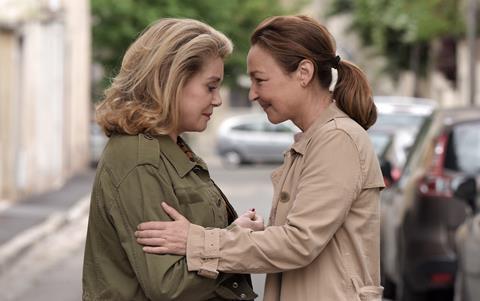 Dir/scr: Martin Provost. France/Belgium, 2017. 117mins
France's two most bankable actresses - Catherine Frot and Catherine Deneuve - give viewers their money's worth in The Midwife (Sage-Femme) a bittersweet delight written to order for two consummate performers who inhabit their diametrically opposed characters with satisfying élan. Already widely sold - although not to US and UK - this tale of a jovially disruptive stab at redemption late in the game of life shows every sign of being another hit-in-waiting for writer-director Martin Provost (the Cesar-sweeping Seraphine and the excellent Violette) upon its March 22 French release.
Deneuve does flighty entitlement with convincing glee
Claire (Frot) delivers babies in a small but busy clinic that operates on a human scale. The facility will soon close and her field - to which she is deeply and selflessly devoted - is being phased out in favour of assembly line birthing technology in state-of-the-art but impersonal hospitals.
An apparently celibate single mother whose son, Simon (Quentin Dolmaire, who made his mark as the young Mathieu Amalric in My Golden Days) is in his second year of medical school, Claire is a self-sufficient teetotaler who avoids red meat and toes most of society's lines. By the standards of the woman who's about to upend her life, she's the definition of a stick-in-the-mud.
Claire lives in a working-class Paris suburb and rides a bicycle to get around. Coming home after an eventful night of deliveries she hears a voice on the answering machine she hasn't heard for 35 years: Beatrice (Deneuve). Beatrice says she's looking for a certain Antoine and wonders whether Claire is his daughter.
Beatrice is an almost comically carpe diem kind of gal whose free-wheeling insouciance is both annoying and infectious. She may be essentially homeless but doesn't see that as an obstacle to eating well in restaurants or enjoying fine wines. After all, she can always replenish the funds she keeps in a clear plastic sandwich bag by frequenting a fast-paced illegal card game (genuine denizens of this illicit sport make earthy extras) or selling her remaining jewelry from a life spent in the fleeting company of generous gentlemen. She acts like the Russian princess she may or may not be.
Beatrice doesn't know that Claire's father - whom the cavalierly adventurous Beatrice deserted from one minute to the next - is dead. Claire, now 49, was only 14 at the time and more or less forced to be serious as a direct result of Beatrice's devil-may-care attitude. After just a few majestic scenes with Beatrice - Deneuve does flighty entitlement with convincing glee - Claire's muted enthusiasm about the older woman popping back into her life is understandable.
Will these two radically dissimilar women find common ground? And will a rugged but sensitive truck driver (Olivier Gourmet) play a role in their lives? Claire is arguably too well-behaved and spoiled, self-centered Beatrice exudes an earthy wisdom 'born' of experience. Show her a moment and she'll live for it.
Frot and Deneuve work subtle wonders with their purpose-written roles. Claire's devotion to her profession is beautifully reinforced by the sixauthentic deliveries captured on film. (With Frot positioned for maximum realism, the crew filmed the live birth scenes in Belgium since French law requires that a baby be three months old to appear in a film.) There's a wonderful nuance in the original French title that's not reflected in the English translation. 'Sage-Femme' does indeed mean 'midwife' — but the hyphen dissolves on screen leaving two words that mean 'wise' or 'well-behaved' woman instead.
The proceedings are shot with a real feel for locations, from ritzy corners of Paris to hospital corridors to the amateur gardens and waterways beyond the capital. The film's musical score is appealing.
Provost dedicated this rich, thoughtful, frequently funny film to the midwife who literally saved his life.
Production companies: Curiosa Films, France 3 Cinéma, Versus Production
International sales: Memento Films International, sales@memento.com
Producers: Olivier Delbosc, Jacques-Henri Bronckart, Olivier Bronckart
Screenplay: Martin Provost
Cinematography: Yves Cape
Editor: Albertine Lastera
Production design: Thierry François
Music: Grégoire Hertzel
Main cast: Catherine Frot, Catherine Deneuve, Olivier Gourmet, Quentin Dolmaire