Charming documentary in which an 83-year-old man goes undercover in a Chilean care home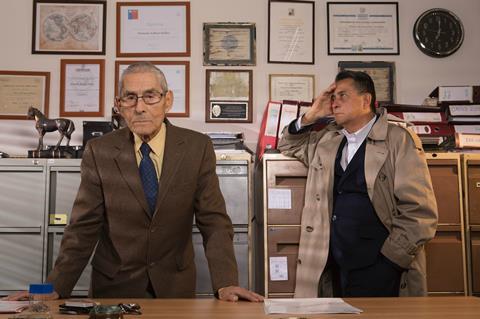 Dir/scr: Maite Alberdi. Chile-USA-Germany-Netherlands-Spain. 2020. 89mins
It may take an elaborate route to reach its destination, but The Mole Agent ultimately captures a charming, poignant portrait of life in a Chilean care home. Care for the elderly is a pressing concern across the globe and, with writer/director Maite Alberdi taking a fresh approach to a big subject, this spry documentary should readily attract audiences with its warmth, humanity and quiet compassion.
A moving reflection on old age and loneliness that should strike a chord across the generations
The Mole Agent begins as a jokey, tongue-in-cheek nod to old-school detective stories and 1960s spy thrillers. A cluttered office lurks behind a venetian blind. The soundtrack has a bossa nova feel. Private investigator Romulo has placed a newspaper advert seeking an elderly male between 80 and 90, who is "independent, discreet and competent with technology". The initial round of candidates suggest he will be lucky to find someone who can match two out of the three requirements.
Romulo eventually chooses the recently widowed 83 year-old Sergio Chamy. Sergio's task is to go undercover at the San Francisco retirement home in the El Monte district, as the daughter of one resident fears that her mother is being mistreated. Sergio is fitted with a succession of James Bond-style gizmos including a micro-camera concealed in a pen and thick camera spectacles. He has the full support of his own family as he sets out on a mission to discover any wrongdoing. Over a three month residency he will provide a daily report to Romulo of everything he witnesses.
The Mole Agent is a film that begs a large number of questions. Romulo has somehow already arranged for a documentary crew to be filming life in the retirement home, so why do they also need Sergio? Sergio's first task is to track down the room number of Sonia Perez. Given that Sonia's daughter is paying the detectives to investigate this makes little sense. Would she not just tell them? If she is so concerned, why does she never visit her mother? There appears to be so many artifical obstacles placed in the way of Sergio's investigation that you begin to suspect this is all an ingenious ruse to place him in a care home.
Yet once Alberdi has worked through these lighthearted elements, the film becomes more focused and involving. Sergio is welcomed by the residents of a home that cares for 40 women and four men. He is courteous, very gentlemanly and lucid which endears him to many of the women. It soon feels as if romance could be on the cards.
Sergio continues to provide his daily reports to Romulo and to investigate the well being of the decidedly anti-social Sonia. What really matters are his well-observed interactions with the other residents. He starts to enjoy his little undercover adventure and is great company for those who miss conversation, companionship and someone who cares about them. There is little to criticise about the running of the home, but Alberdi looks beyond a professional duty of care to capture the emotional and physical frailities of individuals nearing the end of their lives. People are neglected by their families, yearn for company and grow anguished as foggy memories become unreliable and their bodies start to fail them.
What begins as a bit of a lark blossoms into a moving reflection on old age and loneliness that should strike a chord across the generations.
Production companies: Micromundo Producciones, Motto Pictures, Sutor Kolonko, Volya Films, Malvalanda
International sales: Dogwoof sales@dogwoof.com
Producer: Marcela Santibanez
Production design: Catalina Devia
Editing: Carolina Siraqyan
Cinematography: Pablo Valdés
Music: Vincent van Warmerdam