Dir. Shane Black. US. 2016. 119 mins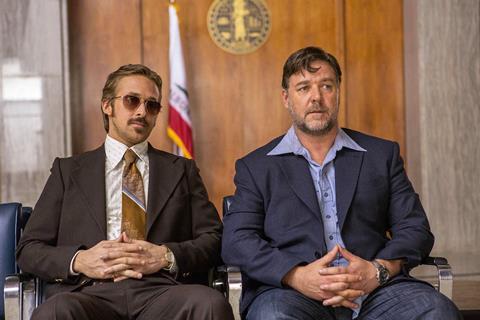 The last time he directed, action screenwriter extraordinaire Shane Black hit paydirt – 2013's Iron Man 3 scored both commercially (with a worldwide gross of over $1.2bn) and artistically, a superhero movie with a genuine auteur stamp. Black's previous directing venture, however, didn't set the world on fire: comedy thriller Kiss Kiss Bang Bang (2005), starring Robert Downey Jr three years before his Tony Stark role made him a box-office deity. Black should do better with spoofy neo-noir exercise The Nice Guys, if only because of the cast-iron pairing of Russell Crowe and Ryan Gosling. Even so, this affable retro number lacks the zing of both aforementioned films, and it's left to the leads – aided by terrific young find Angourie Rice – to keep the film afloat with self-mocking charm.
There's a distinctly self-referential film-buff dimension at work, but it's nowhere near as charming as in Kiss Kiss, Bang Bang.
Set in 1977 Los Angeles, The Nice Guys is a mismatched-buddy comedy thriller – Black's natural home territory, as the writer of Lethal Weapon. Crowe, weatherbeaten and bloated in a blue leather jacket, plays bruiser Jack Healy, paid to terrify men who prey on young girls. Gosling, touting the period's archetypal porn 'tache – and sometimes trying a little too hard for goofball effect - is Holland March, alcoholic widowed PI and father to 13-year-old Holly (Rice), a worldly-wise, intrepid lass who comes to play comic foil and unshakeable moral conscience to the two men.
Healy first introduces himself to March by beating him to a pulp, but they're soon working together on a case involving an elusive young woman named Amelia (Margaret Qualley) and a dead porn star – whose demise, in the opening sequence, makes an explosive flourish that the rest of the film never quite matches.
The title use of a classic disco-era font - shades of Boogie Nights - tells you exactly what sort of period lark this is. The glory era of LA's adult film industry provides a racy background that the film seems a little shy to make the most of: there's an extended party routine at a porn mogul's mansion, but it's more notable for Richard Bridgland's opulently over-the-top design than for any louche shenanigans.
Despite hints of hard-boiled cynicism, the film is essentially sweet-natured. Crowe plays Jack as a lunkish, short-fuse doofus, straight man to Gosling's hapless March, who's forever taking ludicrous booze-fuelled pratfalls (the old school gags about his drinking habit quickly outstay their welcome).
There's a distinctly self-referential film-buff dimension at work, but it's nowhere near as charming as in Kiss Kiss, Bang Bang. The Nice Guys harks back to the 70s golden age of revisionist detective thrillers, but the result feels too knowingly déja vu, rather than bringing a truly fresh angle.
On the mystery front, the plot never feels satisfyingly complex or surprising: we can guess exactly where things are headed the moment a glacially inexpressive Kim Basinger rolls into view as a woman of power. But while their one-liners could be a lot sharper, Crowe and Gosling more than get by on stumblebum amiability. Plus there's classy support, including an all-guns-blazing Beau Knapp as a giggling heavy, while Rice brings character and verve to her ingénue role. And, though the wham-bam sequences sometimes feel a touch messy, aficionados of that once plentiful action staple, flying glass, won't feel short-changed. Still, while the ending sets up a sequel, you ultimately feel that once is nice enough.
Production companies: Silver Pictures, Waypoint Entertainment
International sales: Bloom, info@bloom-media.com
Producer: Joel Silver
Screenplay: Shane Black, Anthony Bagarozzi
Cinematography: Philippe Rousselot
Editor: Joel Negron
Production design: Richard Bridgland
Music: John Ottman, David Buckley
Main cast: Russell Crowe, Ryan Gosling, Angourie Rice, Matt Bomer, Kim Basinger