Diane Kruger and Martin Freeman headline this Mossad spy thriller directed by Yuval Adler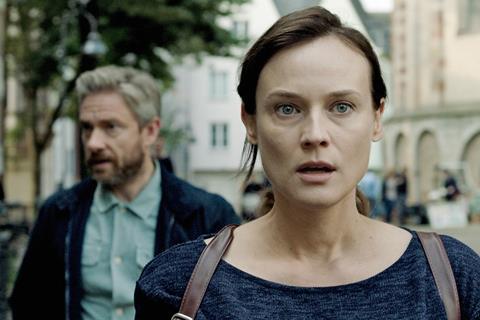 Dir: Yuval Adler. Germany/Israel/France, USA. 2019. 117 mins
A European woman recruited by Israel's secret service finds herself pushed beyond her comfort zone when life starts to blur with her meticulously constructed cover. Diane Kruger is compelling in the central role in this pacy procedural thriller which is persuasive in its depiction of contemporary spycraft but less convincing in mounting a case for why she would work for Mossad in the first place.
The credibility failure klaxon starts to sound
We are told that peripatetic Rachel 'feels at home' in Israel, more than any other place she has lived. There's a sense that her life before might have been lacking in excitement. But there is no hint of the kind of ideological commitment which might get her past the shock of seeing an innocent woman shot as collateral damage in her first assignment. It's this, and a few other question marks over the credibility of the character motivation, which might hamper the chances this otherwise efficiently taut thriller has to break out commercially.
The second feature from Yuval Adler (Bethlehem), The Operative is based on the novel 'The English Teacher' written by former Israel intelligence officer Yiftach Reicher Atir. As might be expected, the film feels on point when it comes to the nuts and bolts of field work – the isolation and tedium of building a cover as well as the thrill hit of executing an operation.
We enter the story as Rachel, having cut her connections with her Israeli former employers, re-establishes contact with the man who was her former handler. Thomas (Martin Freeman) is a British Jew living in Berlin. The relationship between these two fellow outsiders in the tight-knit Mossad establishment goes beyond professional respect and into friendship – albeit a friendship that Rachel has no qualms about abusing when she needs him to act on her behalf. Rachel's backstory is explored in a series of flashbacks through briefings between Thomas and the agents who are keen to assess the risk she poses.
Rather than ramp up the tension with gut-punching sound design and frenzied editing, Adler favours a more restrained approach. The life of the undercover operative, he suggests, is for long periods a very ordinary, very uneventful one. Perhaps because Rachel is rootless and independent by nature, she chafes against the idea of having every last banal detail of her cover story – she works as a language teacher in Tehran – dictated by shadowy figures in another country. She embarks on a relationship with the very asset she is supposed to observe: Farhad Razavi (Cas Anvar), the scion of an electronics company.
Here, again, the credibility failure klaxon starts sounding. Having witnessed first hand what happens to people who find themselves in the crosshairs of a Mossad operation, would Rachel really put her head above the parapet in this way? Her increasingly sincere romance with Farhad creates a dissonance within the job she is assigned to do. But whether or not we buy her motives, the relationship itself feels true. There's an easy physical chemistry between Kruger and Razavi and, in glimpses of informal intimacy, we get a sense of the kind of tenderness which might just get the better of the survival instinct which made Rachel lay low, out of sight of the agents she once worked alongside.
An open-ended finish is a brave option in a genre which comes with the expectation that all loose ends will be tied up, usually with a bullet.
Production companies: Match Factory Productions, Spiro Films, Archer Gray, Mountain Trail Films, Le Pacte
International sales: Endeavour Content ecfilmsalesinfo@endeavorcontent.com
Producer: Eitan Mansuri, Anne Carey, Jonathan Doweck, Viola Fügen, Michael Weber, Jean Labadie, Yuval Adler
Screenplay: Yuval Adler
Production design: Yoel Herzberg
Editing: Hansjörg Weißbrich
Cinematography: Kolja Brandt
Music: Frank Ilfman
Main cast: Diane Kruger, Martin Freeman, Cas Anvar, Liron Levo, Werner Daehn, Ohad Knoller, Yaakov Zada Daniel, Barnaby Metschurat