Behind the scenes of the annual 'Miss Holocaust Survivor' competition in Haifa, Israel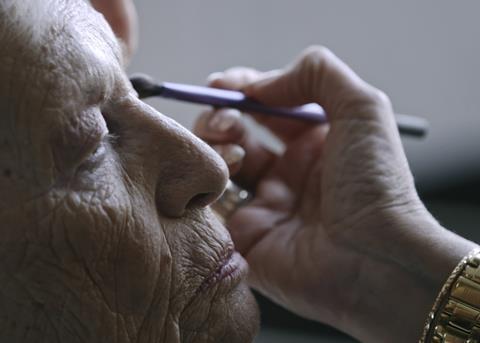 Dir. Eytan Ipeker. Turkey/France/Israel/Germany. 2020. 83 mins.
The words 'Holocaust' and 'beauty contest' are so fundamentally incompatible that Eytan Ipeker's documentary The Pageant is likely to face resistance from potential viewers. You can imagine audiences recoiling in disbelief – but you can also appreciate the challenge of making a serious film about a phenomenon like the 'Miss Holocaust Survivor' competition that has been held for several years in Haifa, Israel.
At one point, Leibowitz comments that the event is all about character, yet The Pageant only thinly illuminates the characters involved.
In the event, this serious-minded film falls short not on the grounds of taste, but because it doesn't go far enough either as an observational study, or in being sufficiently clear in its political argument. According to the programme note on the website of Visions du Réel, Ipeker contends that the experiences of these elderly women have been hijacked and made into spectacle for political purposes. However, a certain fuzziness in the film's intentions – plus intermittent poetic touches that feel decorative rather than truly integral to the execution - make The Pageant a missed opportunity. Still, events and platforms with a Jewish focus in particular will find it food for debate.
Ipeker's topic is the 2016 edition of the 'Miss Holocaust Survivor' pageant that is held annually in a home for Shoah survivors in Haifa. The film begins in downbeat observational mode, with pageant organiser Heli Ben-David – a glamorous middle-aged woman, herself a former beauty queen – in a fabric store, admiring bolts of cloth for evening dresses. We then meet a number of elderly women, competitors in this year's contest – which, another organiser makes clear, is not about physical beauty but "about [the contestants'] inner world… how they survived and stayed strong."
A number of women, among them Sophie Leibowitz, recount their and their families' experience of the camps, sometimes punctuated by photographs from their youth, before their ordeals began. But the seriousness of historical reality jars with the glossiness of the pageant, and with such moments as a get-together in which the women sing along to a cloying ballad about survival; we also glimpse kitsch pictures of idealised femininity from brochures, scrapbook covers et al.
The film makes its point about such discrepancies, but establishes the issue a little clumsily at the start, with harrowing black-and-white archive images shown to a background of perky disco music from the pageant. The political theme is first apparent when we hear TV news coverage of Israeli prime minister Benjamin Netanyahu making a bullish speech about Israel defying its enemies. Later, an appearance by one of the home's backers makes it clear what is at stake: the home, and the pageant, are supported by the International Christian Embassy, an evangelical organisation, with a Zionist agenda being promoted through the event. Whatever one's feelings about the political issues involved, anyone is likely to feel uncomfortable at a key moment on the big night itself, when one survivor's moment in the spotlight is interrupted by a flurry of excitement over the arrival of the prime minister's wife Sara Netanyahu.
However, the film's political critique is never as sharply focused as it might be, and it would perhaps have served Ipeker better either to follow a slightly more overt approach, or to take a sharper satirical line. As it is, the documentary feels soft-centred, satisfying neither as journalistic exposé nor as observational panorama in the Frederick Wiseman vein. At one point, Leibowitz comments that the event is all about character, yet The Pageant only thinly illuminates the characters involved. At one point, a nurse at the home recalls hearing a conversation among residents about who suffered worst in their youth, but such hearsay is clumsily inadequate as a way of shedding light on this community. Nevertheless, incidental moments make us gasp – like a woman reading about the different competitors in a glossy programme, and enthusing about one, "Wow, she was at Auschwitz."
Occasional impressionistic visuals – a stone on a floor by a chair, a view obscured by posters on a window – fail to energise a downbeat visual tone perhaps unavoidably dominated by institutional clinical shades of beige. And the use of music by 20th-century composers Olivier Messiaen and Darius Milhaud imparts a solemnity that rather too obviously offsets the crassness being critiqued.
Part of the International Feature Film Competition, 'The Pageant' plays in www.visionsdureel.ch between April 25 and May 2
Production companies: Kamara, Survivance, Spiro Films, Welt Film
International sales: Kamara, yoel@kamarafilm.com
Producer: Yoel Meranda
Cinematography: Itay Marom
Editor: Eytan Ipeker