Dir/scr. Joost van Ginkel. Netherlands, Sweden, Bulgaria. 2015.123mins.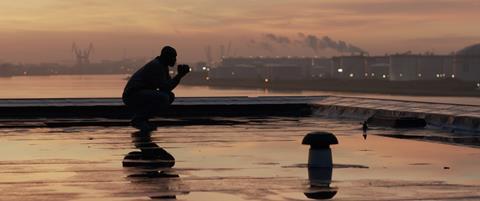 Joost van Ginkel's second feature is an interwoven, multi-stranded portrait of modern Europe and its permeable borders. The film has formal similarities to Crash, and like Paul Haggis' film, it wears its issues a little too prominently for comfort. The fact that it has already been announced as the Netherlands' submission to the Foreign Language Oscar race and the hot button topicality of some of the strands – it deals with migration and human trafficking – should generate some interest. However the lethargic pacing and a screenplay which tortuously labours its points mean that film is unlikely garner the word of mouth and the critical support required to to make an impact outside of its domestic market.
A ponderous screenplay that is mired in its message undermines much of the fine work delivered by the actors.
The lives of six disparate characters become briefly intertwined in modern day Amsterdam, with dramatic, and in some cases terminal, consequences. Jenya (Anjela Nedyalkova) is a beautiful young Bulgarian woman who is approached by a modelling agency. After a promising meeting, they offer to send her to the Netherlands for photographic work. However, in a grimly inevitable development that evokes Lukas Moodysson's Lilya 4-Ever, what awaits her in Amsterdam is not the career she had in mind. She discovers that she has been bought by Ivica (Boris Isaković), a murderous Serbian war criminal-turned-violent pimp. It's quite a CV he has.
Ivica also has a softer side. The proud new Dad of an infant boy, he affably allows himself to browbeaten by the baby's overprotective mother, before heading out to orchestrate the rapes and beatings of the girls he forces into the sex industry. There's another character caught in Ivica's slipstream of evil. A Bosnian doctor now living in Amsterdam, Seka (Jasna Djuričić) is consumed with thoughts of revenge.
Perhaps the most schematic of the characters is Yaya (Issaka Sawadogo), an illegal immigrant and devout Christian from an unspecified African country. Although struggling to survive as a horticultural labourer, saintly Yaya takes on responsibility for a fellow refugee and her two children when he discovers that she has fallen foul of the exploitative landlords of the warehouse where they covertly live. His desire to do the right thing forces him into a world which is fundamentally at odds with his strict moral code. It is in this world that he encounters Jenya.
The final two characters are a father, celebrated Swedish conductor Stig (Magnus Krepper), who is temporarily in Amsterdam for a concert, and his son Lucas (Erik Adelöw), a gifted piano prodigy. Separated from his concert violinist mother, who is touring in Japan, Lucas is struggling to settle in. And after wetting himself at school, he finds himself the target of bullies. Stig, however, is more interested in his son's rendition of Liszt's Mephisto Waltz than he is in the child's emotional well being.
Van Ginkel's directing style is resolutely low key. The camera is largely handheld, but feels clear-eyed and dispassionate. The score is unobtrusive. The most notable use of music is that of Stig's concert, Mozart's Requiem in D Minor, which plays out as a montage links all of the characters and sets the scene for the third act. Uniformly high quality performances are the film's main assets. Sawadogo's quiet dignity in a contrived role is particularly impressive. But ultimately, a ponderous screenplay that is mired in its message undermines much of the fine work delivered by the actors.
Production companies: PRPL, GötaFilm, KaBoAl Pictures, Film i Väst
International sales: Media Luna New Films, info@medialuna.biz
Producers: Ellen Havenith, Jeroen Beker
Screenplay: Joost van Ginkel
Cinematography: Andréas Lennartson
Editors: Bob Soetekouw, Teun Rietveld, Wouter van Luijn
Production design: Gerard Loomans
Main cast: Anjela Nedyalkova, Boris Isaković, Erik Adelöw, Issaka Sawadogo, Jasna Djuričić, Magnus Krepper