Sally Potter delivers an ensemble comedy of manners in her most enjoyable film to date.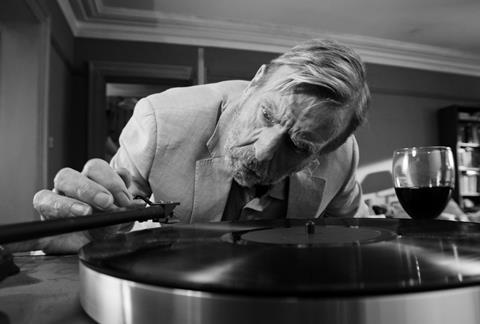 Dir: Sally Potter. UK, 2017 71 mins
If Timothy Spall hadn't already appeared in a film called Secrets And Lies, that would have been a perfect title for The Party, a brisk comedy of neurotic manners from British writer-director Sally Potter. Dissections of conflicted bourgeois self-obsession are plentiful on the British stage but currently far less so in UK cinema, which makes The Party something of a rarity – and it's surprising that such a film should be the work of a director generally known for formally experimental, anti-mainstream fictions, such as Orlando, verse drama Yes and 2009 minimalist talking-heads piece Rage.
While ostensibly decidedly mainstream – or at least, affecting a mainstream guise – The Party is a crisp, energetic, highly compact (at 71 minutes) comedy, and the most enjoyable film yet from a director whose conceptual seriousness has often seemed daunting. Theatrical prospects may be niche, but the film's intelligence, entertainment factor, and fine performances from a prestige cast will win The Party ample hospitality on other platforms and at festivals.
Shot in stark, grainy black and white, and set in a middle-class London home, the film begins with a door opening, and Janet (Kristin Scott Thomas) pointing a camera at a person unknown – that is, right at the viewer. We then track back to earlier in the day, with Janet making a phone call revealing that she has something to celebrate: a successful British opposition politician (it's not mentioned by name, but the other 'party' involved here is clearly Labour), she has just been appointed Shadow Minister for Health. But while she prepares food in the kitchen, her husband Bill (Spall) is next door, increasingly lost in booze and music, with something dark on his mind.
One by one, the couple's guests arrive. They are April (Patricia Clarkson), a steely American cynic with a quiver of acidic one-liners, and her unlikely partner Gottfried (Bruno Ganz), a German aromatherapist with an indefatigably touchy-feely attitude to life's problems; lesbian couple Martha (Cherry Jones) and Jinny (Emily Mortimer), the latter fresh from a pregnancy scan; and Tom (Cillian Murphy in uncharacteristic comic vein, and deliciously full-on), banker husband of the couple's friend Marianne. She, yet to arrive, is the Godot, or the Abigail, at this particular party.
On arrival, the already nervous Tom bolts into the bathroom to snort coke and worry over the gun he's mysteriously packing. There are small signals of an imminent domestic apocalypse – a fox in the garden, a smashed window, the burning of Janet's vol au vents – and then the revelations start to happen.
Everyone raises a glass to Janet's appointment, while Jinny reveals that she is pregnant with triplets. But then it transpires that Bill, who's been looking down in the mouth, has more than one surprise of his own to reveal, triggering a torrent of agonising and philosophizing from everyone present - on topics including idealism versus realism, the nature of knowledge, and the question of Western versus traditional medicine. While most lose their nerve, or spit long-suppressed venom, Gottfried remains hilariously unflappable, with a lemons-for-lemonade philosophy that regards every crisis as the opportunity for "deep personal transformation". As the indignities pile up, Potter adeptly guides us back to the point of departure – and a last-second twist that only the most attentive viewers, and the most cynical students of human nature, will have seen coming.
What might seem cinematically unpromising material is given a decisively de-theatricalising boost by the dense textures of Alexey Rodionov's black-and-white photography, which not only guides us nicely around the closed-quarter spaces of Janet's house and patio but also illuminates the characters by emphasising the grain of their skins, especially when the camera gets super-close, as it often does, to their faces.
The tenor of the piece is something like Harold Pinter reworked as Feydeau farce, but there's also a definite state-of-the-nation analysis to this panorama of left-wingers, intellectuals and feminists of a certain age, all reappraising their ideals in a decidedly venal and pragmatic world. Setting the ironic tone, a title sequence guitar rendition of Jerusalem, by long-time Potter associate Fred Frith, is the opener for a musical selection that takes in tangos, salsa, Gypsy music, Purcell, Coltrane and Albert Ayler, with the cast's characterisations running an equally broad jukebox-like gamut.
Production companies: Adventure Pictures, Great Point Media, Oxwich Media Ltd, Copenhagen Film Fund
International sales: Great Point Media, info@greatpointmedia.com
Producers: Christopher Sheppard, Kurban Kassam
Cinematography: Alexey Rodionov
Production design: Carlos Conti
Editors: Anders Refn, Emilie Orsini
Main cast: Patricia Clarkson, Bruno Ganz, Cherry Jones, Emily Mortimer, Cillian Murphy, Kristin Scott Thomas, Timothy Spall