Dir. Ben A Williams. UK, 2016, 88 mins.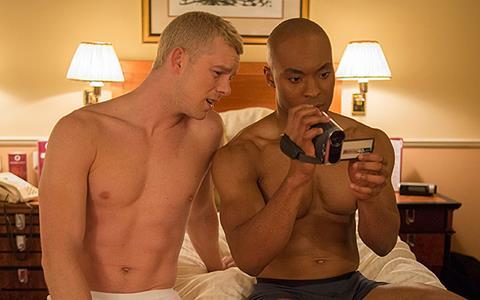 To be a gay spouse, parent, doctor, teacher, or athlete may be common currency in the UK, the concept of gender fluidity increasingly out and proud, but to be a gay male professional footballer still risks a life of shame and infamy. That fear informs The Pass, John Donnelly's adept screen translation of his 2014 Royal Court stage play, assisted by a blistering performance from Russell Tovey as a cunning premier-league player whose secret is rotting him from the inside.
This is a macho world we're entering, with toned bodies, preening masculinity, alcoholic and sexual excess and homo-erotic horseplay.
The sad story of troubled footballer Justin Fashanu, who committed suicide in 1998, echoes through the film as the sport and its practitioners zealously police their masculinity. The Pass should prise open debate across the UK, reaching into dark corners of the national psyche which are persistently, stubbornly homophobic. Young audiences in particular may warm to its actors – Tovey, ably supported by expressive newcomer Arinze Kene, Lisa McGrillis, and an irrepressible performance by Nico Mirallegro.
Opening the BFI's LGBT Flare festival, The Pass is a small-scale chamber piece, a clear niche player. Breakout is a challenge; fancy marketing footwork may pay dividends in the UK, with the ground looking good on LGBT and festival circuits in overseas markets. Education is an area for consideration. Nor can it completely escape its stage origins, despite some busy camerawork by Chris O'Driscoll. The Pass is firmly rooted in a three-act structure, each of which takes place in the prison-like confines of a single room at night which adeptly reflects the troubled mindset of its lead player.
Director Ben A. Williams, making his film debut, hasn't diluted the stageplay's message: this is a macho world we're entering, with toned bodies, preening masculinity, alcoholic and sexual excess and homo-erotic horseplay. We meet peroxide-blonde Jason (Tovey) and his training academy mate Ade (Kene) in a hotel room in Romania the night before a Champion's League match which will decide their professional fates. Wearing only the tightest of briefs as they punch the confines of the walls, these sporting Adonises jab at each other both physically and mentally. Jason is manipulative and untrustworthy, but his biggest betrayal will be to himself.
The Pass presents a complex playing field laced with tension and rivalry between two young men who have known each other since the age of eight, a ground which can abruptly turn savage as "banter" turns to something darker. (Race and class are also very much in play.) The action suddenly sweeps forward by five years, to a London penthouse, where lap dancer Lyndsey (Lisa McGryllis) has come to visit Jason on a tabloid kiss-and-tell set-up. And again, the film lurches through the years to its conclusion in a Manchester hotel, where up-for-it staff waiter Harry (Mirallegro) becomes embroiled in a fraught stand-off.
Produced by Duncan Kenworthy, this is a low-budget, intense film, characterised by the strength of the performances and the crackle of the dialogue. It's like the bristling, in-your-face brother of Andrew Haigh's softly contemplative Weekend. Costume designer Holly Smart certainly isn't too challenged here; principals Tovey and 2012 Screen International Star of Tomorrow alumni Arinze Kene and Nico Mirallegro spend much of their on-screen time either topless or in their underpants, reflecting football's determination to worship at the altar of rippling male muscularity and sexual excess while turning off any 'unwelcome' emotions that may arise as a result.
It's fascinating. Even at a brisk 88 minutes, though, the film would have dragged were it not for Tovey's performance as the tormented, clever, manipulative Jason, at war with himself and the world. The traits which make Jason a great footballer have turned inward, and Tovey delivers a physical, layered, discomfiting performance which should push this 34-year-old fresh-faced actor into the big leagues. Newcomer Arinze Kene, himself a writer, is the only actor not to transfer from the original Royal Court stage production, and effectively captures a range across the film's lenthy timeframe. We'll be seeing more of these players.
Production company: Toledo Productions Limited
International sales: Toledo Productions - jackb@toledoproductions.com.
Producer: Duncan Kenworthy
Screenplay: John Donnelly
Cinematography: Chris O'Driscoll
Editor: Masahiro Hirokubo, Justine Wright
Production design: Peter Francis
Main cast: Russell Tovey, Arinze Kene, Lisa McGrillis, Nico Mirallegro.