A young, isolated Turkish pigeon lover searches for inner strength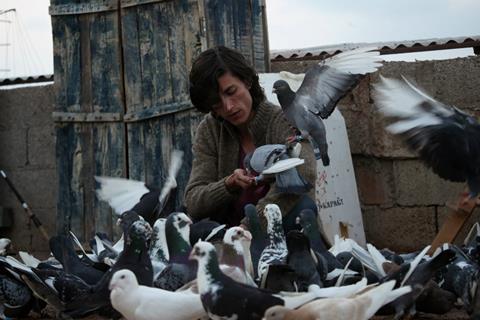 Dir/scr: Banu Sivaci. Turkey. 2018. 76mins
In her feature film debut, writer/director Banu Sivaci delivers a delicate and involving film about a fragile young man existing on the edge of society who manages to find an inner strength to face up to those threatening him. The Pigeon, which premiered in Berlin International Film Festival's Generation 14plus section in February, impressively details life on the margins and pinpoints Sivaci as a director to watch.
The notion of Yusuf finding strength and looking forwards rather than back is powerful and nicely staged
Its modest scale marks this out as very much a festival film, but it is tightly and thoughtfully made with a rich sense of atmosphere. It also features a compassionate lead performance from Kemal Burak Alper as Yusuf, a young man who feels closer and more at ease with the pigeons he looks after rather than the people down on the streets.
Yusuf tends his birds on his parents' rooftop in Adana, tenderly feeding and caring for around 50 of them in his dovecote. He has a favourite, a light grey pigeon named Maverdi that itself is something of an outsider among the flock, reflecting Yusuf's own position as a young man who feels ill-at-ease with life in the city.
Sporting longish hair and a pinched face that never breaks into a smile, the languid Yusuf reluctantly walks the streets, attending a market selling birds, being part of a wedding and tentatively watching a young woman with her small son. His quiet life takes a sudden turn when his brother gets him a job at a garage/scrap yard ("No pain, no gain… be a man, you will work," his brother says to him) and also wants him to sell the birds.
Things take a darker spin when a pigeon lands on his roof with a package fixed to its leg. He takes off the bundle and sells the pigeon, but when the bird's owner arrives threatening violence, Yusuf's ordered and peaceful world is shattered. Dragged away from his birds, he is sent out of the city to shift rubble at an old factory. When he eventually rebels and leaves, he returns to find his dovecote in disarray.
The final scenes are perhaps more cryptic than the modest story deserves, but the notion of Yusuf finding strength and looking forwards rather than back is powerful and nicely staged.
Production company Anagraf Film
International sales Wide Management, infos@widemanagement.com
Producers Mesut Ulutas, Banu Sivaci
Production design Tugba Gul Poyraz
Editing Mesut Ulutas
Cinematography Arda Yildiran
Music Canset Ozge Can
Main cast Kemal Burak Alper, Ruhi Sari, Michal Elia Kamal, Demet Genc, Mazlum Taskiran, Emin Ozdenvar