The Garrel clan turn out in force for father Philippe's domestic saga, set in a family of puppeteers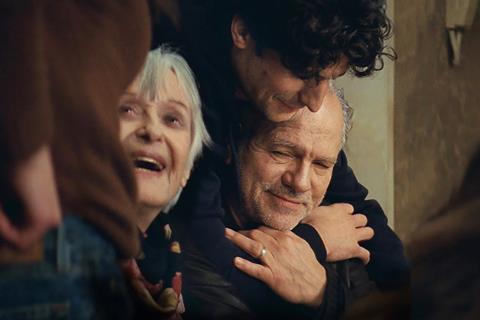 Dir. Philippe Garrel. France. 2023. 95 mins.
Veteran French director Philippe Garrel makes it a family affair in his latest feature The Plough, with his children Louis, Esther and Léna Garrel playing the scions of a puppeteering clan as they ponder whether to keep the flame alive. There's plenty going on thematically here – questions of love and grief, memorialising and forgetting, holding on to tradition or moving on – and the story, not unadventurously, expands on a slightly broader scale than much of the director's work. But you'd have to be a committed Garrelian, or a hardline upholder of the prerogatives of French auteurism, to really appreciate a glum piece which feels like a relic of a European cinema that is no longer really attuned to the times.
Feels like a relic of a European cinema that is no longer really attuned to the times.
That is possibly the point: if Garrel suggests that old-school puppeteering has had its day, of course one suspects he's also talking about his own strain of cinema. Even so, this airless piece doesn't quite pass muster as an elegy and, despite some strong acting and Renato Berta's elegantly spare photography, The Plough seems unlikely to have much impact after its Berlin Competition debut.
In contrast to the deliberately minimal narrative style of recent, considerably more compelling Garrel films such as Lover For A Day and The Salt Of Tears, the director opts for a broader story and a more complex, fragmented handling of time here. The Plough begins with a young woman, Laura (Asma Messaoudene), helping out a troupe of hand-puppeteers, Le Grand Chariot (the English title The Plough translates their name, a reference to the constellation). Laura exchanges kisses with part-time puppeteer Pieter (Damien Mongin), but the narrative then switches to the family that runs the troupe – father Simon (Aurélien Recoing), his adult children Louis, Martha and Léna (Louis, Esther and Léna Garrel) and their grandmother Gabrielle (Francine Bergé), a dyed-in-the-wool left-wing bohemian.
The troupe, hard-pressed for funds, nevertheless maintains the traditions of old-school puppetry with somewhat creaky, strangely literary shows that are more about recherché wordplay than 'Punch-and-Judy' knockabout – although they still seem to delight audiences of young children, presumably brought up on Molière and Marivaux from the cradle. But nothing stays the same forever, and when it's time for the troupe to consider its future, the inheritors must decide whether or not to move with the times. Family troubles intensify as Gabrielle develops dementia – a slightly laborious twist, given that her reminiscences have established her as an personification of French cultural and political memory.
Meanwhile, romantic intrigues are happening. Pieter, just as he and partner Hélène (Mathilde Weil) become parents, moves in with Laura, while Louis – in a flash of love at first sight – takes up with Hélène. This prompts Pieter, by now Louis's best friend, to idly inquire, "How's my son?" - one of the film's few glimmers of dry humour.
The screenplay – Garrel's collaborators here including the late Jean-Claude Carrière – not inelegantly weaves its complications and turnarounds, with some nicely disorienting jumps built into the plot, intermittently narrated off-screen by Laetitia Spigarelli. But the pacing is often leaden, despite some lively performances, not least from Recoing and from Bergé, whose screen career goes back to Jean Renoir's Elena And The Men and Jacques Rivette's The Nun, and who gives her role a charismatic, poignant energy.
Of the younger cast, Weil makes a strong impression, with the other female roles a little underdeveloped, while Louis Garrel gives the rather sullen performance he rather tends to bring to his father's films (notably in 2011's A Burning Hot Summer). As for Damien Mongin, he makes the most of an extremely difficult character to bring alive. It's hard to believe that the blithely grinning, irresponsibly happy-go-lucky Pieter of the first part could then transform into an obsessive, tormented painter who embodies Romantic codes of creative agony to the point of living in what appears to be an actual garret – a set of clichés that the film is just possibly playing for irony although if so, it doesn't remotely come off.
One saving grace is Renato Berta's cleanly crafted widescreen colour photography (as opposed to Garrel's more usual black and white), which features some striking, simple effects, notably a thunderstorm subtly presaged early on, and some glowing extreme close-ups of the young women. Otherwise, the film's spare self-containment ends up being quite stifling, with its scant reference to a world outside its characters – except for Léna's involvement with the Femen activist movement, which makes you wonder why she's still caught up with the fusty old family business in the first place.
Production company: Rectangle Productions
International sales: Wild Bunch International, feripret@wbinter.eu
Producers: Edouard Weil, Laurine Pelassy
Screenplay: Philippe Garrel, Arlette Langmann, Jean-Claude Carrière, Caroline Deruas Peano
Cinematography: Renato Berta
Editing: Yann Dede
Production design: Manu du Chauvigny
Music: Jean-Louis Aubert
Main cast: Louis Garrel, Damien Mongin, Esther Garrel, Léna Garrel, Mathilde Weil), Asma Messaoudene, Francine Bergé