A poet and his wife long to escape the confines of their rural mining town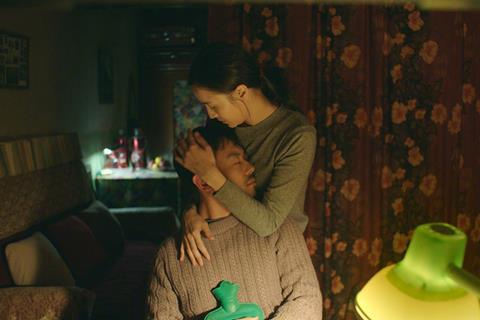 Dir/scr. Liu Hao. China. 2018. 123mins
Featuring deeply moving work from writer/director Liu Hao and stars Song Jia and Zhu Yawen, The Poet simmers with the lyricism that its title suggests. It may be set during the early days of China's economic reform, and steeped in the everyday life of a rural mining town, but this is a film that wrings sweeping beauty and well-earned sentiment out of every frame.
As the tale takes its time, Liu and returning cinematographer Li Bingqian's detailed visuals also linger
Bowing in Tokyo's competition, The Poet is a heartfelt and affecting portrait of striving for a better life, as well as the struggles of love that come with it, and should be destined for further play on the festival circuit.
The feature's moniker may refer to a singular purveyor of transporting prose, but many exist in the film's orbit. Li Wu (Zhu Yawen) is the film's primary wordsmith, penning verse between his day shifts in Heija Hill's open coal pit and nighttime stints studying for an office promotion. Dye factor worker Chen Hui (Song Jia) is his doting wife, who spins equally flowery phrases when vocally expressing her devotion to him. And Zhang Mu (Zhou Lijing) is the feted literary veteran who visits the mine.
Though Li is desperate to tread in Zhang's footsteps, it's Chen that Zhang takes an interest in. After learning of her elegant calligraphy skills — put to use in secretly helping to publish Li's poems, one of many of her selfless deeds to further her husband's career — the old man offers Chen a job printing his own personal volumes.
For its entire duration, The Poet smolders with keenly felt yet yearning for success, recognition and reciprocal affection, yet Liu's narrative proves a tale of three parts. After exploring the minutiae of Li and Hui's life at the mine, the film disrupts their status quo then chars the aftermath. Months and years pass, evolving from cramped quarters, soot-smeared faces and piles of returned, unread poetry submissions to grey offices, city restaurants and the fading of mine's heyday. Yet, no matter how far the feature strays from the characters' humble beginnings, they cast a long shadow over all that follows.
In his fifth film, and first since 2015's Back to the North, Liu synchronises his story and his approach with precision. This is not only a movie about a poet making his name by evocatively examining his bleak existence but one that does the very same, yet it's a potent and graceful case of mirroring, rather than blunt and clumsy. And although The Poet inches forward a touch too patiently in parts, the glacial crawl is worth it.
As the tale takes its time, Liu and returning cinematographer Li Bingqian's detailed visuals also linger. Frequently shot wide, in tableau-like compositions that instantly paint a picture of working the mine day in, day out, or steal moments of intimacy behind closed doors, each image presents an intricate visual. The film's opening frames couldn't typify it better — showing the vast expanse of dust and rock that comprises the mine, it's alive with texture, all while rendering something mundane in a different light.
Unsurprisingly, it's When Larry Met Mary co-stars Zhu and Song that demand and receive attention, courtesy of their respective richly drawn turns. Whether the camera is peering closer at their silent expressions or capturing the duo posed in their surroundings, this piece of cinematic poetry finds a world of emotion in each of their faces.
Production company: Atrio Media (Beijing) Co. Ltd. / Xinjiang Film Group
International sales: Edko Films, chiujulian@edkofilm.com.hk
Producer: Chow Keung, Mi Guoyong and Huang Qunfei
Production design: Li Chuanyong
Editing: Li Tianming
Cinematography: Li Bingqian
Music: Dong Yingda
Main cast: Song Jia, Zhu Yawen, Zhou Lijing, Zhang Yao