Two disparate families collide in Pietro Castellitto's feature debut, a dark comedy set in Rome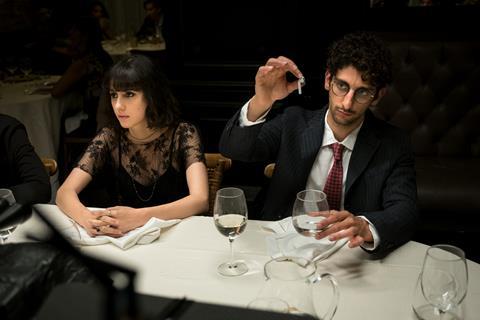 Dir/scr. Pietro Castellitto. Italy. 2020. 109 mins.
Twice in Pietro Castellitto's The Predators, armed men draw their weapons openly in public, only for their potential victims to initially or completely fail to notice. Audiences for The Predators don't get the chance to either miss this, or the fact that the film's title describes everyone in it. In charting the intertwined, festering unhappiness of two Rome families — one well-off and filled with doctors and filmmakers, the other both running and brandishing guns — this comedy is never one for understatement. That said, further festival berths are still likely after its Venice Horizons premiere, with Castellitto's feature debut managing to be both glaringly obvious and wryly astute at the same time.
There's little here that isn't plainly apparent, but when it hits its target, it's worth noticing.
Occasionally, in fact, The Predators' blatant nature ranks among its strengths. Its characters prey upon the world and each other in a variety of ways, from ripping off little old ladies to disrupting birthday dinners with confrontational raps to marital infidelity. The Pavone and Vismara families are rarely transparent with themselves or anyone else, but Castellitto sees them clearly. Just as often, though, his film labours its point about inherent selfishness, savagery and secrets to a repetitive degree.
The filmmaker himself features as Federico Pavone, a 25-year-old assistant philosophy professor working on a team set to exhume Friedrich Nietzsche's body — to discover whether he died a virgin and why he was plagued by headaches, amongst other questions. He's just one of The Predators' extensive web of players, including his doctor father Pierpaolo (Massimo Popolizio) and director mother Ludovica (Manuela Mandracchia), plus swaggering gun shop employee Claudio Vismara (Giorgio Montanini), his loutish brother Carlo (Claudio Carmilli) and their threatening, overbearing uncle Flavio (Antonio Gerardi). But when Federico is told that his dream job isn't meant to be, then decides to vent his frustration by getting explosive, he's one of the reasons the two families cross paths.
The other: a hit-and-run involving Claudio's elderly mother Ines (Mariza Ubaldi), after she's tricked into buying an expensive watch from a man claiming to be one of her son's friends. Castellitto is frequently less concerned with how his characters connect in a narrative sense, however, and more interested in teasing out their emotional similarities in the face of evident differences. Every main figure, and every supporting player too, is restless and unfulfilled in their own way. Pierpaolo is patently dissatisfied with his marriage, Ludovica's latest film shoot is beset with problems, and when Claudio isn't caught under his uncle's thumb or fussing over his mum, he's dealing his wife Teresa (Giuilia Petrini) and their trigger-happy 12-year-old son Cesare (Franceso Borgese).
Where The Predators stands out, it's either ensuring that viewers feel the alienation and exasperation so prevalent among its characters, spinning their situations into pithy setups, or leaning heavily on stylish cinematography by Carlo Rinaldi (The Haunting of Sharon Tate). When it drags, it's often bogged down by conversations that prove too forceful or calculated, or both.
Still, editor Gianluca Scarpa weaves the script's various parts together with enough pace to keep the feature moving along, and Castellitto's cast hits all the requisite notes — the writer/director himself in the least subtle fashion, and Popolizio and Mandracchia with the most depth. And, when The Predators unsurprisingly comes full circle with its story, it typifies the overall film fittingly. There's little here that isn't plainly apparent, but when it hits its target, it's worth noticing.
Production company: Fandango Spa, Rai Cinema
International sales: Fandango Sales, sales@fandango.it
Producer: Domenico Procacci, Laura Paolucci
Production design: Luca Merlini
Editing: Gianluca Scarpa
Cinematography: Carlo Rinaldi
Music: Niccolò Contessa
Main cast: Massimo Popolizio, Manuela Mandracchia, Pietro Castellitto, Giorgio Montanini, Dario Cassini, Anita Caprioli