Fascinating documentary which explores the complexities of the art world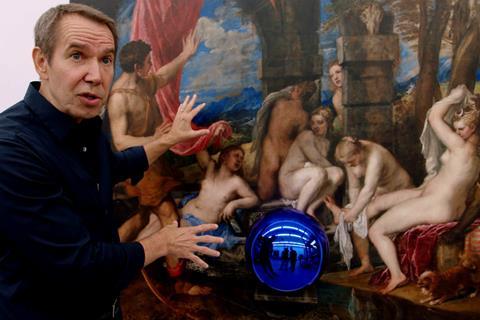 Dir: Nathaniel Kahn. US. 2018. 98mins
You don't have to be crazy rich to appreciate contemporary art, but it certainly helps. Nathaniel Kahn's absorbing documentary The Price Of Everything explores the increasingly blurred lines between creativity and commerce at a time when art has become a commodity traded like stocks, shares or property, and auction prices are skyrocketing.
Kahn teases out both the absurdity and the complexity of the world he has entered
The wide ranging perspectives of painters, collectors, dealers and gallery owners makes for a thought-provoking and unexpectedly moving film with the potential to attract both a specialist and a more general audience. Following its Sundance premier and successful festival run, the documentary is available on HBO in the US, and Dogwoof will open theatrically in the UK on November 16.
The rarified world of contemporary art is a cross between the decadence of a Paolo Sorrentino epic and an exotic jungle that could intrigue David Attenborough. Fabulously wealthy collectors feel like a breed apart as they splash millions on a must-have Jeff Koons rabbit or a Gerhard Richter painting. There are dealers who love "the chase and the deal" and artists who fear the worst about the evils of commercialisation. Throughout the film there is the underlying question of who decides what is art and whether it has value. There are all kinds of justifications for the price tag on some paintings, including the notion that a work can only really be considered important if it has cost a small fortune.
Kahn appears to take the art scene at face value but his focused, informed questioning and affable curiosity elicit responses tease out both the absurdity and the complexity of the world he has entered. Archive footage of a landmark 1973 auction deftly shows the mutually beneficial but distinctly uncomfortable relationship between artist and collector. Painter Robert Rauschenberg berates collector Robert Scull for the jaw-dropping profits he has just made from selling Rauschenberg's work. Scull counters that the impact of the sale on Rauschenberg's reputation is priceless.
Kahn's film is very loosely structured around the countdown to a Sotheby's auction of art works from the collection of Steven and Ann Ames. That's little more than an excuse to talk to key figures in the contemporary art scene including wealthy collector Stefan Edlis, who donated art worth $500 million to the Art Institute of Chicago, Sotheby's enthusiastic fine arts chair Amy Cappellazzo and critic Jerry Saltz who laments the fact that each sale to a private collector removes a precious treasure from the public gaze.
Tensions crystallise around the careers of artists Jeff Koons and Larry Poons. Koons has become an internationally recognised brand with individual works that have sold for in excess of $50 million. Restless for fresh challenges and refusing to continue the style that first made his reputation, Poons has fallen out of favour. An exhibition of new work brings him fresh attention and the irony that years of neglect have only helped to make his work more highly collectable. His bemused response to it all lends a melancholy edge to The Price Of Everything; a film which makes it clear that, while reputations and price rise and fall without warning, that has very little to do with the value of an artist's work.
Production companies: Hot And Sunny Productions, Anthos Media
International sales: Dogwoof sales@dogwoof.com
Producers: Jennifer Blei Stockman, Debi Wisch, Carla Solomon
Editing: Brad Fuller, Sabine Krayenbühl, Phillip Schopper
Cinematography: Bob Richman
Music: Jeff Beal
Featuring: Jeff Koons, Larry Poons, Stefan Edlis, Amy Cappellazzo