Abel Ferrara's tribute to a long-standing member of the New York film community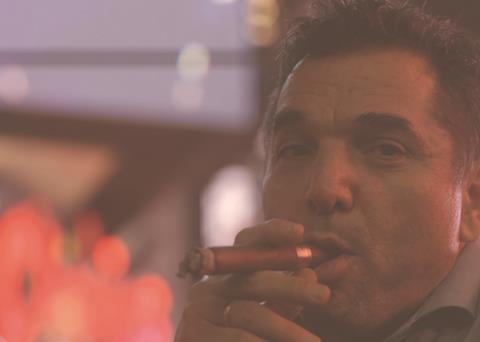 Dir Abel Ferrara. USA/Greece. 2019. 81 mins
There's a clear kinship between director Abel Ferrara and the subject of his latest film, his first New York-set documentary in nearly a decade. Greek Cypriot by birth, New Yorker by choice, Nick Nicolaou has been part of the fabric of the city's cinema exhibition scene since he begged his first job in a movie theatre at the age of 17. Like Ferrera, Nicolaou is a throwback to a different era of NYC; a maverick independent spirit holding out against the sanitisation and corporatisation of the city. It's possible, however, that in his affection for and identification with Nicolaou, Ferrera has over-estimated the fascination of his subject's life story.
The film screens in a Tribeca sidebar entitled "This Used To Be New York". And it's within this very specific Venn diagram intersection between cinephilia and NY cultural nostalgia that the film is likely to find its most receptive audience. The Ferrera name will likely be a draw for other festivals – the director also appears in front of the camera as well as behind, although perhaps not as much as we might wish. Whenever Ferrera lurches into the frame, he always enlivens the scene with the promise of an anecdotal road trip into Manhattan's grubby past. But it's a promise that fails to materialise. The film's reliance on Nicolaou as the sole central character is one reason why it might struggle to travel far beyond the immediate geographical area with which it deals.
A passionate fan of cinema and an advocate of the collective joy of watching movies in a dark room together with a group of strangers, Nick Nicolaou views the neighbourhood theatres that he struggles to keep running as a kind of community service. And the community agrees. At his embattled Queens second run theatre, he greets the punters – from tech-baffled pensioners befuddled by seat selection to teenagers bunking off from school – like old friends. Nicolaou is clearly one of the good guys.
But he is not, it has to be said, a natural raconteur. There's no instinct here for the details which bring a story to life, although this is partly a failing on the part of Ferrera as an interviewer. Recalling the years he spent working in the insalubrious adult movie theatres in and around Times Square, Nicolaou acknowledges that "things" tended to happen between the audience members, but sidesteps any specifics. This is not, presumably, out of coyness about sensibilities of the viewers of this film – Ferrera's choice of archive clips is predictably salty and we have already been treated to an arresting clip featuring full frontal male nudity. But it does mean that the film can be a little flat. Rather than paint a picture with words, the film seems to lean overly heavily on shots of Nicolaou pointing at bits of Midtown real estate and recalling that, decades before, it used to be a flea pit cinema.
The archive material is rich with neons and saturated kodachrome colours and will delight audience members who enjoy reminders of the era when New York was the most thrillingly dissolute city on the planet. Less well chosen is a soundtrack which takes the Greek element of Nicolaou's heritage and runs with it, burbling in the background like the musack in a family taverna. Still, the film does convey respect and regard for Nicolaou and makes a strong case that he, and people like him, are more in tune with the soul of the city than the big businesses could ever be.
Production companies: Faliro House Productions, Washington Square Films
International sales: The Match Factory thania.dimitrakopoulou@matchfactory.de
Producers: Christos V. Konstantakopoulos, Michael M. Bilandic, Joshua Blum, Katie Stern, Michael Weber
Editing: Fabio Nunziata
Music: Joe Delia
Featuring: Nicolas Nicolaou, Abel Ferrara