The stakes grow ever-higher for a professional cyclist and doper in Kieron J. Walsh's Ireland-set drama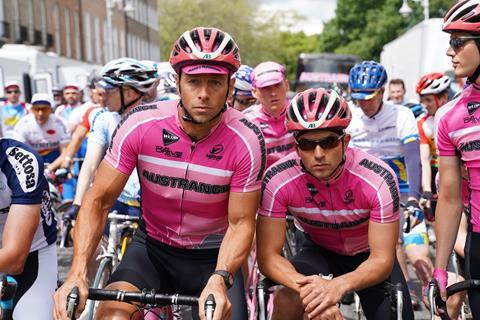 Dir: Kieron J Walsh. Ireland/Luxembourg/Belgium. 2020. 95mins
A professional cycler facing the end of his career goes to extreme lengths to stay in the game in Irish director Kieron J Walsh's solid drama. Ireland's real-life hosting of the first three stages of the Tour De France in 1998 provides the tumultuous backdrop for this intriguing if narratively formulaic story of one man whose fate becomes entwined with a sport mired in controversy.
Talpe is excellent in the lead, his tightly-honed physique an increasingly transparent veneer for his troubled emotional state
Despite the cancellation of its planned SXSW premiere, the Screen Ireland, Eurimages and Film Fund Luxembourg-backed The Racer has sped round the festival circuit with recent stops including Cork and Tallinn Black Nights, selling to multiple territories including the US and the UK. It will surely pique the interest of cycling fans, who have embraced similar films including documentary Icarus and drama The Program, about disgraced pro-racer Lance Armstrong. A strong central performance from Louis Talpe may be its best chance at making an impact beyond that built-in crowd.
At the age of 38, Belgian cyclist Dom Chabol (Talpe) has spent his life building a career in the sport, making many sacrifices along the way. Estranged from his family, his home is with his team, travelling the globe for competitions. In 1998 he finds himself in Dublin, as Ireland hosts the first three stages of the Tour de France. On the eve of the first stage, however, he is unceremoniously dumped from the squad, only to be almost immediately reinstated when one of his fellow riders is disqualified for drug use.
That's unsurprising, as doping is rampant. Part of the team's training routine is regular injections and laced blood transfusions from trainer Sonny (Iain Glen). It's a practice forbidden by the sport yet sanctioned by team owners like the straight-talking Viking (Karel Roden), who expects nothing short of perfection at whatever cost. Indeed, this cocktail puts a huge strain on Dom's body, leading to a couple of near heart-attacks, and yet he continues to fill his veins; he, like all those who peddle alongside him, knows that, without the drugs, he simply couldn't keep pace.
In fact, as a 'domestique' — or support rider — Dom is responsible for setting that pace, and getting his team's leader, the volatile and insecure Lupo 'Tartare' Marino (Matteo Simoni) to the finish line and the coveted yellow jersey. Dom is, as the team's local physician (and emerging love interest) Dr Lynn Brennan (Tara Lee) calls him, "a professional loser." This continuous effort without much in the way of individual reward puts him under severe mental, and well as physical, strain. Something, somewhere, has to give.
Talpe is excellent in the lead, his tightly-honed physique an increasingly transparent veneer for his troubled emotional state. His entire identity is bound up with his sport, and the prospect of being separated from his bike is a constant torment. Dom can't see a life beyond the saddle and, apart from a couple of fraught phone calls with his sister in Belgium, the film keeps him — and us — hermetically sealed in this claustrophobic, stressful environment. A night he spends in the drunken company of Lynn's boisterous family is like a breath of fresh air, only to be snuffed out when he returns to the team. It's easy to see how, in a regime like this, professional ambition and Stockholm Syndrome become interchangeable.
As James Mather's camera delves into the peloton, flying above and amongst the swarm of riders while they battle for position, it's also clear that this is also part of the addiction. Close-ups of gritted teeth and sweat-drenched bodies are markers of considerable stress, but they pale in comparison with the sheer elation felt at the podium. That's underscored by Hannes De Maeyer's excellent, nuanced score, which mixes frantic beats and gentler Irish strings. And, in the background, there's often the relentless tick of bicycle spokes which act as an effective metronome for Dom's narrowing chances of glory.
Production companies: Blinder Films, Calach Films, Caviar Films
International sales: Independent, mail@independentfilmcompany.com
Producers: Katie Holly, Yvonne Donohoe
Screenplay: Kieron J Walsh and Ciaran Cassidy
Cinematographer: James Mather
Editors: Mathieu Depuydt, Nico Poedts
Production design: Ray Ball
Music: Hannes Da Maeyer
Main cast: Louis Talpe, Iain Glen, Tara Lee, Matteo Simoni, Karel Roden, Timo Wagner