A Palestinian man and an Israeli woman embark on an illicit affair that has devastating consequences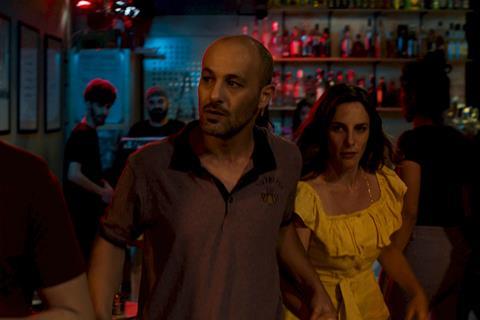 Dir. Muayad Alayan. Palestine. 2018. 127mins
A casual affair between a Palestinian man and an Israeli woman risks more than their respective marriages when they are caught together at the wrong place and wrong time. The second feature from the Alayan brothers, taut despite a slightly over-long running time, argues that a purely personal encounter is nigh on impossible when the backdrop is so explosively charged with political tensions.
Unshowy camerawork and an understated score both place the emphasis on the largely impressive and naturalistic performances
Director Muayad Alayan and writer Rami Musa Alayan co-produced this feature with support from both the Hubert Bals Fund and 26th Berlinale World Cinema Fund. This pedigree, together with the hot button subject matter, should ensure that the film will figure prominently on the wish lists of festival programmers following its premiere at Rotterdam. The slightly unwieldy running time will be the main impediment to overseas arthouse sales, although the central story is arguably strong enough to quell initial doubts. Domestically there may be some resistance to a narrative which focuses on an illicit sexual relationship which spans religious and political divides.
The film opens with a pre-title sequence showing Saleem's (Adeeb Safadi) arrest – he is torn from the banal morning routine of making tea for himself and his pregnant wife Bisan (Maisa Abd Elhadi) by Israeli security forces bursting through the door of the Jerusalem flat he rents from his brother-in-law. We catch a flicker of realisation on his face when the interrogator demands that he tell all about 'the woman he recruited'.
The film then rewinds to an earlier moment. Saleem and Sarah (Sivan Kerchner) cling to each other during a bout of vigorous love making; later he drops her off at her car with a wink. Sarah's husband David (Ishai Golan), an officer in the Israeli army, is too preoccupied with work to notice much more than the inconvenience of his wife's lateness that evening. And Bisan blithely accepts that her husband must work all hours to provide for their unborn child.
Caught up in the thrill of risk-taking – their trysts are all about forbidden sex, the pleasure is sharpened by danger – Saleem and Sarah make one reckless mistake. Saleem has recently been offered extra work on top of his day job as a bakery delivery man: he makes night time trips distributing goods to people who don't have a permit to enter Jerusalem. On a whim, Sarah decides to accompany him on a delivery to Bethlehem, behind the wall which divides her community from his. Reasoning that nobody knows them there, Saleem and Sarah go to a bar together.
An altercation with an Arab man who spots Sarah's hebrew pendant is the event which topples the precarious framework of lies on which the relationship is built, and triggers a disastrous chain of events. About an hour into the film, we catch up with the film's opening scene and the second half of the picture shifts focus from Saleem to his wife Bisan, his lawyer Maryam (Hanan Hillo) and to Sarah, as they negotiate the minefield of Saleem's arrest.
Unshowy camerawork and an understated score both place the emphasis on the largely impressive and naturalistic performances. Kerchner in particular stands out, her face a tight mask which doesn't quite conceal her guilt from her husband and his colleagues. It is she, along with Maisa Abd Elhadi, who grounds a climactic encounter between wronged wife and other woman, anchoring it just enough to prevent it from toppling into contrivance.
Production company: PalCine Productions
International sales: Heretic Outreach, ioanna@heretic.gr
Producer: Rami Musa Alayan
Cinematography: Sebastian Bock
Screenwriter: Rami Musa Alayan
Editor: Sameer Qumsiyeh
Production design: Bashar Hassuneh
Main cast: Sivan Kerchner, Adeeb Safadi, Maisa Abd Elhadi, Hanan Hillo, Ishai Golan, Kamel El Basha