Dir: Alejandro G. Iñárritu. US. 2015. 156mins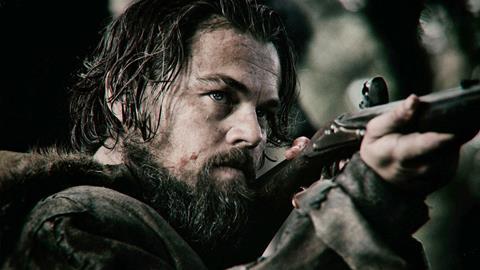 Over his career, filmmaker Alejandro G. Iñárritu has obsessively chronicled the beatific suffering and spiritual rebirth of ordinary men, consistently demonstrating an extraordinary showmanship that often risks tipping over into self-aggrandisement. The Revenant provides the grandest canvas yet for Iñárritu's best and worst qualities. This brutal survival tale is so powerfully engrossing that, despite the clear limitations of his monochromatic, showy approach, the film's compelling construction tends to override the legitimate criticisms. Playing a frontiersman left for dead who seeks vengeance, Leonardo DiCaprio gives a potently physical performance that, much like The Revenant itself, eschews nuance in the name of pitiless, cathartic drama.
Awe-inspiring visuals are offset by the frequent barbarism of The Revenant's characters
Arriving in select cities in the US on December 25, and hitting several international territories over the following month, The Revenant looks to be a major awards player, especially considering that Iñárritu just won Oscars for directing, co-writing and co-producing Best Picture winner Birdman. With Tom Hardy serving as the film's villain, this Fox release boasts plenty of box-office clout thanks to DiCaprio, and certainly expectations will be high among discriminating audiences. Because of the savagery of some of the storytelling, however, The Revenant may be a harder sell for skittish mainstream viewers, although good reviews and Oscar buzz should lead to solid commercial success.
Set in the 1820s around the untamed Rocky Mountains of the American West, the film stars DiCaprio as Glass, a scout hired by an expedition of hunters. He barely survives an ambush by Native Americans, but still manages to lead a handful of survivors to safety along with his beloved Pawnee son Hawk (Forrest Goodluck). Glass is then attacked by a bear, his body badly bloodied as he clings to life. The group's leader, Captain Henry (Domhnall Gleeson), doesn't want to leave Glass behind, but a self-centred compatriot, Fitzgerald (Hardy), promises to look after him while the rest of the team scout ahead — only to abandon the mauled and barely coherent Glass at the first opportunity. (Adding insult to injury, Fitzgerald kills Hawk in front of Glass.)
That's merely the first act of The Revenant, which soon transitions into a tale of survival and revenge which is inspired by true events and based on Michael Punke's 2002 novel. Enraged by Fitzgerald's betrayal, Glass wills himself to travel back to their base hundreds of miles away, battling hunger, the encroaching harsh winter and unfriendly Native American tribes so that he can confront the man who murdered his son.
Ever since his 2000 debut Amores Perros, Iñárritu has specialized in tales of physical and emotional trauma, observing characters often at their most desperate or bereft. Working again with Birdman cinematographer Emmanuel Lubezki, Terrence Malick's frequent director of photography, he has envisioned The Revenant as a hyper-vivid portrait of man-versus-nature, enclosing the characters in the wild beauty of the West which, at any moment, can turn from breathtaking to harrowing as Glass and the others realise they are at the mercy of an unforgiving landscape dominated by ravenous creatures and deadly natives.
Utilising the same gliding camera he incorporates on Malick's films to give them their trademark ethereal quality, Lubezki shapes Glass's world as one that's almost dreamlike, the majesty of the tall trees and the grandeur of the wide open spaces almost eerily, unsettlingly serene. (Jack Fisk, Malick's longtime production designer, serves in the same capacity on The Revenant, lending a rugged, handmade authenticity to the characters' crude dwellings.)

Those awe-inspiring visuals are offset by the frequent barbarism of The Revenant's characters. In frequent flashbacks that can overdo their would-be poetic resonance, Glass is shown remembering his earlier life with his Native American wife, who was killed by white soldiers, and the promise he made to his child to keep him safe. Those fiery, blood-soaked vignettes establish a pattern of haphazard violence that informs the rest of the film, as Glass will endure a horrifying bear attack, the casual cruelty of Fitzgerald (who tries to bury him alive) and other trials on the way back to base.
In several of his movies, Iñárritu has tried to ennoble misery, practically transforming his agonised characters into martyrs. That tendency can become tiresome in The Revenant once Glass begins his arduous journey, the filmmaker lingering on every hardship and injury his hero endures as if sustained scenes of suffering automatically equal profound insights into the human condition.
But Iñárritu's overkill is tempered by his star's soulfulness. Because DiCaprio isn't given a lot of dialogue, it's critical that the actor articulate Glass's pain and determination through facial reactions and steely eyes. This is a stripped-down turn for DiCaprio, who can't rely on the charm and swagger that have been his signature in movies like The Wolf Of Wall Street and The Great Gatsby. (In truth, Glass is closer to his haunted, brooding characters from Inception and Shutter Island.) If it's not one of DiCaprio's most layered portrayals, that's partly by design: the blunt-force performance is all of a piece, conveying Glass's unwavering quest for revenge.
At over two-and-a-half hours, The Revenant sometimes strains to be the epic fable that Iñárritu is plainly striving to achieve. Playing the unscrupulous Fitzgerald, Hardy is just as one-dimensionally stoic as Glass, Iñárritu creating the impression that his two adversaries have seemingly been carved out of the towering mountains that surround them. There's an elemental power to much of The Revenant but also a sameness, the film pounding on a few themes without much variance. Even The Revenant's juxtaposition of harsh violence followed by contemplative nature shots becomes formulaic on occasion.
Nonetheless, tying it all together is Iñárritu's flair for bravura operatic flourishes, whether it's through wizardly single-take scenes (some which appear to have been digitally stitched together) or his ability to craft inspired set pieces that highlight the almost primal forces at play in the film. His gimmicks and indulgences aren't getting any more manageable, but with The Revenant, neither is his undeniably prodigious talent.
Production companies: Regency Enterprises, RatPac Entertainment, New Regency, Anonymous Content, M Productions, Appian Way
Worldwide distribution: Twentieth Century Fox, www.foxmovies.com
Producers: Arnon Milchan, Steve Golin, Alejandro G. Iñárritu, Mary Parent, Keith Redmon, James W. Skotchdopole
Executive producers: Brett Ratner, James Packer, Jennifer Davisson, David Kanter, Markus Barmettler, Philip Lee
Screenplay: Mark L. Smith & Alejandro G. Iñárritu, based in part on the novel by Michael Punke
Cinematography: Emmanuel Lubezki
Production design: Jack Fisk
Editor: Stephen Mirrione
Music: Ryuichi Sakamoto, Alva Noto, Bryce Dessner
Website: www.revenantmovie.com