A Chinese man attempts to convince his religious father to accept his transgender identity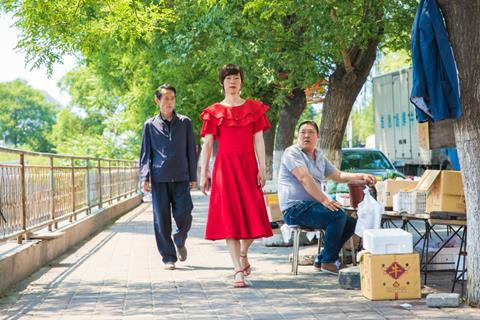 Dir: Zhang Wei. China. 2018. 85 mins
Having illustrated the impact of the global economic crisis on China's sweatshops with Factory Boss (2014) and tackled the difficulties of educating an autistic child in Destiny (2016), socially conscious filmmaker Zhang Wei now turns his critical lens towards the marginalisation of transgender citizens. Executive produced by independent veterans Zhang Xianmin and Roger Garcia, The Rib follows Zhang's previous films by deriving its narrative from a news article, but the decision to shoot in austere black-and-white marks a stylistic shift from the typically mundane aesthetic of his topical output. The result is an unquestionably well-intentioned effort, albeit one that is hindered by the director applying his systematic approach to a situation that calls for a more nuanced sensibility.
Zhang is aided greatly by a committed performance from Huang Jingyi as the conflicted father
Although it has passed the domestic censorship process, The Rib seems unlikely to receive wide theatrical play in its home territory where films that address social issues need to do so in a broadly entertaining fashion if the intended discussion is to materialise. However, it has modest prospects internationally. Even if some of Zhang's broader points have been discussed in a subtler manner elsewhere, its status as China's first transgender-themed film will ensure festival slots and possibly attract a niche distributor.
Taking its title from the second chapter of Genesis, which states that God made a woman from the rib he had taken out of the man, the film revolves around Huanyu (Yuan Weijie) trying to convince his devout Christian father Li Jianguo (Huang Jingyi) to sign a parental consent form that is necessary to undergo gender reassignment surgery. Unable to accept Huanyu's transgender identity, the widowed Jianguo tries various ways to 'cleanse' his son, such as arranging the services of a female prostitute and having him participate in a group prayer meeting. When these tactics only serve to further exacerbate the rift between father and son, Jianguo accepts that he must find a path to reconciling his spiritual beliefs with Huanyu's individual needs.
Despite its sincerity, The Rib is undermined by Zhang's tendency to foreground related issues with character development secondary to instigating debate. Seeking to show how the institutions of family, the church, and work fail China's transgender citizens, regardless of the implementation of progressive legislation, Zhang hurriedly introduces the conflict between father and son, while also setting up a parallel strand involving Huanyu's transgender friend Liu Mann (Gao Deng) taking legal action for unfair termination of employment.
Taking situations from news stories or social media has served Zhang well in the past, but The Rib is limited by the extent to which one can understand this particular matter through online research. Responses by Huanyu's co-workers to news coverage of Liu Mann's court case – "Actually, they are suffering", "An embarrassment to their families" – sound more like random comments culled from an Internet discussion thread than a real workplace conversation.
This means that the film falters when trying to portray Huanyu's social circle, and misses a rare opportunity to depict the country's transgender community in rich detail. Zhang instead narrows his focus to Jianguo's self-education, as if to acknowledge that he can only explore the subject through a traditional father/son arc. In this respect, Zhang is aided greatly by a committed performance from Huang as the conflicted father. At times required to serve as a surrogate for uninformed or even prejudiced members of the hoped-for domestic audience, Huang nonetheless overcomes the stilted elements of the screenplay (credited to eight collaborators) to deliver a credible portrayal of paternal strife. In an early scene that has Jianguo barging into Huanyu's shared apartment to rifle through his son's possessions and computer files, the actor nails the flagrant disregard for individual privacy that is common in Chinese families.
While Zhang's previous films had the perfunctory look of television drama, The Rib is enhanced by Lutz Reitemeier's striking monochrome cinematography. The fleeting use of colour – a red dress that Huanyu eventually dons for a walk around the city – lends a touch of expressionistic charm to a film that often feels overbearingly dour considering it aims to champion China's gradual acceptance of gender diversity.
Production company/contact: ShenZhen HuaHao Film & Media Co., Ltd zwfilm_intlmkt@126.com
Producer: Zhang Wei
Screenplay: Chen Ruirui, Meng Hao, Zhang He, Marlo Bernier, Amory Hui, Qin Ye, Li Dan, Wu Xuejun
Production design: Li Weixiong
Editing: Sébastien de Sainte Croix, Renaud Moran, Karl Riedl
Cinematography: Lutz Reitemeier
Music: Lao Zai
Main cast: Huang Jingyi, Yuan Weijie, Gao Deng, Meng Hao, Shang Ze