Dir/scr: Asghar Farhadi. Iran. 2016. 124 mins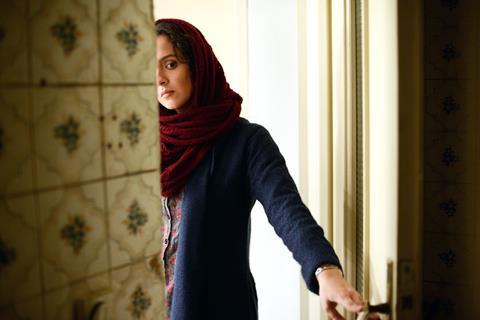 Asghar Farhadi strays into Michael Haneke territory with The Salesman as a couple's seemingly contented relationship threatens to unravel after a series of random misfortunes. Initially, the premise seems to lack the focus and dramatic intensity of recent, award-winning Farhadi features A Separation (2011) and The Past (2013). Gradually, though, the stray elements come together, building into another intriguing collection of scenes from a marriage in which happiness is threatened by niggling discontent, impossible dilemmas and a clash of values between the instinct for forgiveness and the yearning for revenge.
Farhadi remains a master of pace and tension
Farhadi followers may find The Salesman something of a lesser achievement but there is still enough emotional content and precision-engineered moral quandaries to guarantee a solid arthouse response.
Cracks in solid foundations are visible and present from the very start of the film as Rana (Taraneh Alidoosti) and schoolteacher Emad (Shahab Hosseini) watch windows shatter and walls open up in their apartment. Construction work has loosened the foundations and everyone is forced to evacuate the building. We are given the immediate impression that Emad is a good man who helps others before thinking of himself. At school he is seen to be well-liked by his boisterous pupils.
The solution to their temporary homelessness is to accept the use of a flat from a friend in Tehran. The previous tenant is never seen but soon assumes the weight of a separate character in the film. Her notoriety has spread among other residents of the building who consider her to have been an unsavoury individual with an unacceptable number of gentlemen callers. Her possessions still clutter up rooms and she can never be persuaded to collect them.
One night when Rana is alone in the flat, she leaves the door open for Emad and is attacked by a stranger. Emad is never quite as concerned as you might have predicted and Rana no longer wishes to spend any time alone in an apartment that she has come to regard as cursed.
Once Rana is attacked, The Salesman really seems to find it focus in how both partners react to events and the pressure it puts on their relationship. Farhadi remains a master of pace and tension, slowly upping the stakes in an unsettling narrative fuelled by a lingering sense of powerlessness, paranoia and the possibility that you never entirely know the person you love.
Rana sets out confusing signals of wanting to be comforted and loved but also wanting to be left alone. Emad almost grows to resent her inability to move on from events and his inability to do something, anything that will make everything better again. The couple is also appearing in a production of Arthur Miller's The Death Of A Salesman and all the tension and vulnerability that remains unarticulated in real life is given an outlet nightly on stage.
The Salesman is a film that keeps getting better and the final quarter features an excellent supporting performance from Babek Karimi who runs the gauntlet from guilty perpetrator to vulnerable victim as Emad takes matters into his own hands in a way that moves the couple's relationship even further towards the edge of destruction.
Production companies:Arte France Cinéma, Farhadi Film Production, Memento Films Production
International sales: Memento Films International, sales@memento-films.com
Producers: Asghar Farhadi, Alexandre Mallet-Guy
Cinematography: Hossein Jafarian
Editor:Hayedeh Safiyari
Production design: Keyvan Moghadam
Music: Sattar Oraki
Main cast: Taraneh Alidoosti, Shahab Hosseini, Babak Karimi