Dir. Gus Van Sant. US. 2015, 110 mins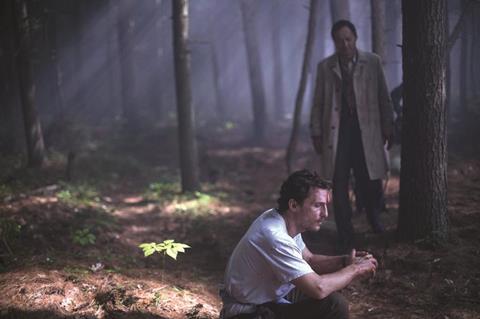 Mystical mood piece, marital melodrama, mismatched buddy tale and extreme-survival genre piece make for an uneasy mix in Sea of Trees, the latest Cannes Competition entry from former Palme D'Or winner (Elephant) Gus Vant Sant. Starring Matthew McConaughey as an American who travels to Japan to commit suicide in the picturesque Aokigahara forest, in the foothills of Mount Fuji, this will likely struggle to engage the middlebrow cinemagoers who might most appreciate it, especially given its rather gloomy-sounding premise. Chris Sparling's 2013 Black List script clearly impressed its admirers on the page, but pulling off the film's tonal shifts was always going to be a challenge for any director handed the assignment. And absent any familiar source material to seed audience interest, international distributors will need critical support and awards heat, both of which look to be in short supply – at least judging by the reaction at its Cannes premiere.
Sparling's sensitive-seeming, increasingly manipulative screenplay is not above brazen miscues in its attempt to inject fresh twists into the back story
Sea of Trees begins with an unshaven, evidently distracted McConaughey – later revealed to be maths professor Arthur Brennan – driving to the airport to board a flight to Tokyo. He has not bought a return ticket, for reasons that very soon become all too apparent. "The life you were given by your parents is precious," cautions a sign at the entrance to a lush forest, into which Arthur stumbles. He has already begun to chug down the contents of a bottle of pills when his attention is caught by a bloodied salaryman (Ken Watanabe), who is trying to find his way back through the trees. He has been in the woods for two days, he tells Arthur, revealing his slashed wrists, but now wishes to rejoin his wife and daughter.
A series of flashbacks hint at the reasons for Arthur's suicidal despair, or at least appear to do so: in fact, Sparling's sensitive-seeming, increasingly manipulative screenplay is not above brazen miscues in its attempt to inject fresh twists into the back story. What is clear is that the marriage between Arthur and his realtor wife Joan (Naomi Watts) has spiralled over recent years into mutual dislike: she still hasn't forgiven a past infidelity, and needles him for his meagre career achievement; he tries to steer her away from an evident alcohol dependency.
More hopeful is the present drama, as Arthur forgets his own quest and becomes increasingly focused on the urgent need to help the stranger he's encountered, who gives his name as Takumi Nakamura. But the Aokigahara forest, an area that is revealed to host around 100 suicides every year, is more perilous than it appears: one man plummets nearly to his death over a rock face, while a sudden rainstorm unleashes a raging torrent that nearly drowns both of them. (These scenes suggest a whole other, more genre-oriented treatment for this story, more akin to Sparling's enclosed-world indie hit Buried.)
Darkness and severe cold bring further hazards, and more than once the pair are forced to scavenge warm, dry clothing from the corpses they encounter along the way. The perils, big and small, stack up when a compass fails to function because of the iron content in the volcanic Fuji rock.
The setting – in fact mostly filmed in various state parks in Massachusetts – certainly provides plenty of cinematic scope for Van Sant and director of photography Kasper Tuxen, taking advantage of dappled sunshine and eerie moonlight in equal measure. But the poetic musings of the mysterious Takumi ("The forest has a reason for keeping us…") – presented largely as a battle of ideas with western rationalist Arthur – fail to bring the desired emotional depth, while also straying into eastern-mystic cliché. As a result, Mason Bates' busy, progressively more surging score is left exposed as one more layer of manipulation.
McConaughey, cast shortly before his early-2014 Dallas Buyers Club awards sweep, certainly holds up his end of the bargain as Arthur, who successfully hits a multitude of notes in the increasingly eventful back story, while also completing a fairly generous arc on his Japanese odyssey. Watanabe has the much trickier role, starved of much in the way of character development for a reason that eventually becomes apparent. This is one of the protracted ending's many reveals that collectively tie up too many carefully seeded story points, including the reason Arthur has chosen such a geographically inconvenient setting for his suicide attempt. As all the dots join in a pattern that strives for deeper meaning, the just too-damned-cute Sea of Trees becomes undone by a surfeit of contrived ingenuity.
Production companies: Netter Productions, Waypoint Entertainment, Bloom
International sales: Bloom, bmcphee@bloom-media.com
Producers: Gil Netter, Ken Kao, Kevin Halloran, F Gary Gray, Brian Dobbins, Allen Fischer, Chris Sparling
Screenplay: Chris Sparling
Cinematography: Kasper Tuxen
Editor: Pietro Scalia
Production design: Alex DiGerlando
Music: Mason Bates
Main cast: Matthew McConaughey, Naomi Watts, Ken Watanabe, Katie Aselton, Jordan Gavaris, Bruce Norris