Dir/scr. Anna Muylaert. Brazil, 2015. 114 min.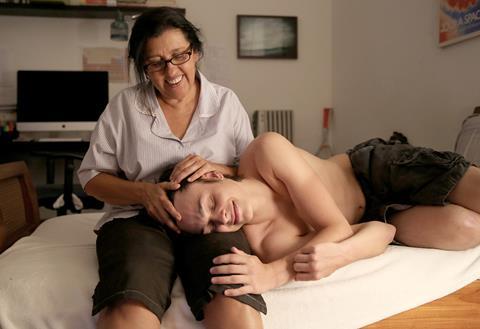 The story of a maid who works for a wealthy Sao Paolo family and is reunited with the daughter she has not seen for ten years might have resulted in anything from highbrow social drama to lowbrow soap, but writer/director Anna Muylaert manages to never put a foot wrong and deliver a lively and very likeable comedy which is set to become an international crowdpleaser which could easily be Brazil's candidate for the foreign language Oscar and, in that case, is certainly in with a shot at the award.
Muylaert has expressed her hope that beyond the evident entertainment, audiences will sense the implied social commentary in The Second Mother
Touching, funny, perceptive and simple enough to carry large audiences, The Second Mother is carried throughout by a hilarious, intelligent and soulful performance from veteran Brazilian actress, comedian and TV host Regina Case, surrounded by a solid supporting cast. Claims that it is often predictable and lacks Freudian depth may be justified but are beside the point.
Val (Case) is the classic, old-fashioned maid of days gone by. She has been with the same family for 13 years, by now she is part of it, she likes them and they like her, particularly because she never forgets her place.
Thanks to her, breakfast is always on time, there is a guarana drink ready whenever the master of the house, the good-for-nothing loafer Jose Carlos (Lourenco Mutarelli) feels like it, his stylish socialite wife Barbara (Karine Teles), always busy somewhere, never has to worry about the household, while their spoiled son, Fabinho (Michel Joelsas), rightly sees in Val a surrogate mother.
There are no complaints, not least because she always keeps in mind the rules of the game, namely that she is not one of them. She cheerfully accepts her role, which is to serve, not to participate. She lives in the lower quarters and is fully conscious that even if invited sometimes to take a dip in the pool or sit at their table, it is expected that she politely declines, which she always does.
One day, however, Jessica (Camila Mardila), the daughter Val left behind when she separated from her husband, and who has refused to acknowledge her existence even on the phone - despite all the money Val has sent for her upbringing and education - announces that she intends to come to Sao Paolo and study architecture.
Slightly anxious but still very excited at the idea of meeting her offspring after such a long time, Val prepares her modest room for a second occupant who she expects will be as meek as she is, but all her expectations are thwarted when Jessica turns out to be an independent, fully emancipated, determined young woman, with a mind of her own and unwilling to accept the docile Upstairs Downstairs mentality her mother takes for granted.
The conflict between the two of them, adorned with the tentative lechery of Jose Carlos, Barbara's stand-offish spite hidden behind liberal pretence and Fabinho's immaturity despite his age, runs the typical gamut of expected clashes and minor feuds, with Muylaert underlining the comical aspects and downplaying the drama, though never quite ignoring it. In this spirit, an upbeat if not quite happy ending is of course, inevitable.
In Sarajevo, where the film was screened on opening night, Muylaert expressed her hope that beyond the evident entertainment, audiences will sense the implied social commentary. That will certainly register, but luckily for the film's career, this is not what audiences will take home with them.
Production companies: Gullane
Producers: Caio Guliane, Fabiano Gullane, Deborah Ivanov, Anna Muylaert
International Sales: The Match Factory (info@matchfactory.de)
Cinematography: Barbara Alvarez
Editing: Karen Harley
Production design: Marcos Pedroso, Thales Junqueira
Music: Fabio Trummer, Vito Araujo
Cast: Regina Case, Camila Mardila, Karine Teles, Lourenco Mutarelli, Michel Joelsas, Helena Albergaria