Dir/scr: Oh Seung-uk. South Korea. 2015. 118mins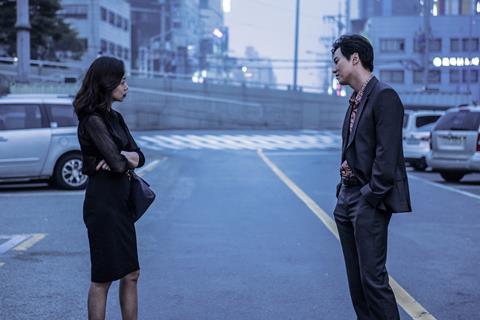 South Korean director Oh Seung-uk made his debut in 2000 with the well-received but little-seen crime drama Kilimanjaro and, fifteen years later, he returms with a blend of film noir and gritty melodrama in The Shameless. Starring Jeon Do-yeon (Secret Sunshine) as a bar hostess and girlfriend of a wanted killer, this is absorbing for the most part, but unable to produce the spark of Oh's impressive debut.
With little in the way of suspense, The Shameless essentially becomes a visually enticing but drawn-out hardboiled romance.
A world premiere at Cannes in the Un Certain Regard sidebar along with Jeon Do-yeon's star-power may give The Shameless the push it needs on the international stage, but with little in the way of substance or strong pacing, it may struggle at home when it hits screens in Korea on May 27 unless the subsequent Cannes publicity can help it attract a dedicated following.
The film starts off strongly in a stylised sequence set in an urban slum surrounded by modern construction where detective Jung Jae-gon (Kim Nam-gil) is called to a crime scene. A man named Hwang has been found dead, and it soon becomes apparent that the suspect the police are hunting for is Park Joon-gil (Park Sung-woong).
Joon-gil is in a relationship with a woman called Hye-kyung (Jeon Do-yeon) who works at a shady bar called Macau in order to repay her rising debts. She is also the mistress of a mob boss, so when detective Jung comes investigating, he's approached by someone from this gang (aka Jay Investments) and asked to treat the case as a feud. Jung tries to resist any underhand dealings.
In order to find Joon-gil, the detective gets closer to Hye-kyung and works undercover at her bar. Unsurprisingly, as they spend more time together, they develop feelings for one another.
Oh's attempt to bridge two genres is both a strength and a weakness. On the one hand, the film's rich and stylish dark tone is reminiscent of Korean noirish thrillers which, combined with the melodramatic aspects of the story, delivers something quite unique. On the other hand, with little in the way of suspense, The Shameless essentially becomes a visually enticing but drawn-out hardboiled romance.
The film reveals more as the narrative progresses but unlike Kilimanjaro, which remained engaging throughout due to its compelling premise of a detective returning to his hometown where people mistake him for his dead twin brother, the audience here isn't really looking for answers. The film establishes early on who is the suspect, and why, and it's not especially difficult for Jung to track him down.
What drives the film is the relationship between the two central characters, which might be enough to sustain some viewers, but not all. The bleak backdrop is interesting even though somewhat familiar. As ever, with Korean films which touch on crime, The Shameless tackles corruption. Despite the detective's attempts to stay clean, graft appears to follow him round and the film portrays him in a rather ambivalent light.
Jeon Do-yeon is billed as the main lead, perhaps for marketing purposes as it is really Kim Nam-gil (The Pirates) who takes centre stage in this film and the detective is one of his strongest performances to date. Jeon, as ever, embraces her challenging role with skill but it probably won't go down as her most memorable performance.
Kang Kuk-hyun's cinematography is involving throughout, including some curious close-ups during the more passionate scenes and Cho Young-wuk's score helps compliment the strong visuals and the film's overall bleak tone.
Production Company: Sanai Pictures
Contact: CJ Entertainment, filmsales@cj.net
Producer: Han Jae-duk
Executive Producer: Simon Lee
Screenplay: Oh Seung-uk
Cinematography: Kang Kuk-hyun
Production Design: Park Il-hyun, Lee Jae-sung
Editors: Kim Sang-bum, Kim Jae-bum
Music: Cho Young-wuk
Main Cast: Jeon Do-yeon, Kim Nam-gil, Park Sung-woong, Kwak Do-won