Alan Moore writes and improbably stars in this genre tribute set in Northampton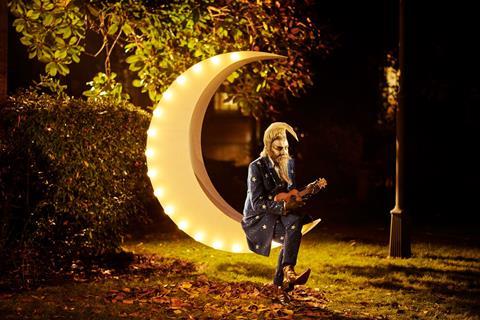 Dir. Mitch Jenkins. UK. 2019. 115 mins.
On the surface, The Show is standard noir: a guy and a dame search for truth on the mean streets of the City of Night. But in this case, the city is Northampton, UK, and the stakes are altogether cosmic. Directed by photographer and film-maker Mitch Jenkins, The Show is written by – and improbably co-stars – Alan Moore, the legendary British comics author whose work includes genre-redefining titles Watchmen, V for Vendetta and From Hell. As a knowing but wilfully arcane take on the gumshoe thriller, The Show is executed too full-bloodedly to be written off entirely as a vanity project, but is unlikely to make a significant impact beyond the legion of Moore adepts – some of whom may find this doesn't quite have the ambition or resonance of his best-known work.
A sometimes confusing mish-mash that doggedly refuses to be corralled into conventional narrative shape
Bringing to fruition a series of related Moore-Jenkins collaborations, notably 2014 shorts anthology Show Pieces, the film stitches assorted thriller tropes into Moore's personal mythology of his ostensibly mundane English home town – which he also explored in depth in his gargantuan 2016 novel 'Jerusalem'.
The narrative involves the mysterious Fletcher Dennis (Tom Burke), who arrives in Northampton to track down a missing ladies' man and a cross he may have been wearing. Decidedly Gothic hospital attendant Clive, aka Orloff (a very droll Julian Bleach) tips him off about a woman named Faith (Siobhan Hewlett), recovering from a hanging incident, who may be connected with the case. Fletcher and Faith team up to solve the mystery, which involves a working men's club which still seems to operate, although it burned down years earlier. It was run by a once-famous comedy duo, one of whom is played – imposingly and with an affably Wellesian sense of his own aura – by Alan Moore himself, made up to resemble a crescent moon in a carnival.
The Show is descended from a lineage of British films that more or less parodically place Chandleresque narratives in a domestic setting, playing up the awareness that the UK can look a bit drab alongside the sinister glamour of US noir-land – e.g. Get Carter, Gumshoe, Stormy Monday. The Show adds a very specific set of arcane local references, a host of fleeting in-jokes, sight gags and off-the-cuff inventions (e.g. a philosophically-inclined TV soap named Wittgenstein Terrace). Moore is little inclined to rein in his scattershot humour, and these elements whizz by faster than we can catch up with them.
Supporting characters include Dennis's enthusiastically flirtatious young landlady, local historian Becky (Ellie Bamber); a garrulous nightclub runner (a scene-stealing Bradley John); sour-tempered woman of mystery Monica Beardsley (Antonia Campbell-Hughes); and superhero librarian the Flash Avenger (Richard Dillane). The result is a sometimes confusing mish-mash that doggedly refuses to be corralled into conventional narrative shape – possibly Moore's revenge on the various Hollywood adaptations of his work, about which he has been famously scathing.
Exuberant as it is, The Show treats its basic premise earnestly enough not to come across as merely spoofy. And there's some considerable wit in the script ("I see dead people," says Clive/Orloff. "You work in a hospital," deadpans Dennis). But there's no escaping the somewhat hermetic tone of the whole affair, and a visual execution, expressionistically hued lighting and all, that has a somewhat cheap-and-cheerful flavour of British 80s cinema. And anyone averse to the standard iconography of cinematic nightmares might feel that the whole Lynch/Fellini dreamscape of clubland denizens, gurning clowns and other eccentrics is simply over-familiar, the whole thing perhaps coming a couple of decades too late.
Still, there's a genial good humour to the whole attempt to interweave the imaginative styles of, say, Dashiell Hammett and G.K. Chesterton, and Tom Burke – oddly kitted up as a cross between The Cure's Robert Smith and Dennis the Menace – makes a nicely weary centre to the whole. An enjoyable musical package features songs co-written by Moore and Andrew Broder, including a closing number sung by TV on the Radio's Tunde Adebimpe – preceded by a genuine archive oddity, a pop song about aliens commissioned in the 80s by the Northampton Development Corporation.
Production companies: Lex Films, EMU Films, Orphans of the Storm, Lipsync
International sales: Protagonist Pictures, info@protagonistpictures.com
Producers: Tom Brown, Mike Elliott, Jim Mooney
Screenplay: Alan Moore
Cinematography: Simon Tindall
Editor: Colin Goudie
Production design: Helen Watson
Main cast: Tom Burke, Siobhan Hewlett, Ellie Bamber, Alan Moore