Letitia Wright and Tamara Lawrance bring intensity to their performances in this challenging true-life drama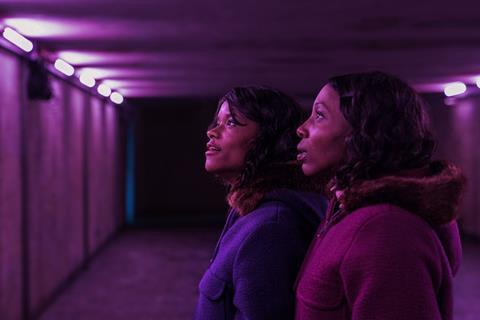 Dir: Agnieszka Smoczynska. Poland/UK. 2022. 112 mins.
"You're very good with tension," June Gibbons (Letitia Wright), an author who is one of the titular siblings in The Silent Twins, is told. That description could also apply to this fictionalised film about the real-life Welsh sisters. A wilfully challenging, sometimes abrasive drama, Agnieszka Smoczynska's combative portrait forces us to embrace its unconventional leads, who were uncommunicative in childhood, except with one another, eventually revealing mental illness that sent them to an institution. The director of The Lure has a knack for peculiar protagonists — not to mention mixing whimsy with darker textures — but her latest provocation wouldn't be so affecting if not for the committed performances of Wright and Tamara Lawrance, who play sisters who understand one another when no one else does.
It's hard not to be moved by Smoczynska's uncompromising approach
Screening in Un Certain Regard at Cannes, this Focus Features release may prove a difficult commercial proposition, although those familiar with reporter Marjorie Wallace's non-fiction book of the same name will at least be aware of these twins and their hard lives. Wright's Marvel star power should boost awareness, but word-of-mouth may be mixed for a film this consciously prickly.
The Silent Twins takes place primarily in the early 1980s in Wales, introducing us to June (Wright) and Jennifer (Lawrance), twins who essentially refused to interact with the outside world, focusing instead on forging careers as writers. At first, these precocious teenagers merely seem like quirky misfits — plus, they must contend with a racist community — but over the course of The Silent Twins, it becomes increasingly apparent that there's something seriously troubled about these young women, especially after they commit arson.
Smoczynska embeds the viewer inside June and Jennifer's mindset, inserting stop-motion animation and the occasional musical interlude to suggest their fanciful, almost fairy-tale-like way of seeing their surroundings. But even so, The Silent Twins isn't particularly warm and fuzzy, constantly hinting at the storm clouds on the horizon. Wright and Lawrance bring an intensity to their roles that makes the twins' close bond seem uninviting to the viewer — June and Jennifer rarely let others into their inner sanctum. This edgy dynamic becomes a challenge for the rest of the film for Smoczynska and her cast, who work together to push us away while, at the same time, try to keep the proceedings intriguing and riveting.
The Silent Twins doesn't always succeed with this tricky balancing act — the film can be off-putting at points — but the longer it goes on, the more the drama gains in grandeur, with Smoczynska respecting these women enough to let them, in a sense, tell their own story. (A closing credit indicates that passages, and even songs, are inspired by the sisters' writing.) In addition, the picture refreshingly resists the urge to patronise the mentally ill by treating them like saints or enlightened souls. To the contrary, Wright and Lawrance simply dig into their characters' anguish, illustrating that June and Jennifer had to cling to each other, the tenderness in the performances hinting at a shared experience that none of us can possibly appreciate but that was crucial to them.
Indeed, there is a flinty compassion to The Silent Twins, and by the final reel, as tragedy visits the siblings, it's hard not to be moved by Smoczynska's uncompromising approach. Growing up, the Gibbons sisters dealt with racism, but the film twists the knife by arguing that mental illness inspires its own form of intolerance — one that we as a society are far less cognisant of. The Silent Twins never sugar coats its characters' pain, and it is a testament to all involved that they make us sit with that tension, which might never get resolved.
Production companies: 42, Madants, Kindred Spirit
International sales: Focus Features
Producers: Klaudia Smieja-Rostworowska, Joshua Horsfield, Ben Pugh, Ewa Puszczynska, Anita Gou, Alicia van Couvering, Letitia Wright
Screenplay: Andrea Seigel, based upon the book The Silent Twins by Marjorie Wallace
Production design: Jagna Dobesz
Editing: Agnieszka Glinska
Cinematography: Jakub Kijowski
Music: Marcin Macuk & Zuzanna Wronska
Main cast: Letitia Wright, Tamara Lawrance, Nadine Marshall, Jodhi May, Treva Etienne, Michael Smiley, Leah Mondesir-Simmonds, Eva-Arianna Baxter