The festival closes with a powerful and accomplished film from Eric Toledano and Olivier Nakache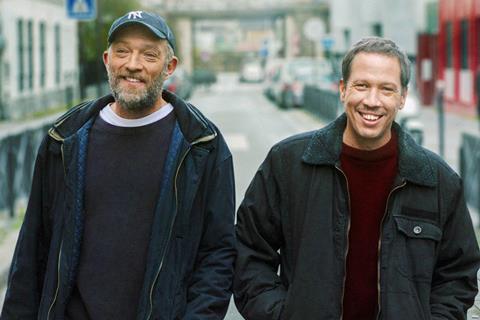 Dir/scr: Eric Toledano, Olivier Nakache. France. 2019. 114mins.
The two shining stars of modern French social comedy Eric Toledano and Olivier Nakache (Intouchables, C'est La Vie) have waited a long time to make The Specials, casually dropped in as the closing film of Cannes 2019, yet one of the very best in the festival.
We may be comfortable in our ignorance, or avoidance, but Nakache and Toledano want to help us out of that.
Opening a door into the world of teenagers and young adults who are profoundly autistic, The Specials is clearly a personal film, made through Toledano and Nakache's real-life friendship with its subjects, two indefatigable suppliers of round-the-clock care for those the system has rejected. The Specials will now sit back and wait for a late-October release in France and, presumably, an awards run. Closing credits indicate that 5 percent of the profits Gaumont makes on this picture will go directly to the two companies featured, which should boost support.
The Specials is a rare film that comes both from the heart and reality: it's a potent mix which allows access to a hidden subject yet welcomes the audience in with grace and humour. Toledano and Nakache have the maturity and the success as film-makers now to attack this difficult material with a typically light-handed touch – it hits hard, but The Specials is certainly no ordeal to watch. Brisk editing, a dose of good cheer, a lot of information and precision character development cuts through the tough subject matter. Vincent Cassel delivers one of his best performances in years as Bruno, who has given his life over to the company he has founded to care for autistic children and adolescents. Reda Kateb is his ally, Malik, who runs "Le Relais IDF" which trains up youngsters from deprived areas to be their carers.
Both are, clearly, real. Bruno is based on Stephane Benhamou, who Toledano and Nakache first met 25 years ago and who has cared for an autistic member of Toledano's own family. Malik is Daoud Tatou, who the film-makers first encountered when they made a short film trying to raise funds for Stephane. Four years ago Toledano and Nakache made a 26-minute TV documentary on this odd couple – one a Jew, the other a Muslim – called We Should Make A Film About It. And now they have. The inciting incident is a real-life official investigation which took place in 2017 and threatened to shut down Stephane's unlicensed organisation, "Le Silence des Justes", but a lot of the film feels free-flow.
The result is dignified and respectful as well as being dramatically satisfying: there should be no Twitter backlash here, as in the case of Intouchables. It could hardly be more diverse. One young autistic man, Benjamin, plays a version of himself with great success and humour. Young Marco Locatelli, who plays the profoundly disturbed Valentin, himself has an autistic brother. Kateb's character is brutal with young potential carers from the projects – about time-keeping, grammar, and the need to be sensitive.
The shooting style is lively, either hand-held or static, mostly in cramped confined offices, vans, and hospital rooms, but always on the move. Throughout, Toledano and Nakache have made powerful attempts to visually convey the sensations an autistic person might experience. These are unsettling, as intended, yet delivered without fanfare, for short bursts. There's also a lot of information delivered: we may be comfortable in our ignorance, or avoidance, but Nakache and Toledano want to help us out of that, as opposed to lecture or condemn.
There are running gags, typical of the film-makers: Bruno's failed shidduchs, for example, or, instead of C'est La Vie's "on s'adapte" (which is also valid) there's "on n'est pas loin", or we're nearly there. We're not, of course, as a society, but once again in Cannes this year a film comes which powerfully shows us what one or two people can do to change lives. 'Special' (the French title is Hors normales), is a derogatory word for teenagers these days. This film may rehabilitate it: everyone involved is special, whether in front, behind, or the people whose story inspired Toledano and Nakache's gently probing camera.
Production company: Quad Ten Company
International sales: Gaumont
Producer: Nicolas Duval Adassovsky
Editor: Dorian Rigal-Ansous
Cinematography: Antoine Saniere
Production design: Julia Lemaire
Music: Vincent Plant
Main cast: Vincent Cassel, Reda Kateb, Helene Vincent, Brian Mialoundama, Alban Ivanov, Benjamin Lesieur