More familial musings from director, co-writer, and lead actor Valeria Bruni Tedeschi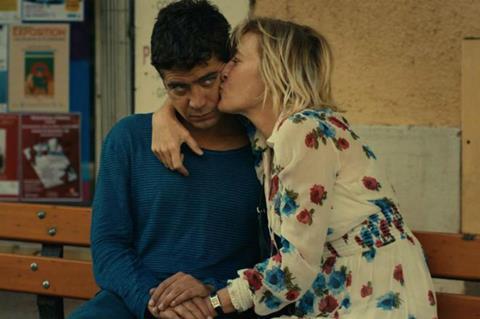 Dir: Valeria Bruni Tedeschi. France/Italy. 2018. 127mins
Actress-director Valeria Bruni Tedeschi's character Anna runs to a Parisian appointment near the beginning of her latest bittersweet comedy. We're made to believe she's going to a divorce hearing; in fact it turns out to be a meeting with a film funding panel that has to decide whether or not to finance her next project. One of the committee members asks her pointedly: "What's the difference between this film and your three others? There are huge similarities, no?"
A weak, clingy companion piece to 'A Castle In Italy'
Touché. The joke is made even richer because Frederick Wiseman – a director who has arguably been making the same film for more than fifty years, just in different settings – plays one of the panelists. Then come the credits, followed by a film that, of course, has huge similarities to Bruni Tedeschi's three others – particularly her last, A Castle In Italy. The Summer House is essentially a weak, clingy companion piece to that 'write what you know' mid-life crisis comedy about a former actress from a rich family. A few slightly more broad comic touches this time around may propel some commercial action, but it's difficult to see this moving beyond core French and Italian markets.
The Summer House has the same privileged haute-bourgeois setting as Bruni Tedeschi's previous films – this time an imposing villa on the Cote d'Azur. It also draws from the same autobiographical sources, among them the death of Bruni Tedeschi's brother Virginio from AIDS. And it once again features her mother, Marisa Borini, as her character's mother, but this time adds the daughter she adopted with Louis Garrel, Oumy Bruni Garrel, as her character's daughter – an inspired decision as it turns out, as the nine-year-old is a natural, wise beyond her years.
Bruni Tedeschi and her regular writing partners Agnès de Sacy and Noémie Lvovsky do one thing in The Summer House that is a little different: they broaden the focus of the film to include the live-in staff, whose problems turn out not to be hugely different from that of les patrons: family resentments, hunger for affection, money issues and sheer existential angst are rife below stairs too (as is industrial unrest: butler Stanislas, played by Laurent Stocker, is keen to get Jean and Louise to agree to his demands for holiday and weekend overtime pay).
Yet paradoxically, this democratic embrace does little to overcome the audience's problem of engagement. In Chekhov's plays – an obvious model – there's something deeply moving in the characters' tragicomic waltz. Here, we struggle to engage.
Bruni Tedeschi's younger partner Luca (Riccardo Scamarcio) announces on the eve of their departure for the family's summer villa that he is leaving her. Anna sets off alone for the villa with their daughter Célia to join mother Louisa and borderline alcoholic sister Elena (Valeria Golino) – one of the more tiresome characters – who is married to the villa's much older owner, disgraced industrialist Jean (Pierre Arditi).
Housemaid Jacqueline (Yolande Moreau) mutters to a new arrival that "the place is all rotten – the atmosphere too", though to be honest, as a summer refuge, this rather grand villa with its music room, classical statuary and private beach access scrubs up well. Meanwhile, Anna's divorced scriptwriting partner Nathalie (her co-writer on this film, Noémie Lvovsky) turns up so the two can get in some quality writing time – a strand that develops into some unoriginal reflections on the ethics of using one's family as material.
The film's comic side is at its most trenchant – and funny – in a couple of scenes where Bruni Tedeschi and Scamarcio spar brilliantly with each other, his world-weary nonchalance about life and love stoking her desperation and frustration. At other times, the film disrupts the house party ambience of tinkling cutlery and musical soirées with little daggers of resentment – like Anna's revelation about a sexual molestation episode when she was seven that her parents did nothing about. Crisply shot, this is a comedy that wants so desperately to be universal that it only ends up casting a strong reflected light on the hermetically sealed world it depicts.
Production companies: Ad Vitam Production, Ex Nihilo, Bibi Film
International sales: Playtime, info@playtime.group
Producers: Alexandra Henochsberg, Patrick Sobelman, Angelo Barbagallo
Screenplay: Valeria Bruni Tedeschi, Agnès de Sacy, Noémie Lvovsky
Production design: Emmanuelle Duplay
Editing: Anne Weil
Cinematography: Jeanne Lapoire
Main cast: Valeria Bruni Tedeschi,
 Pierre Arditi,
 Valeria Golino,
 Noémie Lvovsky,
 Yolande Moreau,
 Laurent Stocker, Riccardo Scamarcio, Bruno Raffaelli, Marisa Borini,
 Oumy Bruni Garrel, 
Vincent Perez, Stefano Cassetti, Xavier Beauvois