Dir: Solveig Anspach. France-Iceland. 2016. 85 mins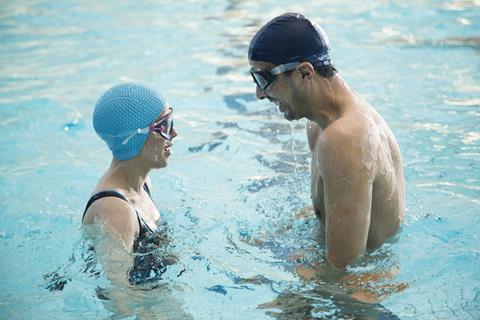 The late France-based, Iceland-born writer-director Solveig Anspach pays tribute to her Northern roots, and to her love of swimming, in The Together Project - an affably oddball romcom that won't be too all tastes, but certainly has the stamp of an individual sensibility. Anspach, who died last August following a battle with cancer, is best known for her highly serious 1999 drama Haut les Coeurs! But she also pursued a distinctive line in oddball comedy in her films Back Soon (2008) and The Queen of Montreuil (2012), with The Together Project now completing a trilogy that features recurring characters.
This is a very gentle comedy of characters and situation
Admirers of those earlier films will certainly fancy a dip in this balmy waters of this aquatically-themed addition, and newcomers won't feel out of their depth; but the flip and largely unedgy, not to say faintly New Age-y good vibes, are not likely to extend commercial prospects beyond appreciative French (and, presumably, Icelandic) audiences.
The film picks up where Queen of Montreuil left off in the Parisian suburb Montreuil, in a scene involving two returning figures - crane operator Samir (lanky, toothy Samir Guesmi) and widowed swimming pool lifeguard Agathe (Florence Loiret-Caille). Samir takes a shine to Agathe when he hears her bawling out an inopportune admirer and decides to track her to the local municipal pool, where he gets pally with ticket seller Daniel (Estebán) and eccentric manager Reboute (French comic regular Philippe Rebbot). He also contrives to take lessons from Agathe and one night they share a clinch on the high diving board, before being interrupted by Reboute's antics.
Agathe slips Samir's grasp when she attends a lifeguards' conference in Iceland, but he goes in hot pursuit and unexpectedly becomes the man of the hour by posing as an Israeli delegate with a scheme for Israeli-Palestinian peace. All looks promising until a faulty coffee machine leaves Samir amnesiac – but there's help on hand in the shape of locals Anna (Anspach's actrice-fétiche Didda Jónsdóttir) and Frosti (Jón Rúnólfsson), two very uncorporate city councilors who swap jobs and so get to boss each other around on consecutive days.
This is a very gentle comedy of characters and situations, and the more goofy comic contrivances never feel too much at odds with the relaxed character-focused good humour. The cast is fine, with the very likeable Guesmi as a confused everyman who's more charming than he realises and the under-rated Loiret-Caille (also seen in films by Claire Denis, Jérôme Bonnell and Agnès Jaoui, among others) showing a likeably prickly wide-eyed feistiness.
The hippie-ish duo of Jónsdóttir and Rúnólfsson can grate, but gawky, bespectacled Rebbot characteristically steals the show, especially in a scene where his misbehaving manager is grilled by a council headed by Aspach herself. Olivia Côte also has fun as a swimming teacher with a lively enthusiasm for shower etiquette.
Martin Wheeler's breezy score a little too insistently nudges us towards having a good time, as do the somewhat twee animated opening titles, but a trump card throughout is Isabelle Ravazet's vibrant photography, especially when catching the yellow and blue atmospherics of Montreuil's Maurice Thorez swimming pool.
Production companies: Ex Nihilo, Zik Zak Filmworks
International sales: Le Pacte
Producers: Patrick Sobelman, Skúlli Malmquist
Screenplay: Solveig Anspach, Jean-Luc Gaget
Cinematography: Isabelle Razavet
Editor: Anne Riegel
Production design: Marie Le Garrec
Music: Martin Wheeler
Main cast: Florence Loiret-Caille, Samir Guesmi, Didda Jónsdottír, Philippe Rebbot