Joel Coen goes solo and serious for this dark, stripped-down Shakespeare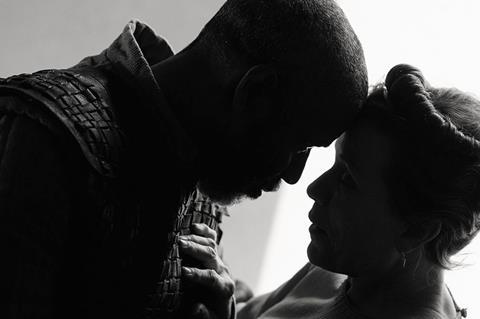 Dir: Joel Coen. US. 2021. 105 mins.
With standout performances by stars Denzel Washington and Frances McDormand, expert imagery and striking production design, Joel Coen's The Tragedy of Macbeth is hardly a tale told by an idiot. But it could actually use a little more sound and fury – and a better idea of what it's supposed to be signifying. Defiantly uncompromising – Bruno Delbonnel's cinematography is a rich black-and-white, and the screen ratio a classic, boxy 1.33:1 – the film certainly hits all the arthouse touchstones. But Coen – working for the first time without brother Ethan – has no real background in the bard. Unlike Kenneth Branagh, who successfully filmed several of the plays, or Ian McKellen (who scripted and starred in a triumphant Richard III), Coen doesn't acknowledge here that Shakespeare is can be both intellectual and entertaining. The result is respectable but a little removed, more likely to intrigue cineastes, followers of the Bard, and Coen completists than to motivate mainstream audiences. Theatre superstition holds that the play brings bad luck; perhaps its truest curse is on filmmakers (the last adaptation was just six years ago, and Michael Fassbender in the title role had little impact then).
If the design is desolate, at least the performances are full of life
There are some lovely touches in Coen's version – water, which can never wash the Macbeths' bloody hands clean, is a major visual theme. Yet the film remains chilly, with the director's coldness felt most strongly in the sets. Macbeth's castle looks like a de Chirico painting, all razor-sharp edges, angular shadows and vast echoing spaces, while the heath where Macbeth meets the three witches seems more like a desolate beach, empty of everything but screaming black birds. Bleakly blank skies, barren landscapes broken only by the occasional twisted tree – it's Scotland as an existential wasteland, less Macbeth than Macbeckett.
If the design is desolate, at least the performances are full of life. As Macbeth, Washington is both fierce and weary; as Lady Macbeth – a woman who doesn't even have a name to call her own – McDormand is ravenous and determined. (It's always been the play's best role.) And while no attention is drawn to the multiracial casting, the age of the leads – while also unremarked – adds an interesting twist. When done with younger performers, the focus of Macbeth is always on ambition. Cast with older ones, it becomes more obviously desperation – an ageing couple's last chance to make their mark.
It's a fresh idea in a film which could use a few more of them. "Why do you dress me in borrowed robes," Macbeth asks when unexpectedly awarded a new title, but clearly Coen didn't mind doing a bit of borrowing himself. Like Welles, he's gone for a spare, stylised, monochromatic look; like Polanski, he's embraced the idea of making Ross, traditionally a minor character in the play, into some sort of puppet master. As played by Alex Hassell, he's constantly skulking around the background, sporting monkish robes, looking suspicious and plotting … something. What precisely, though, remains frustratingly vague. Ultimately Ross seems to be on no side but his own, which is perhaps why he's one of the few characters who survives the Macbeths' murderous march to the throne.
He's also an unusual addition in a film determined to pare things down to basics, an impulse which ultimately robs other characters of some depth. Akira Kurosawa's freely adapted Throne of Blood lasted 110 minutes in 1957; Roman Polanski's bloody 1971 adaptation ran a hefty 140, while the recent 2015 outing with Michael Fassbender and Marion Cotillard ran a solid 113. But Coen's rushed reworking of the play is speedier than even Orson Welles' bare-bones 107-minute version back in 1948. Some important speeches are sped through, and the Macbeths don't have sufficient time to develop, or devolve. They're too quickly murderous, too immediately insane, as everything hurtles to its bloody conclusion.
Least clear of all, though, is why this Macbeth, and why now – particularly after the handsome Fassbender/Cotillard teaming evaporated at the box office? It certainly adds another portrait to McDormand's recent gallery of older women finally determined to finally live without compromise; it's lovely, and loving, that her director husband would want to make this film for her. And Washington – who was charmingly regal in Branagh's 1993 Much Ado About Nothing – deserves more chances to play Shakespeare. (Another 10 years and he'll make a fine Lear.) But Coen's film doesn't find a way to say anything fresh about politics, or ambition, while its gender dynamics – nagging woman finds fulfillment by living through husband – feel almost antique. Macbeth is more than 400 years old by now. Directors need to still make it feel new – or risk turning it into a poor play that struts and frets its hours upon the screen, and then is heard no more.
Production companies: A24, IAC Films
Worldwide distribution: Apple Original Films/A24
Producers: Joel Coen, Robert Graf, Frances McDormand
Screenplay: Joel Coen, from the play by William Shakespeare
Production design: Stefan Dechant
Editing: Lucian Johnston
Cinematography: Bruno Delbonnel
Music: Carter Burwell
Main cast: Denzel Washington, Frances McDormand, Alex Hassell, Brendan Gleeson, Corey Hawkins