Dir: Camille Delamarre. France-US. 2015. 96mins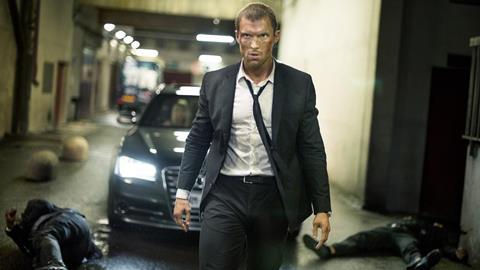 Refuelled but not reinvigorated: The first Transporter film in seven years is moderately entertaining and reliably ludicrous in all the predictable ways, but the film's new sharp-dressed driver doesn't possess the effortless stoic wit of the original trilogy's Jason Statham, which ends up making all the difference. Ed Skrein has the proper ass-kicking fervour and slow-burn intensity, but like the reboot itself, he's merely a handsome, slick, slightly generic facsimile of what was once relatively fresh and fun.
Skrein has the lighting-fast reflexes, assisted by editor Julien Rey, to give Frank's hand-to-hand fight scenes real pop.
Hitting the US and UK on September 4, The Transporter Refueled arrives as summer slips away, which doesn't bode well commercially considering that most audiences will be focusing on back to school/work, or last-minute holidays and other non-film activities. It's been 13 years since the first Transporter film, and the three Statham-starring instalments grossed around $238m worldwide, suggesting that this franchise has never been a major money-maker. Expect modest returns with perhaps more robust showings in ancillary markets.
Like Statham before him, Skrein plays Frank Martin, a professional driver hired to deliver high-priority items, often under dangerous circumstances. Frank is approached by Anna (Loan Chabanol), a former prostitute who, along with two other hookers (Gabriella Wright, Wenxia Yu), wants him to help get vengeance on their onetime pimp, a ruthless Russian criminal boss (the boringly villainous Rasha Bukvic). To encourage Frank's participation, these women have kidnapped and poisoned his father (Ray Stevenson), promising to provide Frank with the antidote only if he assists them.
The Transporter Refuelled was directed by Camille Delamarre, who helmed Brick Mansions and edited Transporter 3, as well as other projects overseen by franchise producer and co-writer Luc Besson. Not surprisingly, then, this new film exhibits all the trademarks of a Besson production: gleefully absurd action set pieces; opulent locales (for Refuelled, it's the French Riviera); beautiful, lethal women; and a playful mixture of over-the-top violence and dashes of bombastic melodrama.
This formula can have its lowbrow delights, but too much of Refuelled suffers from an assembly-line familiarity, with even the notion of a taciturn transporter not exactly innovative by this point. A former rapper who had a brief arc on Game Of Thrones, Skrein has the strapping good looks and broad chest to make him physically resemble Statham, but the screenplay (credited to Adam Cooper, Bill Collage and Besson) doesn't have enough dry one-liners or compelling character moments to give Frank an intriguing air of mystery.
To be sure, there are some nifty action sequences, especially one involving an escape from a moving plane that ends up incorporating a nearby airport. And Skrein has the lighting-fast reflexes, assisted by editor Julien Rey, to give Frank's hand-to-hand fight scenes real pop. (The transporter may have sworn off guns, but he has no problem wielding car doors, knives, rope and even file cabinet drawers to clobber his enemies.) Nonetheless, the film's kinetic headlong momentum can't distract from an overall lack of really inspired (or straight-up loony) set pieces, leaving Refuelled feeling s without ever quite becoming exciting.
The filmmakers try to enlarge the character by surrounding him with plenty of supporting players, everyone from his bon vivant father (who has a little experience with high-stakes espionage) to the seductive, enigmatic Anna. But for fans of the Transporter films, these scenes are mostly time-killing breathers in between knuckle-busting action sequences, and neither Stevenson (all strutting charm) nor Chabanol (having a little flirty fun as the film's femme fatale) proves to be a worthy foil for Frank.
Skrein has mastered Statham's quietly commanding presence, and he can be a persuasive badass, particularly when he manages at one point to take down a whole garage of henchmen while his beloved Audi is merely coasting forward in drive. But during the best moments in this franchise, Statham gave the pro forma action-thriller conventions a wry wink, acknowledging the ludicrousness but also managing to provide the precise amount of stone-cold swagger. Skrein can dress the part, but he can't embody the role.
Production companies: EuropaCorp, TFI Films, Fundamental Films, Belga Films, Canal +, OCS, TF1, TMC
US distribution: Relativity EuropaCorp Distribution, www.relativityeuropa.com
International sales: EuropaCorp, www.europacorp.com
Producers: Luc Besson, Mark Gao
Screenplay: Adam Cooper & Bill Collage & Luc Besson, based on characters created by Luc Besson & Robert Mark Kamen
Cinematography: Christophe Collette
Production design: Hugues Tissandier
Editor: Julien Rey
Music: Alexandre Azaria
Website: www.thetransporterrefueled.com
Main Cast: Ed Skrein, Ray Stevenson, Loan Chabanol, Gabriella Wright, Tatiana Pajkovic, Wenxia Yu, Rasha Bukvic, Lenn Kudrjawizki, Anatole Taubman, Noemie Lenoir