Askold Kurov explores the fascinating case of accused Russian terrorist Oleg Sentsov in his timely documentary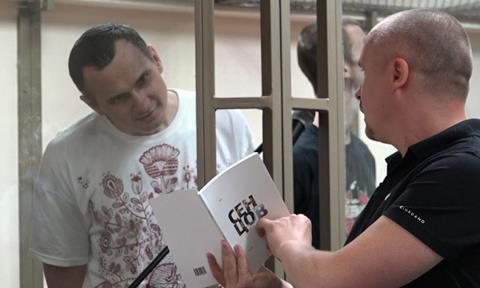 Dir. Askold Kurov, Estonia/Poland/Czech Republic, 2017, 70 minutes
Vladimir Putin is undergoing a media makeover thanks to his admirer, Donald Trump. For skeptics of Trump's esteem for the Russian leader, The Trial: The State Of Russia Vs. Oleg Sentsov offers a grim picture of Kremlin justice, no less scathing given its minimal budget. Putin's role in framing Sentsov, a video gamer turned filmmaker, in an alleged terrorist plot comes as the Russian president is all over the news.
Saying that The Trial is bare-boned or that its charges of terrorism are Kafkaesque is like saying that Russian winters are cold.
Askold Kurov, a friend of Sentsov who shot the film's original footage himself, scrutinises the filmmaker's alleged crimes and finds no evidence for charges that Sentsov conspired to bomb Soviet-era monuments in Crimea in 2014. Sentsov, a Russian citizen of Ukraine who made no secret of his opposition to the invasion and annexation of Crimea, was implicated in a plot that seems to have originated with the Russian FSB; the current iteration of the KGB. Several witnesses testified against him after being tortured by the police, who may also have paid them. Sentsov, who describes his own ghastly torture, never confessed to anything, and is currently serving a 20-year term in Siberia
The current focus on Russia could make The Trial a natural television doc, if it can find outlets before Putin is eclipsed by next season's media-savvy dictator. Likely to play all over Europe except Russia, where it could be a black market hit, The Trial could generate renewed demand for Sentsov's feature, Gamer (2011). In North America, where Sentsov's case has received less attention than in Europe, the film could be welcomed by anti-Russian conservatives, who already represent a rift in the Trump camp.
The FSB's maneuverings to implicate critics in major crimes have been explored in Alexander Nekrasov's docs Disbelief (2004), about a tragic Moscow bombing, and Rebellion (2007), about the poisoning in London of Alexander Litvinenko, an FSB officer turned independent journalist. Putin's judicial persecution of a wealthy potential rival is explored in Cyril Tuschi's doc Khodorkovsky (2011).
Yet The Trial takes its own approach to exposing the Kremlin's war on critics of its Crimea grab. Rather than deliver secret documents or anonymous testimony, it relies on sources that are available to the public, like Sentsov's court appearances, which are the only times he can be filmed. A gifted orator, the wry and confident Sentsov gives a speech at his sentencing that is an aria of truth. No wonder officials aren't rushing to free him.
Putin is caught on camera addressing the Sentsov case when he's asked at a press event whether Sentsov and others might be exchanged for captured Russian soldiers in Crimea, where Putin insists there aren't any Russian troops. It's a Trumpian moment when the Russian leader equivocates, saying that he never said that Russians in the Crimea weren't "engaged in particular matters, in dealing with particular issues, even military ones….but this doesn't mean that the regular Russian army is there."
Putin demurs strategically again at what looks like a gathering of artists, where the director Alexander Sokurov pleads with him to release Sentsov. Putin explains to Sokurov, who calls for defending Sentsov's freedom of expression, that Sentsov was not acting as an artist when he planned acts of terrorism. So far, appeals from Wim Wenders and Agnieska Holland have also fallen on deaf ears in Moscow.
Saying that The Trial is bare-boned or that its charges of terrorism are Kafkaesque is like saying that Russian winters are cold. This is not a film that you watch for the style, unless bluntness is your aesthetic. But the details in this intrigue are fascinating. Sentsov's sister, who won't defend him (and isn't interviewed), is married to an FSB officer, and their son is in the FSB. When police raid Sentsov's office, they find two films in his collection of 500 that deal with fascism; proof enough for the regime that he's masterminding plots by Ukrainian nationalists. Preposterous, amateurish and unconvincing FSB footage of bomb-making by Sentsov's alleged co-conspirators attempts to make the same point.
Behind the Sentsov case is Russia's illegal seizure of Crimea. Sentsov may be long out of prison and the subject of sequels before anything changes there.
Production companies: Marx Film, Message Film, Czech Television, Polish Film Institute, B2B Doc
International sales: Rise and Shine World Salesinfo@riseandshine-berlin.de
Producers: Maria Gavrilova, Max Tuula, Dariusz Jablonski, Izabela Wójcik, Violetta Kaminska
Executive producers: Olga Zhurzhenko, Jiri Vlach, Max Tuula, Maria Gavrilova
Cinematography: Askold Kurov
Editors: Michał Leszczyłowski, Evgeny Zaozernykh
Original music: Sorin Apostol