Dir/scr: Lee Kyoung-mi, South Korea, 2016, 103mins.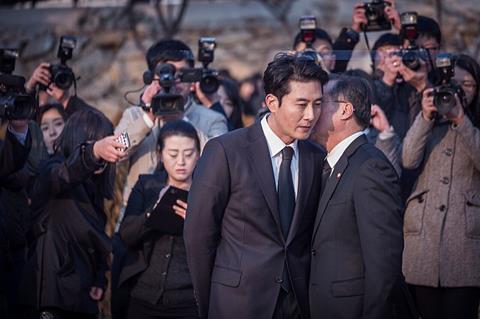 In what has been a very strong year for Korean cinema, Lee Kyoung-mi's (Crush and Blush) daring but accomplished political thriller The Truth Beneath has been somewhat overlooked, especially locally. Re-positioned at Busan and co-written by Park Chan-wook, her second feature - which follows the wife of an aspiring politician in the search for their missing daughter - is likely to stand the test of time. For fans of Korean genre cinema, it's certainly set to resonate.
This is bolder in style than other recent films about the dark side of Korean politics
After a low-key June opening in Korea, it is now belatedly beginning its journey on the festival circuit and will open the London Korean Film Festival in November, amongst other dates.
Jong-chan (Kim Joo-hyuk), a former news anchor who is now looking to become a politician, has secured the nomination for the Korea Party in the area of Daeson in what is seen as tight race going up against the lawmaker Noh Jae-soon (Kim Eui-song). However, on the first day of his campaign, Jong-chan's daughter Min-jin (Shin Ji-hoon) suddenly disappears.
Min-jin's anxious mother Yeon-hong (Son Ye-jin) begins searching for her, but her husband - whose main campaign promise is to "protect our children" - agrees to wait another day before officially reporting her missing, noting the importance of their daughter's image to his career.
Yeon-hong, though, takes matters into her own hands by going to the police, hunting through her emails, sketchbooks, obtaining police records, and talking to her teacher Son So-ra (Choi Yu-hwa) and Min-jin's closest friend, Mi-ok (Kim So-hee). As she does, she uncovers a web of deceit that turns her life upside down.
The dark side of Korean politics has been explored in other recent Korean films such as Inside Men and Asura: The City of Madness(currently on domestic release). Both expose the rampant corruption that remains a fixture in local headlines. The Truth Beneath, however, is bolder in its approach to style through its elaborate mise-en-scene, while its complex storytelling - which oscillates between different spaces, both past and present, in montage fashion - makes it an engrossing viewing experience.
Thematically, rather than paying close attention to relationships within the realm of a political class that is largely dominated by men, The Truth Beneath focuses on a female protagonist, bringing to light the impact political ambition can have on a family, in this case a mother/wife and daughter, making Jong-chan's pledge not only meaningless but wholly hypocritical.
The film's camerawork and production design are superb. Although, in some ways the styistic emphasis is reminiscent of Lee Kyoung-mi's mentor Park Chan-wook's expressionist sensibilities, she is cautious to not overdo it. In her last film, Crush and Blush, the actor Kong Hyo-jin delivered a career defining performance. Son Ye-jin replicates that here. Starting out as a caring and supporting wife, she impressively embodies Yeon-hong's complex changes of emotion and personality as she learns more about her husband. Kim Joo-hyuk (Yourself and Yours) and the remainder of the cast all deliver strong performances, but it is Son that shines, and she has never been better.
Production companies: Gummy, Film Train
International sales: CJ Entertainment (hawon.kim@cj.net)
Producers: Lee Mi-young, Kim Yoon-ho
Screenplay: Lee Kyoung-mi, Park Chan-wook, Jung Seo-kyung, Kim Da-young, Jung So-young
Cinematography: Ju Sung-lim
Art direction: Hong Ju-hee
Editor: Park Gok-ji
Music: Jang Young-gyu
Main Cast: Son Ye-jin, Kim Joo-hyuk, Kim So-hee, Shin Ji-hoon, Choi Yu-hwa