Kim Ok-vin gives an energetic performance in this visceral action thriller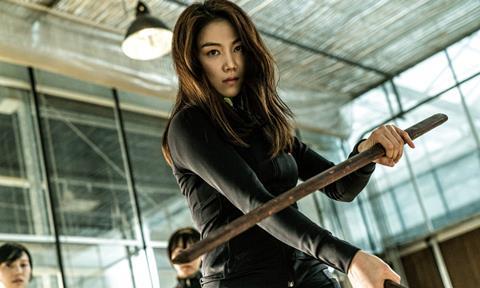 Dir Jung Byung-Gil. South Korea, 2017. 129mins
Those of a sensitive disposition will run for the nearest exit within the opening minutes of The Villainess. As our kick-ass heroine disposes of a small army of opponents, you feel every slashed artery, smashed cartilage and vigorous ejaculation of blood spatter. Those who remain, however, will discover a satisfyingly convoluted revenge thriller in which the dynamically staged, blood-drenched action sequences are a highlight rather than the film's sole raison d'être.
The Villainess really moves up a gear every time Jung Byung-gil's thoughts turn to mayhem.
Ultimately, The Villainess has more in common with the films of Chan-wook Park than the exhausting fisticuffs of The Raid. Commercial prospects should be lively.
The film feels so visceral because the fight scenes are designed to make you feel right in the heart of the action. Fast editing, nimble handheld camerawork and POV shots mean there is no sense of distance between the viewer and the protagonists. Director Jung Byung-Gil is wise enough to use such moments sparingly, allowing plenty of story to provide context and then unleashing his team of stunt performers and fight choreographers like a pack of ferocious dogs who have been let off the leash.
Trained as a merciless killer by a gangland boss, the pregnant Sook-Hee (Kim Ok-vin) is captured and recruited by the Korean Intelligence Agency with the promise that one day she will be allowed to enjoy a normal life. First, she is born (Bourne?) again; trained, tested and reinvented as one of their top agents. Years later she is put into the field as a single mother and professional actress. Her gauche, endearing new neighbour Hyun-soo (Bang Sung-jun channelling James Stewart) is also an undercover agent who has a mission to win her heart and become part of her cover.
Sook-Hee's new identity is also a staging post for a succession of flashbacks tracing her early life, and the film skips backwards and forwards in time to often bewildering effect. The most important elements of her past are the murder of her father and a pivotal relationship with Joong-sang (Shin Ha-kyun), her gangland mentor and lover. Indeed, there is enough going on her to leave possibilities for entire franchise, but it does lay emotional groundwork beneath all the double-dealings, divided loyalties and betrayals that follow.
The narrative also remains involving throughout, and is played with conviction by an implacable ensemble cast. Kim Seo-Hyung impresses as Sook-hee's icy handler Chief Kwon, Shin Ha-kyun makes for a suitably diabolical villain and Bang Sung-jun has the necessary charm for a character crucial to the gentler, more sentimental side of the tale. Kim Ok-vin proves through that she could give Scarlett Johansson or Angelina Jolie a run for their money.
Inevitably, The Villainess really moves up a gear every time Jung Byung-gil's thoughts turn to mayhem. A stunningly reckless motorbike chase cum sword fight takes your breathe away, and the bravura climax on a speeding bus is simply sensational.
Production companies: Apeitda
International sales: Contents Panda nhkim@its-new.co.kr
Producer: Jung Byung-gil
Executive producers: Kim Woo-taek
Screenplay: Jung Byung-gil, Jung Byeong-sik
Cinematography: Park Jung-hun
Production design: Kim Hee-jin
Editor: Heo Sun-mi
Music: Koo Ja Wan
Main cast: Kim Ok-Vin, Shin Ha-Hyun, Bang Sung-Jun, Kim Seo-Hyung