A desperate woman searches for her missing son in Ahmad Bahrani's follow up to Venice Horizons winner 'The Wasteland'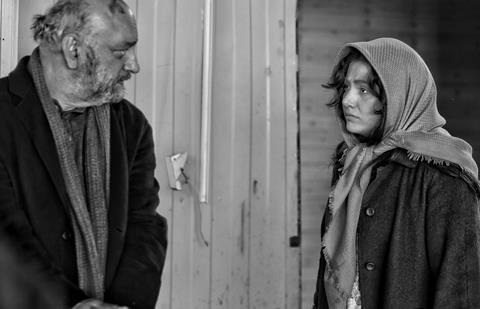 Dir/scr: Ahmad Bahrami. Iran. 2022. 98mins
There are probably bleaker places on earth than the blighted backdrop to Ahmad Bahrani's third feature, but it's hard to think of many. This mythic story unfolds in a desolate car scrapyard, on the outskirts of an unnamed Iranian city, where outcast men eke a living and a purgatorial wind howls through the vehicle carcasses. One day a woman arrives. Bemani (Baran Kowsari) has been temporarily released from prison, where she has been held for a decade on suspicion of the murder of her husband. And now she seeks her brother-in-law, Ebi (Ali Bagheri): he is her one hope of finding the location of the son she gave birth to in jail. Bahrami toys with the theme of Iranian womanhood kicking back against the patriarchy, but ultimately doesn't permit much in the way of hope in this brutal, but powerful drama.
There's an elegance and economy to Bahrami's filmmaking
The Wastetown could be viewed as a sister picture to Bahrani's 2020 film, The Wasteland, which won Best Film in Venice's Horizons strand and picked up a respectable haul of prizes during a healthy festival run. Both films are shot in austere black and white, with tight, oppressive aspect ratios; both show characters crushed in the vice-like grip of desperation (at times, literally). The film's world premiere in Tallinn Competition should be followed by further festival interest. The backdrop of the women's rights protests in Iran make this story of a strong, determined woman facing down a series of deeply unpleasant men a timely proposition.
Bemani and Ebi have a history that goes beyond her marriage to his brother. He has her name tattooed on his hand and he was present when her husband died. He knows the truth, says Bemani, fixing him with her cool and measured gaze, that she didn't murder her husband and that she was acting in self defence. Ebi's loyalty to Bemani has cost him dearly. His refusal to testify against her saved her from the death penalty but turned his two other brothers against him. His job, which mainly seems to involve hitting bits of metal with a hammer and comes with lodging on a derelict bus, was a means of escaping their fury.
Not surprisingly, Bemani is the last person he wants to see – not least because his brothers have had her tailed following her release from prison and turn up to deliver some shouty exposition and another beating for Ebi. Yet, during the three nights that she spends at the scrapyard, Bemani will stop at nothing to learn the location of her son. She targets each of the men that work at the yard in turn, preying on their basest urges to gain the information, and then exacting a fairly emphatic retribution on each.
There's an elegance and economy to Bahrami's filmmaking, favouring slow tracking shots and 180-degree pans that reveal a ravaged graveyard of rotting vehicles. There's also a pleasing use of rhythm and repetition: an ominously funereal musical motif accompanies a repeated shot of Bemani closing the door of each of the men's shacks in turn. And while the picture's use of symbolism can be rather heavy-handed – a hydraulic car crusher features repeatedly; a female dog in the scrapyard is a pointed suggestion of Bemani's status in society – the picture's unflinching perspective on Bemani's plight, showing the walls closing on a woman with no options left, is a devastating and potent image.
Production company: Reza Mohaghegh
International sales: Persia Film Distribution info@persiafilmdistribution.com
Producer: Reza Mohaghegh
Cinematography: Masoud Amini Tirani
Editing: Mostafa Vaziri
Music: Foad Ghahremani
Main cast: Baran Kowsari, Ali Bagheri, Babak Karimi, Behzad Dorani