Dirs. Alex Helfrecht, Jörg Tittel. UK. 2016. 89 mins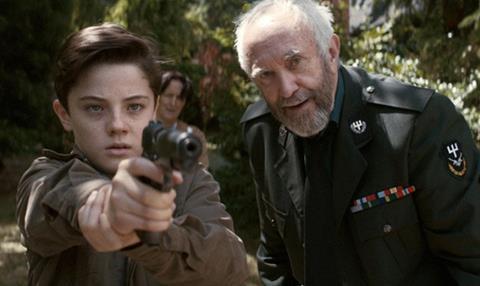 György Dragomán's Ceausescu-era, Romania-set novel The White King is intelligently transposed into an unnamed English-speaking totalitarian country by German/English husband-and-wife team Jörg Tittel and Alex Helfrecht, making a promising feature debut.
On the screen in virtually every frame, English-born actor Lorenzo Allchurch proves ably up to the challenge of holding the film's centre
Essentially refracting Orwell's 1984 through the eyes of a 12-year-old boy, the film succeeds best at evoking its sinister, hermetic world, as young Djata (Lorenzo Allchurch) deals with the absence of his political prisoner father. But in adapting what is essentially a loose collection of stories in the source material, the writer-director-producer pair struggle to give their film a powerfully propulsive narrative. Further festival play and niche theatrical outings look assured following a world premiere in Edinburgh.
Beginning with an idyllic family picnic by a river, The White King initially suggests a period setting with its 1950s clothes and haircuts. Dominating the landscape is an enormous statue, recalling Soviet art celebrating the dignity of labour. And in the film's smalltown community, single-word banners and posters advocate a narrow range of civic virtues and values: "DUTY", "FAMILY", "SAFE", "SERVE". Sleek, swivelling surveillance cameras soon indicate that we are in fact in some alternative present or dystopian future, one in which The Homeland is celebrating its 30th anniversary of independence.
Although the picnic ends with Djata's father Peter (Ross Partridge) being taken away by two men, the boy accepts the assurances of his mother Hannah (Agyness Deyn) that this is just for a work assignment. In fact, Peter is taken to a deadly work camp for unspecified traitorous activities.
Djata, an only child, attends a school that is indistinguishable from a military academy, but life in his downtime seems largely unregulated – and as he and his three boyhood pals roam free, forces of law and order are in scant supply when they engage in an escalating war with an adult pair of twin bullies (Jeffrey and Michael Postlethwaite from TV's Peaky Blinders).
Other incidents include a hunt for the treasure that Djata believes is buried at the foot of the hulking hillside statue, situated in an area off-limits to the townsfolk. Providing more of a narrative thread is the strained relationship between Hannah and her in-laws (Jonathan Pryce, Fiona Shaw), who despite their relatively elevated status in the Homeland hierarchy and their affection for their grandson, decline to help her identify which camp has imprisoned Peter.
On the screen in virtually every frame, English-born actor Allchurch proves ably up to the challenge of holding the film's centre. Casting directors Ros and John Hubbard presumably took confidence from the lad's stage work opposite Mark Rylance at the Globe's production of Richard III and as the young Garry Kasparov in Matt Charman's The Machine directed by Josie Rourke at the Donmar. Rural Hungarian locations give the film a coherent other-worldly feel, nicely captured in René Richter's desaturated widescreen photography.
One more notable contribution is the mood-setting animated opening sequence, recalling Constructivist art in a graphic novel style. While this is the work of London digital design house Spov, it also feels like an authorial flourish for co-director/writer Tittel in particular, whose work also encompasses graphic novels and videogames.
Production company: Oiffy
International sales: Fortissimo, info@fortissimo.nl
Producers: Philip Munger, Teun Hilte, Alex Helfrecht, Jörg Tittel
Screenplay: Alex Helfrecht, Jörg Tittel, from the novel by György Dragomán
Cinematography: René Richter
Editor: Peter R Adam
Production design: Richard Bullock
Music: Joanna Bruzdowicz
Main cast: Lorenzo Allchurch, Agyness Deyn, Jonathan Pryce, Fiona Shaw, Greta Scacchi, Ross Partridge, Ólafur Darri Ólafsson, Malachi Hallett, Jeffrey Postlethwaite, Matthew Postlethwaite