Cai Chengjie's debut focuses on a widow who rebrands herself as a shaman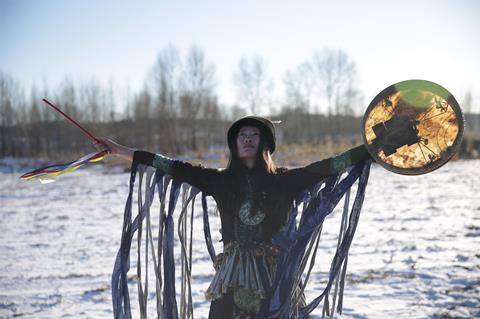 Dir: Cai Chengjie. China. 2018. 120 mins
Er Hou (Tian Tian) finds herself widowed for the third time when an explosion destroys the family-owned firework factory, taking with it her home and her husband. The credulous locals in her village community in Heibei province, Northern China, perhaps unsurprisingly, decide that Er Hou is cursed. But the enterprising young woman turns superstition to her advantage, rebranding herself as a shaman and peddling life advice and supernatural quick fixes in return for food and shelter. A blend of wry cynicism and matter-of-fact mysticism, The Widowed Witch is an intriguing film which ultimately suffers from its lack of tonal consistency.
Anything has to be better than being labelled as a cursed woman, after all
This version of the film is a re-edit of a feature which screened, with the alternative title Shaman, at the Xining First Film Festival. Although the film has been taken on by Beijing sales company Rediance, which launched last year with the aim of growing the market for Chinese independent cinema, this picture might prove a little too idiosyncratic for all but the most committed overseas distributors. Festival audiences, however, should be receptive to the film's stark beauty and mordant humour.
The film opens in colour. A man and a woman walk through a snow-covered birch wood; she tells him about the year her five-year-old brother froze to death. An encounter with a drum-wielding shaman leaves the woman prostrate in the snow, and it becomes clear that this scene is all the in mind of the unconscious Er Hou. She awakens to a world which is shot in black and white, embellished with occasional flashes of bright colour. Although awake, Er Hou is temporarily unable to move or speak; her brother-in-law takes advantage of her vulnerable state in grimly predictable ways.
As soon as she is able, Er Hou briskly vacates the home of her extended family, her husband's deaf younger brother Shitou in tow. She reclaims her husband's van from his slippery best friend, an itinerant egg salesman, and for want of a better option, sets up home in the vehicle.
Chengjie favours long, fixed camera shots which allow scenes to unfold at a pace which, while it reflects life in the rural backwaters in the dead of winter, can drag a little. There's an eye for composition here however which adds nuance to the sometimes rather declamatory performances. One shot is particularly striking: Er Hou goes to ask for support from the predatory local mayor; her body and face given a ghost-like quality by the steam which billows from a kettle in the foreground.
It's not entirely clear whether the apparently magical powers that Er Hou suddenly possesses are genuine or not. Even Er Hou herself believes them to be largely fortunate coincidences; however she is more than happy to claim shaman status. Anything has to be better than being labelled as a cursed woman, after all.
But after a prosaic start – she 'cures' a bad neck by slapping someone in the face; she survives a gunshot from an unloaded pistol – Er Hou's powers take her to darker territory. And her interventions start to have unforeseen consequences. It's at this point, in an increasingly inconsistent third act, that the film starts to lose its own peculiar magic.
Production company: Beijing Glazed Sky Production
International sales: Rediance, joyboffin@gmail.com
Producers: Jiao Feng, Hu Xiaotao
Screenplay: Cai Chengjie
Cinematography: Jiao Feng
Editor: Li Cheng
Production design: Li Zhengzong, Hu Xiaotao
Music: Jin Weiye, Li Qiang
Starring: Tian Tian, Wen Xinyu, Wang Qilin, Wang Fuyou, Yang Shuyou, Gao Pengcheng, Li Wenfu, Zhao Shulin