Dir/scr: Jan Nemec. Czech Republic/Slovakia/France. 2016. 68 mins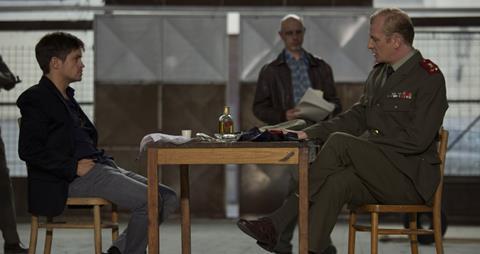 The Wolf From Royal Vineyard Street is a typically uncompromising final reckoning from Czech director Jan Nemec who died in March 2016, aged 79. Provocative to the last, he revisits key moments from his life with a dash of bravado and an urge to set down his memories from the front line of history.
It seems all too typical of a figure described as contrary and problematic that Nemec is never seen in his own film
There is a little settling of scores along the way and an exuberance that matches the swashbuckling spirit of Alejandro Jodorowsky's recent trips down memory lane in The Dance Of Reality (2013) and Endless Poetry (2016). Entertaining and informative, the film is essential viewing for movie buffs and should encourage those audiences to seek out screenings of Nemec's films.
Renowned as one of the key figures of the Czech New Wave, Prague-born Nemec's reputation largely rests on his work in the 1960s, especially Diamonds Of The Night (1964), A Report On The Party And The Guests (1966) and his documentary short Oratorio For Prague (1968). Nemec spent a great deal of his life in exile, chasing opportunities that constantly slipped through his fingers. One of many amusing encounters dramatised in the film is a friendship with Ivana Trump that Nemec hoped might lead to financing through her then husband Donald. The only fruit of that association is a personally signed copy of Trump's autobiography that Nemec (ably played by Jiri Madl) quickly consigns to the wastepaper basket.
Based around Nemec's short autobiographical stories, The Wolf From Royal Vineyard Street is far from a conventional linear biography. There is a good deal of his life, career and personal relationships which is never mentioned. Nemec skips past key periods to focus on stories that are the essence of what he was about.
Actor Karl Roden initially appears as Nemec's alter ego, beginning the film with some jocular, direct-to-camera remarks on a life spent in pursuit of fame, glory and women. Roden also narrates throughout with Madl appearing as Nemec in all the dramatised scenes from his life.
Nemec clearly sees the 1968 Cannes Film Festival as the defining moment of his career. Milos Forman's The Fireman's Ball, Jiri Menzel's Capricious Summer and Nemec's A Report On The Party And The Guests were all selected for competition in a banner year for productions from what was then Czechoslovakia. It was expected that at least one of them would return with the Palme D'Or. The chaotic events of that year and the closing down of the Festival turned the resurgence of Czech cinema and the hunger for recognition into a irrelevant sideshow.
Returning to Cannes in 2015 to dramatise those memories, Nemec clearly feels they were robbed, although the leftover Pilsner, frankfurters and brandy needed for a Czech celebration party earned them some much needed cash. Nemec seems prickly towards Forman and his success, but friendly with Menzel. He reserves particular scorn for Jean-Luc Godard, especially when he supported the Soviet invasion of Prague later in 1968.
Nemec gives the impression that his career never recovered from all the tumult of 1968 and his subsequent exile in Germany. Self-pity seems foreign to his nature but there is a melancholic air of unfulfilled hopes in his subsequent life in America where he earned a living as the director of wedding videos and from teaching.
By 1989 he was technically stateless and unable to secure a visa to return to his homeland. A helpful American State Department official informs him that he would need special circumstances, like the funeral of a relative, to grant him a visa. The wily, inventive Nemec eventually wins the day by being given special permission to "attend the funeral of Communism".
Nemec was honoured in his own land, receiving one of three Crystal Globes at the 2015 Karlovy Vary Film Festival in the company of Forman and Menzel. Even when there would have been ample footage of Nemec at the Festival it is still Jiri Madl who plays Nemec in another re-enactment. It seems all too typical of a figure described as contrary and problematic that Nemec is never seen in his own film, a last testament that was completed by fellow director Tomas Klein.
Production company/International sales: Master Film tomas@masterfilm.cz
Producer: Tomas Michalek
Cinematography: Jiri Maxa
Editor: Josef Krajbich
Production Designers: Tereza Kucerova, Aneta Grnakova
Cast: Jiri Madl, Karl Roden, Martin Pechlat, Jiri Menzel.