A woman's encounters with three friends are all interrupted by men in Hong Sangsoo's teasing drama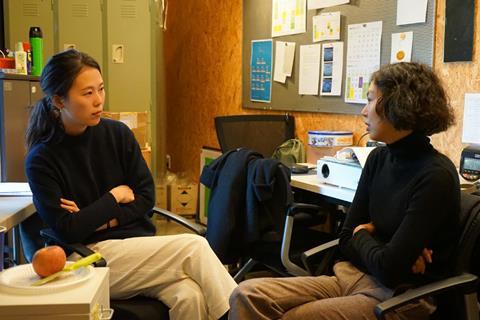 Dir/scr: Hong Sangsoo. South Korea. 2019. 77mins
The latest film from Hong Sangsoo is a teasing, sylph-like wisp of a story that reveals next to nothing but is seeded with playful hints. With her husband away on a business trip, Gamhee (Kim Minhee) visits two female friends, and has a chance meeting with another woman from her past. The encounters are guarded; each is interrupted by a jarring intrusion from a man. Like many of Hong's films, this picture plays out in the uneventful lull, either just before or after the real, unspoken drama unfolds. The audience will be split between those who find hidden depths beneath the opacity of the director's trademark minimalism, and those who take the banality at face value.
Hong uses a repetitive rhythm to nudge the audience towards an understanding of the guarded central character.
Judging by the warm reaction to the picture's gossamer tensions and humour of discomfort at its Berlinale screening, the balance will likely skew towards the former — at further festivals at least. Although perhaps on the enigmatic end of the Hong spectrum, The Woman Who Ran touches rewardingly on themes such as relationship dynamics and gender roles. The delicacy of the predominantly female-driven storytelling is unassuming but beguiling. And Hong goes so far as to skewer his own tendency to indulge monologuing windbag male characters in previous films.
Hong uses a repetitive rhythym to nudge the audience towards an understanding of the guarded central character. In each meeting, Gamhee explains that this is the first time she has been apart from her husband in five years. "He says that people in love should always stick together," she explains, flatly. It's a sentence that she repeats three times, unvaried, until the words take on a kind of cage-like rigidity.
That Gamhee's is a marriage in trouble is never overtly stated. But when asked whether she really loves her husband, she is taken aback. "Me? It's not something you can prove", is her response. And when the first of her friends mentions in passing the fact that the wife of a neighbour left her husband and child, Gamhee's first question is not why she left, but "how?"
In encounters knotted up with propriety and social awkwardness, the characters latch on to safe subjects to frequently comic effect. Gamhee turns up to visit recent divorcee Youngsoon (Seo Younghwa) and her roommate Youngji (Lee Eunmi) bearing a bag of meat. The three women discuss the meat at length – it's quality, Youngji's exceptional grilling technique – before agreeing that they would like to turn vegetarian. Funnier still is the tortured politeness of an encounter with Youngsoon's cat phobic new neighbour, who asks that they desist from feeding the stray felines in the area. Youngji, squirming with mortification, apologetically explains that given a choice between neighbours and cats, she chooses the latter.
Following on from her meeting with Youngsoon, and punctuated by a passage of tinny music on the score, Gamhee's second encounter is with Suyoung (Song Seonmi), a pilates instructor being pestered by a besotted younger man who is unable to accept his status as a one night stand. Finally, she meets by accident Woojin (Kim Saebyuk), a woman who has something important that she wants to tell Gamhee.
The mystery of the film's title persists to the end. Who is the woman who ran? Is she the errant mother of Youngsoon's neighbour? Or is she someone else, perhaps, who has yet to admit that running is her intention?
Production company: Jeonwonsa Film Co. Production
International Sales: Finecut cineinfo@finecut.co.kr
Producer: Hong Sangsoo
Editing: Hong Sangsoo
Cinematography: Kim Sumin
Music: Hong Sangsoo
Cast: Kim Minhee, Seo Younghwa, Song Seonmi, Kim Saebyuk, Lee Eunmi, Kwon Haehyo, Shin Seokho, Ha Seongguk