A hapless Parisian criminal tries to find the funds to go straight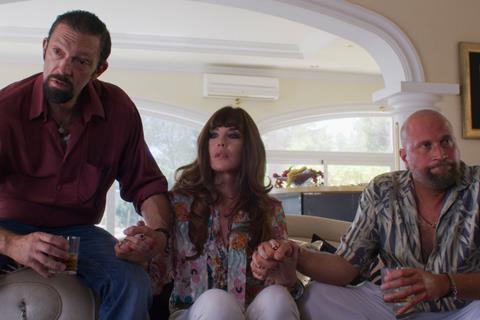 Dir. Romain Gavras. France. 2018. 94 mins
Glossy, cynical French caper comedy The World Is Yours (Le Monde Est à Toi) is hardly the revelation of the ages: it's essentially an iPhone-era update on all those wiseacre low-life confections that cropped up in the wake of Tarantino. But in the hands of Romain Gavras – music video wiz and maker of 2010's eccentric Our Day Will Come – and with a mischievously cast giving its best, the result is ebullient enough to feel fresh.
Gavras, DoP André Chemetoff and editor Benjamin Weill certainly know how to orchestrate the hairpin plot reversals and action scenes
A prize platform for Karim Leklou (one of the generation that established itself in A Prophet), with starry, enjoyable support from Vincent Cassel and Isabelle Adjani, it's not distinctive enough to guarantee international exposure, and some of the in-jokes are distinctly Gallic. But cheerful chutzpah and snazzy execution should give it ample leverage.
Set in a Maghrebin criminal milieu in Paris, the story follows nebbish Farès, aka François (Leklou), who's desperate to go straight and land the North African distribution franchise for Mr Freeze ice lollies. Unfortunately, his flashy, shoplifting mum Danny (Adjani), an A-grade castrating matriarch, has squandered his money, which he needs to secure the deal.
To raise funds, he accepts a commission to pick up a consignment of dope from Spain in the company of confused sidekick Henry (Cassel), two young footsoldiers both named Mohamed, and Maman's young partner in crime, light-fingered beauty Lamya (Oulaya Amamra, the discovery of Houda Benyamina's Divines). The plan is to liaise with a Scottish heavy (Sam Spruell), but he won't play by the rules, so Danny takes the initiative and kidnaps his contact's pre-teen daughter (a smartly timed turn by young Gabby Rose), inevitably unleashing mayhem– rather magnificently orchestrated between two sites, a Benidorm hotel pool and a freighter at sea.
At first, the film feels like a mash-up of familiar tropes and types; tracksuited gang boss, venal hottie, super-tacky monster mum. But once we're through a long, elaborate set-up, which also involves a sleazy lawyer (singer cum character stalwart Philippe Katerine) and a gold-coiffed gang from Zaire, things get passably bouncy.
The script, co-written by previous Gavras collaborator Karim Boukercha and Audiard associate Noé Debré, contains some choice dialogue, notably in a running gag about conspiracy theory and a priceless exchange between Farès and his young kidnappee, as they compare notes on nightmare parenting. A PC streak is played up with knowing nerve but, whether or not the film pulls off its ironic racial stereotyping, the misogyny is unmistakable, down to the mandatory pole dance club scene.
Gavras, DoP André Chemetoff and editor Benjamin Weill certainly know how to orchestrate the hairpin plot reversals and action scenes, and the cast gives some brisk character value: ubiquitous Belgian actor François Damiens is magnificently loathsome as a blowhard buddy of Henri's, Cassel gives a relishable display of slow-burn cluelessness, and Leklou, extremely watchable as the ineffectual Farès, comes across as a kind of French Eddie Marsan. Amamra, however, is short-changed with a rather off-the-peg sassy-babe role, while Adjani never quite comes into her own.
Music is foregrounded effectively, with contributions from Jamie XX, and ample kitchery including diverse French retro chanteurs and Toto's 'Africa', which Amamra karaokes with panache
Production companies: Iconoclast Films, Chi-Fou-Mi
International sales: StudioCanal sophie.fracchia@studiocanal.com
Producers: Charles Marie, Anthonioz Mourad Belkeddar, Jean Duhamel,Nicolas Lhermite, Vincent Mazel, Hugo Selignac
Screenplay: Romain Gavras, Noé Debré, Karim Boukercha
Production design: François-Renaud Labarthe
Cinematography: André Chemetoff
Editor: Benjamin Weill
Music: Jamie XX, Sebastian
Main cast: Karim Leklou, Vincent Cassel, Isabelle Adjani, Oulaya Amamra, François Damiens