Raul Peck takes viewers on a romp through the writing of the Communist Manifesto, with August Diehl starring as the titular theorist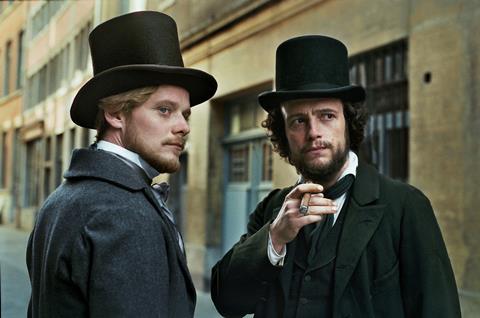 Dir: Raoul Peck. France/Germany/Belguim. 2017. 112 mins.
A spry romp through the seven years leading up to the drafting of the Communist Manifesto, Raoul Peck's biopic of Karl Marx's early years feels like a mix between a prestige BBC drama and a Marx For Dummies primer. Yet this fusion of waistcoat buttons and workers' control of the means of production has a charm and verve, not to mention a breezy attitude to chunks of theory, that carries us past production values that Marx himself would have probably found irredeemably bourgeois.
Several old-fashioned pleasures are to be gleaned from what is an unashamedly old-fashioned film
With the father of Communism making the front cover of both Time and Newsweek in recent years, and Thomas Piketty's dense post-Marxist treatise Capitalism in the 21st Century flying off bookshelves, this look at Marx's formative years seems politically well-timed. But Peck's lively, twinkly drama is at heart a bromance, based largely on the letters exchanged by Marx (August Diehl) and his associate Friedrich Engels (Stefan Konarske) between 1843 and 1850. It charts the course of their friendship and political brotherhood from a first wary meeting at the home of Marx's German publisher in to the eve of the drafting of the Communist Manifesto – a document which Marx, like any self-respecting writer, wrote at breakneck speed, way past deadline, after procrastinating for weeks.
The Young Karl Marx does not shirk its family duties, however. In fact Vicky Krieps' luminous performance as Jenny von Westphalen – the young aristocrat from Trier who took up with and married this "damn socialist atheist Jew", as she teasingly calls him in on bodice-loosening bedroom scene – is one of several old-fashioned pleasures to be gleaned from what is an unashamedly old-fashioned film.
Peck's story, co-penned with veteran French scripter Pascal Bonitzer, is at least in part about the paradox of two intellectuals, fond of their cigars, wine and stovepipe hats, who champion the proletariat. August Diehl's Marx has a permanent smile on his face, not so much a smirk, more of an easy, laddish awareness of his own superiority and doctrinal purity – a purity untroubled by the fact that he and Jenny employ a servant. But the conflict is especially keen in the case of Engels, the son of a German mill-owner with factories in Manchester. Visiting the urban hovel of Mary Burns (Hannah Steele), an Irish worker sacked by his father for defiance, he seems the classic slumming rich kid – and the fact that he ends up entering into a ménage with flame-haired Mary and her younger sister hardly dilutes that impression.
But one of the merits of The Young Karl Marx is the way it evokes the revolutionary climate of 1840s Europe as something of a game, an alpha-male sparring match between old-school anarchists like Joseph Proudhon (a wry Olivier Gourmet) and these two radical young Turks, who in these five short years move themselves, their ideas and their hangers-on between Cologne, Paris, Brussels, Manchester, London and Ostend.
The Young Karl Marx marks the start of several stories about how the dream ended, first time round. Armando Iannucci's comedy project The Death of Stalin, has been a hot title at this year's EFM, and follows the TV series Love and Capital, which Lady Macbeth screenwriter Alice Birch is currently adapting for James Schamus' Symbolic Exchange from Mary Gabriel's book about Marx and Engels' complicated family lives during this same period.
Production companies: Agat Films, Velvet Film
International sales: Films Distribution, info@filmsdistribution.com
Producers: Nicolas Blanc, Rémi Grellety, Robert Guédiguian, Raoul Peck
Screenplay: Pascal Bonitzer, Raoul Peck
Cinematography: Kolja Brandt
Editor: Frédérique Broos
Production designer: Benoit Barouh
Music: Alexei Aigui
Main cast: August Diehl, Stefan Konarske, Vicky Krieps, Olivier Gourmet, Michael Brandner, Alexander Scheer, Hannah Steele, Nils Bruno Schmidt